Featured image credit: Virgin Orbit/Greg Robinson
Lift Off Time/Launch Window
(Subject to change)

NET January 09, 2023 – 21:39:00 UTC

Mission Name

"Start Me Up" / Amber-1 & Others

Launch Provider
(What rocket company is launching it?)

Virgin Orbit

Customer
(Who's paying for this?)

National Reconnaissance Office (NRO)

Rocket

LauncherOne

Launch Location

"Cosmic Girl" over the Atlantic Ocean, flying from Spaceport Cornwall, Newquay, Cornwall, UK

Payload mass

~100 kg (220 lbs)

Where are the satellites going?

~550 km Sun-Synchronous Orbit (SSO)

Will they be attempting to recover the first stage?

No (rocket), yes (aircraft)

Where will the first stage land?

Cosmic Girl will return to Spaceport Cornwall

Will they be attempting to recover the fairings?

No, this is not a capability of LauncherOne

Are these fairings new?

Yes

How's the weather looking?

It's very wet at Cornwall, but still go for launch.

This will be the:

– 1st orbital launch ever from Western Europe
– 1st launch of LauncherOne outside the USA
– 6th launch of LauncherOne
– 61st air-launched orbital rocket flight
– 4th orbital launch attempt for 2023

Where to watch

Official livestream
What Does All This Mean?
Virgin Orbit is sending several payloads to orbit onboard its air-launched rocket, LauncherOne, from the UK for the first time. This will be the first orbital launch from anywhere in Western Europe. Russia's Plesetsk Cosmodrome is in Eastern Europe, not Asia.
This means, among other things, that satellites built in the UK will no longer have to be shipped abroad to launch. The space sector directly employs 47,000 people in the UK.
What Is "Start Me Up"?
"Start Me Up" is the first orbital launch from the United Kingdom. Although the UK did develop its own orbital launch capability with the Black Arrow program, that rocket flew from the Woomera test range in Australia. The mission name is a tribute to the Rolling Stones song (previously used for the "launch" of Windows 95). Virgin Orbit names all of its missions after song titles that are on the Virgin Records catalogue.
The UK Space Agency and the USA National Reconnaissance Office are jointly managing the mission. Obtaining the necessary regulatory permissions to launch a US-developed rocket from UK soil has been a major effort over recent years.
Licensing
The UK's Civil Aviation Authority (CAA) issued its first ever spaceport license to Spaceport Cornwall on November 16th. The Marine Management Organisation (MMO) has already issued a marine license to the Virgin Orbit satellite launch project.
The license issued by MMO covers the inaugural launch, the first of its kind in the UK. As there is material to be deposited into the sea that will be loaded in the UK, the activity requires a marine license from MMO, as required by The Marine and Coastal Access Act 2009.
Virgin Orbit proposed previously to conduct a maximum of one launch in 2022 from the UK and approximately two launches per year over the next 8 years (January 2023-December 2030).
The CAA said in a press release on December 21st that it has issued the remaining licenses to Virgin Orbit for both launch and range. On January 5th, 2023, the CAA releaseed further information in a tweet – all the payloads now have their own licenses, meaning that they can be deployed after launch.
Mission
The flight will begin with a conventional departure of Virgin Orbit's Boeing 747 "Cosmic Girl" from Spaceport Cornwall. This is the alternative name for Newquay Airport, formerly a Royal Air Force base (RAF St Mawgan). The G7 summit meeting in the UK recently used this airport in June 2021.
Telemetry data from the misson will be picked up initially by Goonhilly Earth Station in Cornwall. Closer to the time of deployment, the National Space Centre of Ireland will assist with a relay antenna provided by Goonhilly.
All wet dress rehearsal events were completed on January 5th.
| | |
| --- | --- |
| Event | Time (UTC) |
| Public livestream starts | 21:00 (L-0) |
| Cosmic Girl take-off from Spaceport Cornwall | 21:39 |
| Rocket deployment | 22:49 |
| Cosmic Girl returns to Spaceport Cornwall | 23:45 |
| Confirmation of payload deployments | 01:15 – 01:30 (L+1 day) |
Timeline for flight and launch events (L-0 subject to change)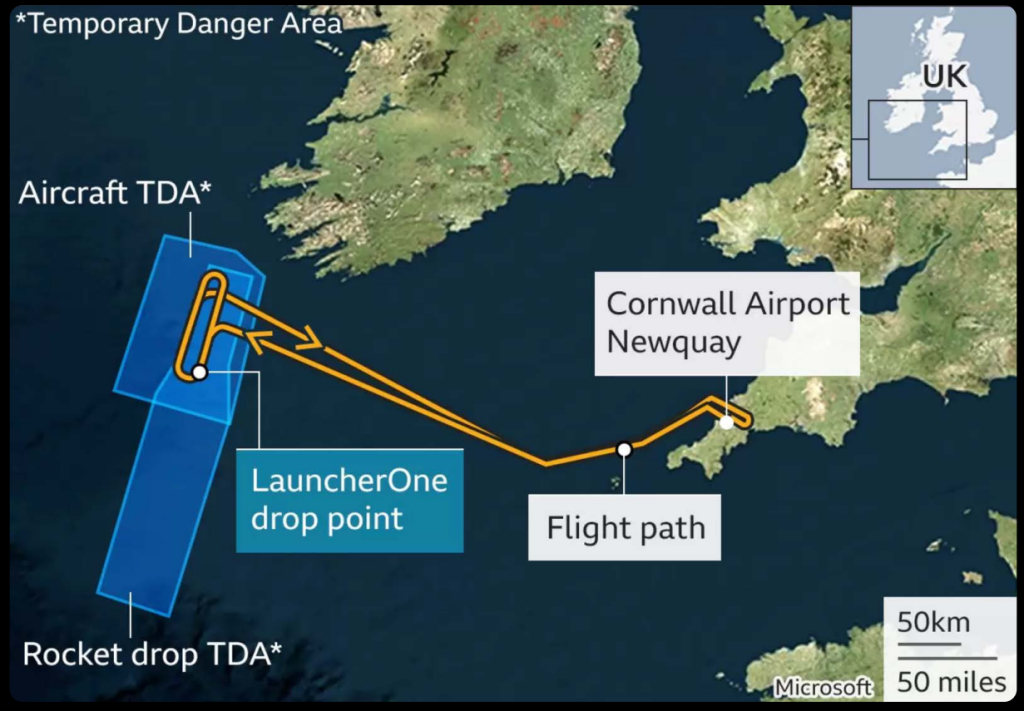 Cosmic Girl flew into the UK on October 11. The LauncherOne rocket itself flew in a few days later on October 14, onboard a Boeing C-17 Globemaster. The Ground Support Equipment traveled in a separate flight from the rocket and arrived on the same day as the rocket itself.
Payloads
| | | | |
| --- | --- | --- | --- |
| Satellite | Dimensions | Built By / Operated By | Description |
| IOD-3 AMBER | 6U CubeSat* | Clyde Space / Horizon Technologies | Tracking maritime vessels |
| Prometheus-2 | 2 x 6U CubeSats | In-Space Missions Ltd | Monitoring radio signals including GPS |
| CIRCE | 2 x 6U CubeSats | Blue Canyon Technologies | See below for more information |
| DOVER | 3U CubeSat | Open Cosmos / RHEA Group | GNSS-based positioning, navigation and timing |
| ForgeStar-0 | 3U CubeSat | Space Forge | Returnable and reusable test platform |
| AMAN | 3U CubeSat | SatRevolution / ETCO | Earth observation demonstration |
| STORK-6 | 3U CubeSat | SatRevolution | Earth observation + payload hosting |
Payloads aboard the "Start Me Up" mission
* CubeSats are small satellites based around a unit size of 10 x 10 x 10 cm (roughly 3 x 3 x 3 inches). A 1U CubeSat has the volume of one such unit. A 2U CubeSat has the volume of 2 units, i.e. 20 x 10 x 10 cm, and so on.
IOD-3 AMBER
AMBER is a partnership between the UK's Satellite Applications Catapult agency and Horizon Technologies. The satellite has been built by AAC Clyde Space in Glasgow, Scotland.
It is expected to be the first of 24 satellites that will provide Maritime Domain Awareness to users. The system uses specific patented technology to geolocate and demodulate radio signals from ships all over the world.
The data gathered and provided to governments of many countries will be used for tracking and prevention of illegal fishing, smuggling, trafficking, piracy, and terrorism. Indonesia is said to lose $200M per year due to unlicensed fishing in its waters, for example.
IOD stands for In-Orbit Demonstration. The system is designed to assist in tracking vessels which have disabled their Automatic Identification Signals (AIS).
The satellite is a 6U CubeSat. It has a mass of 8 kg (18 lb).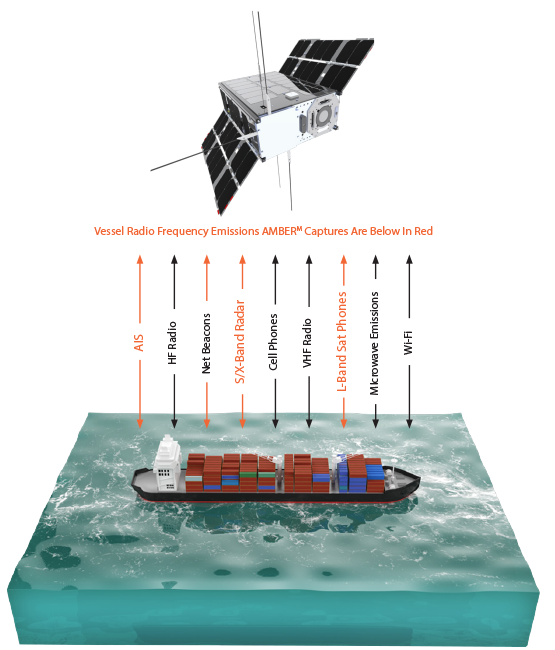 Prometheus-2
This mission consists of two 6U CubeSats, Prometheus 2A and 2B. They have been manufactured by In-Space Missions. They will be placed into an orbit of around 550 km.
The satellites will be owned by the UK's Defence Science and Technology Laboratory (DSTL), on behalf of the UK's Ministry of Defence (MOD). They were designed jointly by In-Space Missions and Airbus Defence and Space.
They provide a test platform for MOD science and technology activities both in space and on land at the Hermes ground station at DSTL's site at Portsdown, UK. They will be used for monitoring radio signals including GPS.
Using Software Defined Radio technology, the satellites will be used for research purposes as opposed to defense intelligence.
The satellites each have a mass of 8.5 kg, and the dispenser for each has a mass of 6.4 kg. So, the total mass for this payload is around 30 kg (66 lb).
CIRCE
The mission consists of two 6U CubeSats (CIRCE-1 and CIRCE-2).
This payload is a miniaturized space weather platform, hosting three payloads. CIRCE stands for Coordinated Ionospheric Reconstruction CubeSat Experiment.
The satellites will be deployed to an orbit of 555 (+/- 10) km LEO, with an inclination of 90 (+/- 5) °.
The satellite bus is provided by Blue Canyon Technologies. They will be operated jointly by DSTL (UK) and National Reconnaissance Office (NRO, USA).
The payloads have been developed for DSTL by the Mullard Space Science Laboratory (part of University College London), the University of Bath, and Surrey Satellite Technology Limited (SSTL).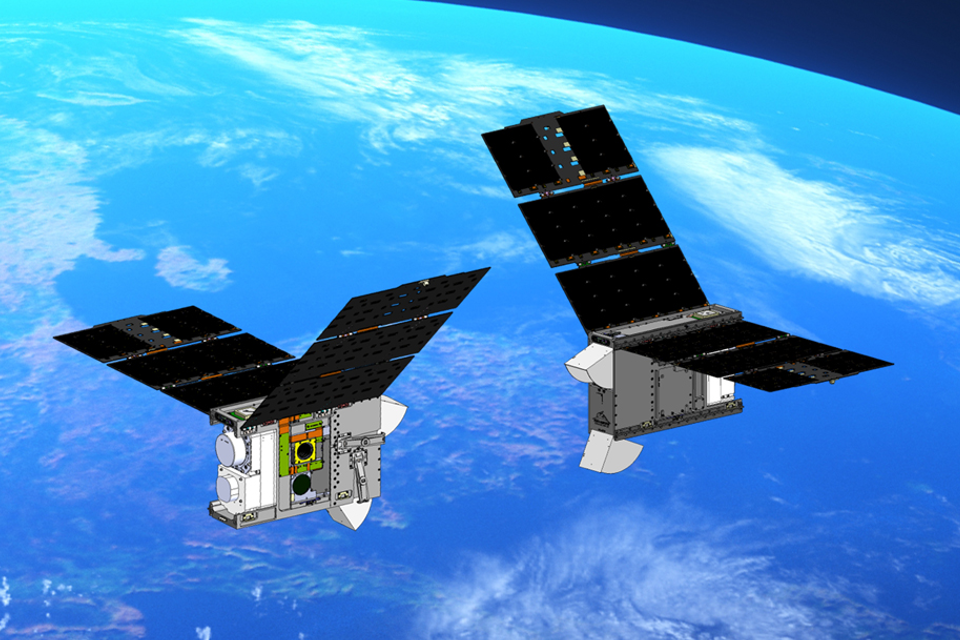 DOVER
This payload, named after the Dover Strait (the narrowest part of the English Channel) is a 3U CubeSat. It was designed by space company Open Cosmos (UK) and built by the RHEA Group (Belgium).
The satellite was partly funded by the UK Space Agency. It will transmit signals designed for use in Positioning, Navigation, and Timing (PNT). This is a term that is used with Global Navigation Satellite Systems (GNSS) such as GPS.
The UK government has expressed an interest in developing its own PNT capability. After leaving the EU, the UK lost access to the Public Regulated Service (PRS) provided by the European Union's Galileo system. This service would have been extremely useful to emergency services.
The satellites will be deployed to a 550 km Sun-Synchronous Orbit (SSO).
ForgeStar-0
This satellite is the first to be developed in Wales, UK. Space Forge, the manufacturing company, is based in Cardiff, the Welsh capital city.
It is an ambitious platform, designed to demonstrate on-orbit manufacturing. Examples include growth of crystals with higher quality, removal of contaminants during the manufacturing process, and access to low temperatures without cryogenic systems.
Learn more about Space Forge in this video from the Angry Astronaut. ForgeStar-0 is focused on reentry and will not be demonstrating any on-orbit manufacturing on this mission.
A novel aspect of the ForgeStar platform is that it is designed to perform its manufacturing tasks in orbit, and then return the materials to Earth using a fully-reusable (not ablative), deployable heat shield and specialized capture system. This is likely to involve carbon thermal protection tiles similar to what was used on the Space Shuttle orbiter. Everyday Astronaut understands that the heat shield is not inflatable, unlike the recent Low-Earth Orbit Flight Test of an Inflatable Decelerator (LOFTID) mission.
One application area is to assist in development of larger wind turbines than are currently feasible. This is due to current limitations in size being based on the strength of the bolts used in assembly. Stronger bolts manufactured in microgravity would permit larger, more efficient wind turbines.
Other areas of interest are to create larger, stronger gas turbine parts so that aircraft use less fuel, and the creation of more efficient batteries for either electric aircraft or cars.
ForgeStar-0 was developed at pace (in less than 5 months) to fly before the previously planned ForgeStar-1 satellite, as a test bed for the reentry technology.
AMAN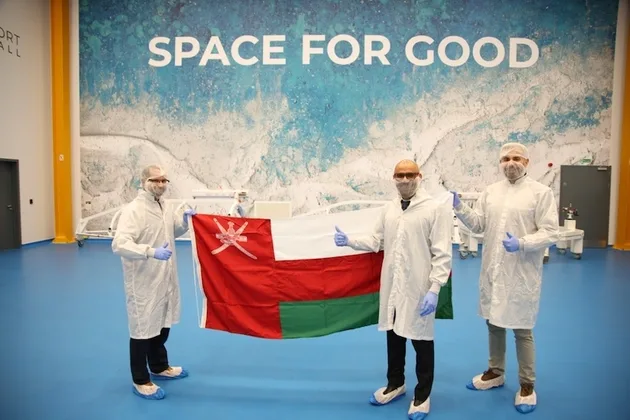 This payload is a 3U CubeSat. It is Oman's first satellite. It has been built by Polish company SatRevolution (SatRev).
The purpose of the satellite is to demonstrate Earth observation technologies. It will be operated by Omani-based company ETCO.
It forms part of Oman's project Oman Vision 2040, which is aimed at developing economic competitiveness and social well-being.
ETCO is an Oman-based emerging technology innovator. Data gathered from the spacecraft will be analyzed by TUATARA, a specialist company in advanced AI, data analytics and cognitive technology solutions.
STORK-6
This is a 3U CubeSat built by SatRev of Poland. It joins a constellation of 14 when fully populated.
It features SatRev's Vision-300 imager which provides a ground resolution of 5 m (~15 ft). This takes up 1U volume on the platform. The other 2U volume is available for use by other customer payloads.
SatRev previously launched STORK-3 and SteamSat-2 on January 13, 2022, also using LauncherOne, on the "Above The Clouds" mission.
STORK-1 and -2 were previously launched also on January 13, 2022, on board SpaceX' Transporter-3 mission.
STORK-4 and -5 flew on the Tubular Bells, Part One flight of LauncherOne, on June 30, 2021.
What Is LauncherOne?
LauncherOne is a two-stage, liquid-fueled rocket that deploys from under the wing of a Boeing 747-400. Its design is a simple, low-cost, expendable vehicle capable of placing satellites into a variety of orbits.
Cosmic Girl
The deployment aircraft, "Cosmic Girl", is officially registered as N744VG. Formerly a regular passenger aircraft, it flew with Virgin Atlantic for many years. The aircraft's previous registration was G-VWOW during its 14 years in this service. Virgin Galactic re-registered the aircraft in 2015. Ownership transferred to Virgin Orbit when VO became a company in its own right.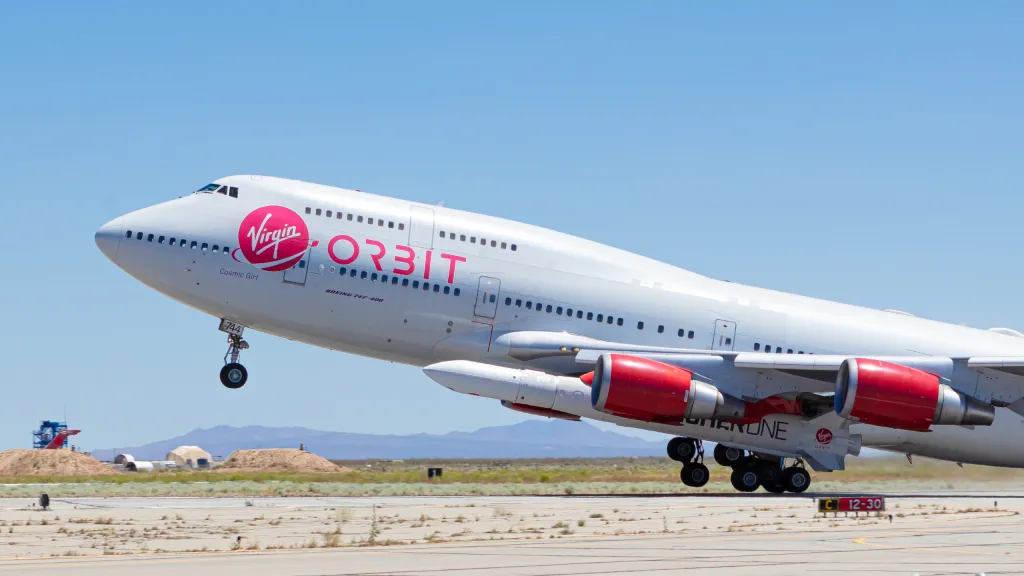 Boeing designed the 747 to be able to carry a fifth engine to ferry spare engines for maintenance purposes. During launch operations, Cosmic Girl has two pilots in the cockpit and two to three launch engineers in the main cabin.
Virgin Orbit reports that the air launching technique provides a significant performance boost, due to the carrier aircraft traveling at around 500 mph or Mach 0.67, and above the thickest parts of the atmosphere.
Back in late 2019, Will Pomerantz of Virgin Orbit stated in a video interview with the TMRO YouTube channel that live streaming these launches would not be practical. However, starting with their second launch, VO has in fact been able to provide live streams of their launches.
The flight will be led by Matthew Stannard, a Royal Air Force (RAF) test pilot who is on secondment with Virgin Orbit. Deployment of the rocket occurs at an altitude of 35,000 feet (10,700 m). Immediately after deployment, the aircraft pitches up to a 27˚ angle in order to stay clear of the rocket.
LauncherOne First Stage
| | |
| --- | --- |
| Size | 1.8 m / 6 ft outer diameter |
| Primary material | Composite structure |
| Propellants | 6,000 kg RP-1 and 13,200 kg LOX |
| Engine | One pump-fed Newton Three engine |
| Performance | 327 kN / 73,500 lbf thrust (vacuum) |
| Burn time | 3 minutes |
4 aerodynamic fins at the base of the rocket stabilize flight during the first stage burn.
LauncherOne Second Stage
| | |
| --- | --- |
| Size | 1.5 m / ~5 ft outer diameter |
| Primary material | Composite structure |
| Propellants | RP-1 / LOX |
| Engine | One Newton Four engine |
| Performance | 22 kN / 5,000 lbf thrust |
| Burn time | 6 minute run time |
LauncherOne Ground Support Equipment
Virgin Orbit provides its own Transportable Ground Operating System (TGOS), to avoid the need for special technical facilities at launch airports.
Virgin Orbit is also in the process of arranging for launches from Oita airport in Japan. They are also in discussions with many additional countries to look at increasing the number of international launch locations.