Featured image credit: Wang Jiangbo/Xinhua
Lift Off Time

June 22, 2022 – 02:08 UTC | 10:08 BJT

Mission Name

Tianxing-1

Launch Provider
(What rocket company launched it?)

ExPace (part of China Aerospace Science and Industry Corporation CASIC)

Customer
(Who paid for this?)

Chinese Academy of Sciences (CAS)

Rocket

Kuaizhou-1A

Launch Location

Jiuquan Satellite Launch Center, North West China

Payload mass

Unknown, but up to 300 kg (660 lb) to a 500 km low-Earth orbit

Where did the satellite go?

A near polar orbit, 278 x 291 km, with an inclination of 96.8°

Did they attempt to recover the first stage?

No, the Kuaizhou is not capable of booster recovery

Where did the first stage land?

It crash landed in remote countryside

Did they attempt to recover the fairings?

No, the Kuaizhou is not capable of fairing recovery

Were these fairings new?

Yes

This was the:

– 15th launch of a Kuaizhou 1A rocket
– 69th orbital launch attempt of 2022 (67th successful)

Where to re-watch

Once available, an official replay will be listed here
What Does All This Mean?
ExPace successfully launched the Tianxing-1 test satellite on a Kuaizhou-1A rocket, from the Jiuquan Satellite Launch Center. This launch took place six months after the rocket suffered failure on the GeeSAT-1A & 1B mission.
Tianxing-1 Mission
Very little information is available about the Tianxing-1 satellite. It was developed by the Institute of Mechanics under the Chinese Academy of Sciences (CAS) and, according to Chinese media, will be used as a test satellite for space environment detection. It is also unknown if the satellite can substantially raise its own orbit.
Kuaizhou-1A
The Kuaizhou launch vehicle is a four-stage small-lift launch vehicle, meant for sending small-sats to low-Earth orbit. The vehicle is similar in both size and capability to Rocket Lab's Electron launch vehicle; however, unlike Electron the first three stages of Kuaizhou are solid fuel, with only the last stage being liquid fuel.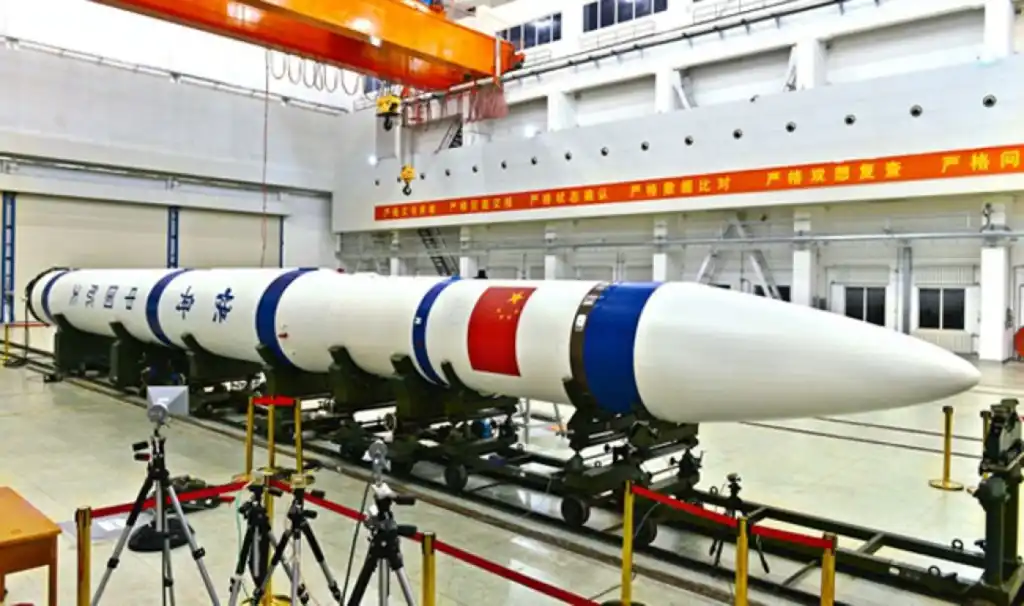 First flying in 2017, Kuaizhou-1A is based on the two-stage DF-21 medium-range ballistic missile. It can lift up to 300 kg to a 500 km low-Earth orbit, or 250 kg into a 500 km Sun-Synchronous Orbit (SSO).
Overall, the rocket is 20 m (~66 ft) tall with a maximum width of 1.4 m (~4 ft). At take-off, it has a mass of 30 tonnes, and flies from a mobile transporter-erector vehicle, rather than a fixed launch pad.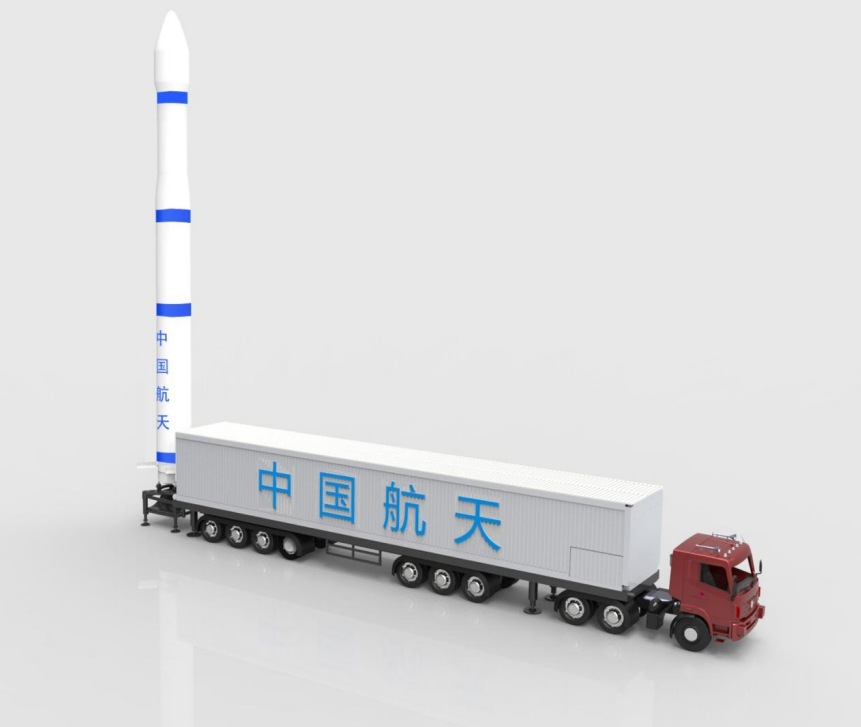 "Kuai zhou" means "fast vessel," signifying that the launch preparations only require six members and can be carried out in under 24 hours.
Kuaizhou-1A First Stage
The first stage is 1.4 m wide and has a solid fuel motor. It has a mass of 16.6 tonnes at take off, after which the solid motor burns for 65 s, delivering 2,352 Ns/kg of thrust. Stage separation occurs 83 seconds into the flight when the vehicle is about 36 km in altitude.
Kuaizhou-1A Second Stage
The second stage is also 1.4 m in diameter and also uses a solid fuel motor. The second stage is shorter than the first stage but not by much. The mass of this stage is 8,686 kg. The motor burns for 62 seconds, providing 2,810 Ns/kg of thrust. Stage separation takes place 161 seconds into the flight.
Kuaizhou-1A Third Stage
The third stage is slightly slimmer than the first two, at 1.2 m. It is significantly shorter than the second stage. This stage has a mass of 3,183 kg, and its motor burns for 55 seconds, giving 2,850 Ns/kg.
Kuaizhou-1A Fourth Stage
The fourth stage is the only part of the rocket that uses liquid fuel. It uses Monomethylhydrazine (MMH) for fuel and Nitrogen Tetroxide (N2O4) as oxidizer. Similar to the third stage, it is also 1.2 m wide.
After stage 4 shutdown, the stage coasts for about 8 seconds. This is so that the vehicle will have the appropriate angular velocities for correct payload deployment.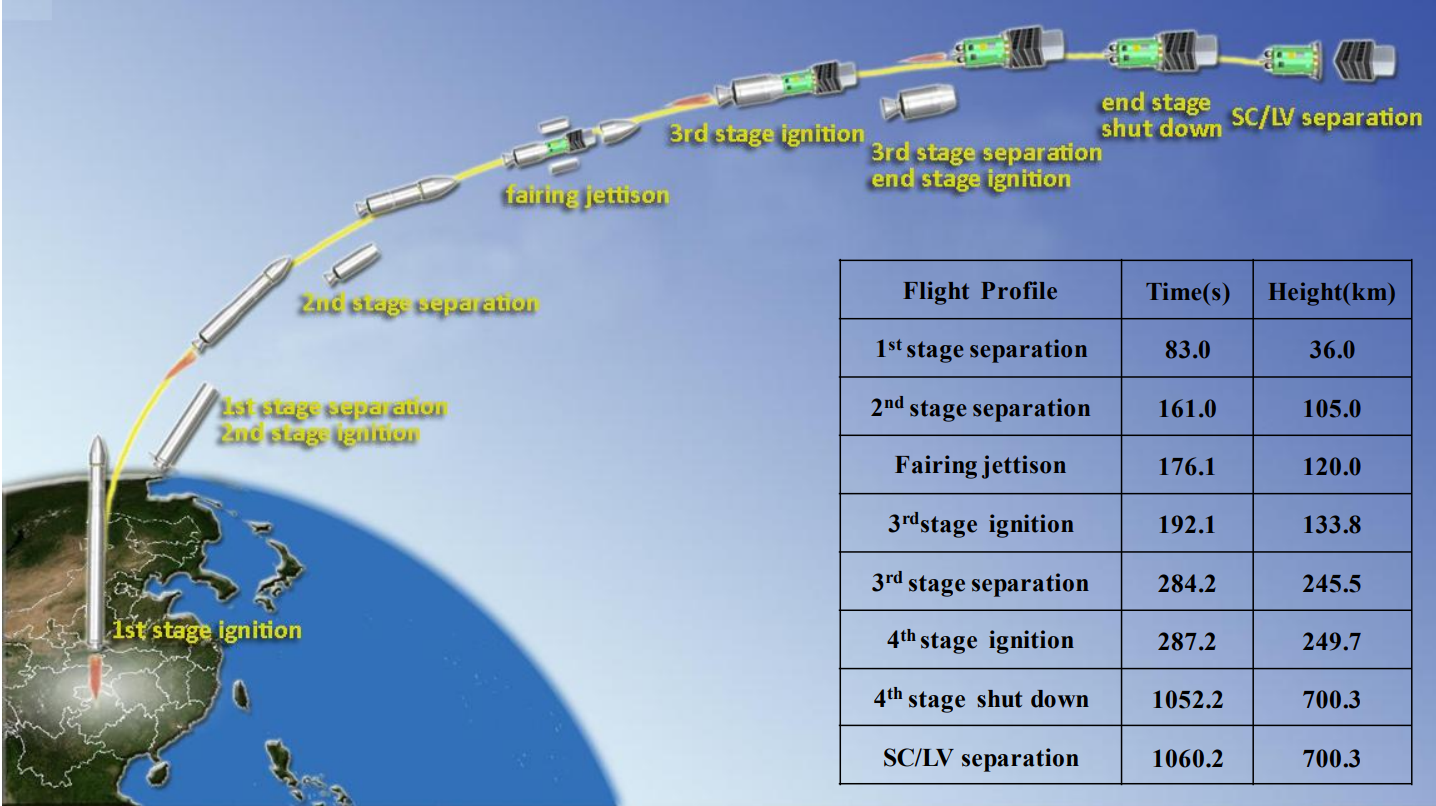 Launch Sequence And Countdown
| | |
| --- | --- |
| Time before launch | Procedure |
| T-240 min | Prepare for launch; launch vehicle erection |
| T-200 min | The whole checking of the launch vehicle |
| T-190 min | Satellite test (The test is allocated 1 hour, but the time could be adjusted based on the actual situation) |
| T-130 min | Install lattice rudders |
| T-95 min | Aiming |
| T-70 min | Correction of guidance before launch |
| T-25 min | Communication & Tracking System power-on |
| T-15 min | Recall satellite with GPS/BD2 |
| T-10 min | Demolition of defend breeze block |
| T-9 min 30 sec | Communication & Tracking System starts work |
| T-9 min 30 sec | Start the flow of launch |
| T-2 min | Control System power switch-over |
| T-1 min | Automatic ignition procedure start; engine gimbal check, safety control turning to internal power |
| T-0 sec | Ignition |
Typical Pre-Launch Countdown Procedure (Credit: ExPace KZ-1A User's Manual v1.1)