Featured Image: NASA
Lift Off Time


November 10, 2023 – 01:28 UTC
November 09, 2023 – 20:28 EDT

Mission Name

Dragon CRS-2 SpX-29, a Commercial Resupply Service mission to the International Space Station (ISS)

Launch Provider
(What rocket company is launching it?)

SpaceX

Customer
(Who's paying for this?)

National Aeronautics and Space Administration (NASA)

Rocket

Falcon 9 Block 5 B1081-2, 76 day turnaround

Launch Location

Launch Complex 39A (LC-39A), Kennedy Space Center, Florida, USA

Payload mass

Not Specified

Where is the spacecraft going?

Dragon 2 C211 will rendezvous with the ISS, ~400 km low Earth orbit (LEO) at a 51.66° inclination

Will they be attempting to recover the first stage?

Yes

Where will the first stage land?

Landing Zone 1

Will they be attempting to recover the fairings?

There are no fairings on the Dragon 2

Are these fairings new?

There are no fairings on the Dragon 2

This will be the:

– 272nd Falcon 9 launch
– 77th Falcon 9 mission of 2023
– 203rd Falcon 9 flight with a flight-proven booster
– 115th re-flight of a booster
– 81st re-flight of a booster in 2023
– 243rd booster landing
– 167th consecutive landing (a record)
– 81st launch for SpaceX in 2023
– 285th SpaceX mission
– 2nd flight of Dragon 2 C211
– 181st orbital launch attempt of 2023

Where to watch

Official livestream
What Does All This Mean?
Dragon CRS-2 SpX-29 (CRS-29) is a Commercial Resupply Service mission that will be heading to the International Space Station (ISS) to deliver cargo. SpaceX was awarded this mission by NASA back in 2016 and will launch it on its Falcon 9 Block 5 rocket using a Cargo Dragon 2 – C211. The rocket will lift off from Launch Complex 39A, at the Kennedy Space Center in Florida.
How Did It Go?
This launch was fully successful. The Cargo Dragon 2 – C211 docked to the Harmony port of the ISS on Saturday November 11 at 10:07 UTC, (5:07 EST ), 14 minutes earlier than scheduled.
CRS-2 SpX-29
The International Space Station (ISS) is a large international collaboration between nations across the globe. Operating for over 20 years, the orbital laboratory needs regular visits from cargo vehicles to deliver new experiments, supplies like clothing, food, and water, and eventually acts as a garbage disposal for used items.
Currently, three different vehicles from three different entities have the capability to carry cargo to the ISS. Northrup Grumman's Cygnus spacecraft launched by NASA, ROSCOSMOS's Soyuz Progress spacecraft, and SpaceX's Cargo Dragon spacecraft.
The last SpaceX resupply mission was in June of 2023, CRS-2 SpX-28.
CRS-29 Research Payloads
Every resupply mission hosts dozens of experiments and technology demonstrations. On CRS-29, these range from vegetation experiments to student spaceflight experiments. These research experiments can range from NASA-funded experiments to private companies and universities. Due to the amount of research on CRS-29, only select payloads will be discussed in-depth here. If you'd like to learn more, check out and explore NASA's or the National Lab's websites.
The Growing Hope project is an educational outreach project that will send 500 grams of heirloom vegetable seeds which are used extensively by the Choctaw Nation of Oklahoma, the third largest Indian Nation in the US, to the ISS. Five types of heirloom seeds will be sent to the space station: Isito (Choctaw Sweet Potato Squash), Tobi (Smith Peas), Tanchi Tohbi (Flour Corn), Tvnishi (Lambsquarter, a leafy green similar to spinach), and Chukfi (Peas). The seeds will spend several months on the space station before being returned to the Choctaw Nation. Once back on earth, these seeds will be planted by students at the Jones Academy, a boarding school for Native American children. The students will predict and then observe the plants as they grow. The aim of Growing Hope is to inspire Native American students and encourage them to pursue careers in STEM.
The Effect of Microgravity on Human Brain Organoids is a project which will observe the response of brain organoids to microgravity. Organoids are small living masses of cells which interact, grow, and can survive for months. They can be used as a model for understanding responses to changes in the environment, such as the microgravity environment of the ISS. Researchers will use the results of this experiment to look at how microgravity affects survival, metabolism, and features of brain cells and, therefore, cognitive function.
Once aboard the ISS, the organoids will be installed in the TangoLab for three weeks of microgravity exposure. After this, they will be cold stowed until they return to Earth.
The Student Spaceflight Experiments Program (SSEP) is a yearly project which gives students from around the world the opportunity to use MixStix testing tubes aboard the ISS for their own research. This year, more than 2,200 proposals were submitted and 39 were selected, with investigations ranging from plant biology and life science concepts.
Similar to SSEP, the DreamUp STEM education program is a yearly initiative which gives students the opportunity to launch their own experiments into space. This program is focused on students in the US, and it aims to encourage and engage future generations of scientists and engineers. On this mission, seven student experiments have been selected to fly. Once aboard the ISS, these experiments will use the microgravity environment of the laboratory to aid in their research which will happen using MixStix testing tubes.
What Is Falcon 9 Block 5?
The Falcon 9 Block 5 is SpaceX's partially reusable two-stage medium-lift launch vehicle. The vehicle consists of a reusable first stage, an expendable second stage, and, when in payload configuration, a pair of reusable fairing halves.
First Stage
The Falcon 9 first stage contains nine Merlin 1D+ sea-level engines. Each engine uses an open gas generator cycle and runs on RP-1 and liquid oxygen (LOx). Each engine produces 845 kN of thrust at sea level, with a specific impulse (ISP) of 285 seconds, and 934 kN in a vacuum with an ISP of 313 seconds. Due to the powerful nature of the engine, and the large amount of them, the Falcon 9 first stage is able to lose an engine right off the pad, or up to two later in flight, and be able to successfully place the payload into orbit.
The Merlin engines are ignited by triethylaluminum and triethylborane (TEA-TEB), which instantaneously burst into flames when mixed in the presence of oxygen. During static fire and launch the TEA-TEB is provided by the ground service equipment. However, as the Falcon 9 first stage is able to propulsively land, three of the Merlin engines (E1, E5, and E9) contain TEA-TEB canisters to relight for the boost back, reentry, and landing burns.
Second Stage
The Falcon 9 second stage is the only expendable part of the Falcon 9. It contains a singular MVacD engine that produces 992 kN of thrust and an ISP of 348 seconds. The second stage is capable of doing several burns, allowing the Falcon 9 to put payloads in several different orbits.
For missions with many burns and/or long coasts between burns, the second stage is able to be equipped with a mission extension package. When the second stage has this package it has a grey strip, which helps keep the RP-1 warm, an increased number of composite-overwrapped pressure vessels (COPVs) for pressurization control, and additional TEA-TEB.
Falcon 9 Booster
The booster supporting the CRS-29 mission is B1081-2. As the name implies, the booster has supported one previous missions.
| | | |
| --- | --- | --- |
| B1081's missions | Launch Date (UTC) | Turnaround Time (Days) |
| Crew-7 | August 26, 2023 | N/A |
| Dragon CRS-2 SpX-29 | November 10, 2023 | 76 |
Following launch, the Falcon 9 booster will conduct up to three burns. These burns aim to softly touch down the booster on Landing Zone 1.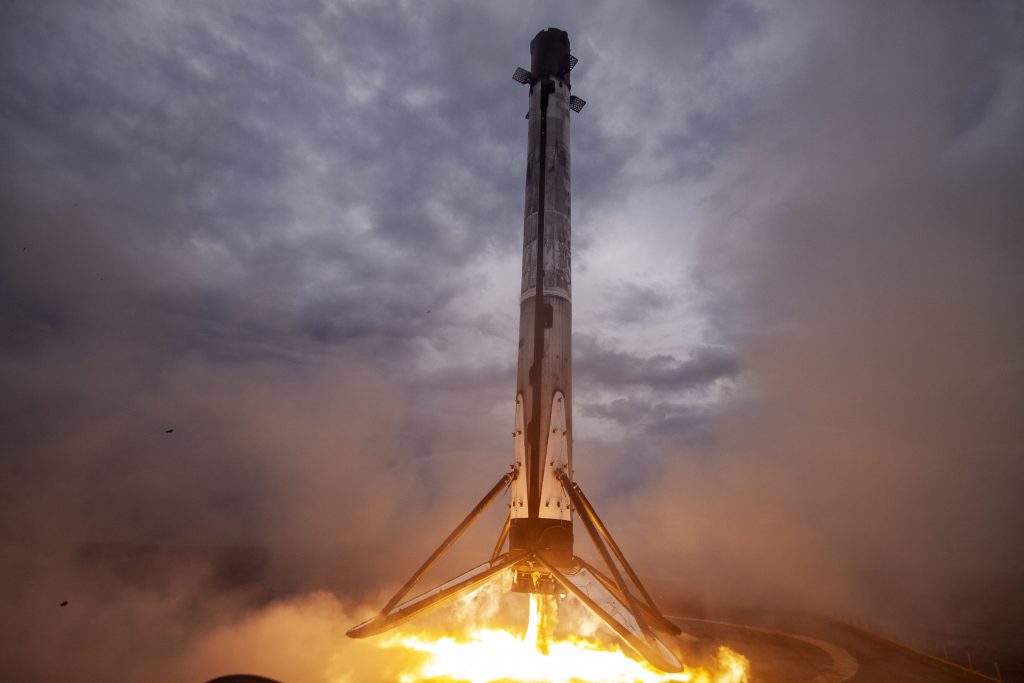 Cargo Dragon 2
The CRS-29 mission will be the ninth mission to the ISS for a Cargo Dragon 2 and the second mission for Dragon C211. Like its fellow Dragons it will hopefully return to Earth after serving its time on the ISS bringing back experiments and other cargo. It will then be refurbished and used on another mission in the future.
| C211's missions | Launch Date (UTC) | Turnaround Time (Days) |
| --- | --- | --- |
| Dragon CRS-2 SpX-26 | November 26, 2022 | N/A |
| Dragon CRS-2 SpX-29 | November 10, 2023 | 348 |
Cargo Dragon 2 is 8.1 m (26.6 ft in) in height and 3.7 meters (12 feet) in diameter. Compared to the original Cargo Dragon, the upgraded spacecraft can and will automatically dock on the ISS. The old version had to be manually berthed by Canadarm2.
The Cargo Dragon 2 shares a similar design with the Crew Dragon spacecraft intended to carry astronauts to the ISS and back to Earth. However, there are some differences. The Cargo Dragon 2 does not have SuperDraco abort engines, nor a life support system since there will be no human passengers on board. In the pressurized section, the seats and crew displays have been swapped for cargo racks. The environmental control system has been also reduced both in size and complexity.
Overall, the CRS-29 mission's success criteria will be successful deployment of the Cargo Dragon 2 to the dedicated orbit, its docking to the ISS, and recovery of the booster.
CRS-29 Countdown
All times are approximate
| HR/MIN/SEC | EVENT |
| --- | --- |
| 00:38:00 | SpaceX Launch Director verifies go for propellant load |
| 00:35:00 | RP-1 (rocket grade kerosene) loading begins |
| 00:35:00 | 1st stage LOX (liquid oxygen) loading begins |
| 00:16:00 | 2nd stage LOX loading begins |
| 00:07:00 | Falcon 9 begins pre-launch engine chill |
| 00:05:00 | Dragon transitions to internal power |
| 00:01:00 | Command flight computer to begin final prelaunch checks |
| 00:01:00 | Propellant tanks pressurize for flight |
| 00:00:45 | SpaceX Launch Director verifies go for launch |
| 00:00:03 | Engine controller commands engine ignition sequence to start |
| 00:00:00 | Falcon 9 liftoff |
LAUNCH, LANDING, AND DEPLOYMENT
All times are approximate
| HR/MIN/SEC | EVENT |
| --- | --- |
| 00:01:12 | Max Q (moment of peak mechanical stress on the rocket) |
| 00:02:27 | 1st stage main engine cutoff (MECO) |
| 00:02:30 | 1st and 2nd stages separate |
| 00:02:38 | 2nd stage engine starts |
| 00:02:42 | 1st stage boostback burn begins |
| 00:03:15 | 1st stage boostback burn complete |
| 00:05:45 | 1st stage entry burn begins |
| 00:05:59 | 2nd stage engine cutoff (SECO-1) |
| 00:07:06 | 1st stage landing burn begins |
| 00:07:33 | 1st stage landing |
| 00:08:37 | Dragon separates from 2nd stage |
| 00:11:49 | Dragon nosecone open sequence begins |