Featured image credit: Xinhua
Lift Off Time

August 5, 2021 – 16:30 UTC
August 6, 2021 – 00:30 BJT

Mission Name

Zhongxing 2E (Chinasat 2E), a geostationary communication satellite

Launch Provider
(What rocket company launched it?)

China Aerospace Science and Technology Corporation (CASC)

Customer
(Who paid for this?)

China Satellite Communications

Rocket

Long March 3B/E

Launch Location

LC-2, Xichang Satellite Launch Center, People's Republic of China

Payload mass

5400 kg (11,905 Ib)

Where did the satellite go?

Geostationary Transfer Orbit (GTO)

Did they attempt to recover the first stage?

No, this is not a capability of the Long March 3B/E rocket

Where did the first stage land?

It crashed back over land in China

Did they attempt to recover the fairings?

No, this is not a capability of the Long March 3B/E rocket

Were these fairings new?

Yes

This was the:

– 25th Chinese launch in 2021
– 76th launch of any Long March 3B variant
– 76th orbital launch attempt of 2021 (74th successful)
– 134th launch of any Long March 3 variant

Where to watch

If available, an official replay will be listed here
What does all this mean?
Zhongxing 2E (Chinasat 2E) is a Chinese communication satellite. It was launched atop a Long March 3B/E rocket from Xichang Satellite Launch Center, China. After that, it was deployed into a geostationary transfer orbit (GTO) and will gradually raise its orbit to a geostationary orbit (GEO).
Zhongxing 2E (Chinasat 2E)
Due to the nature of the payload, very little is known about its technical details. Zhongxing 2E is based on the DFH-4 (Dong Fang Hong 4) third generation communications satellite bus, but has improved characteristics (e.g. extended lifespan).
Zhongxing 2E likely belongs to the second generation of Shentong tactical communications satellites. It is designed to deliver secure voice and data communications to ground terminals operating at the Ku-Band frequency (12 to 18 GHz). Moreover, this satellite feature advanced multiple steerable spot beam antenna technology. It allows ground users to communicate while on the move.
Long March 3B/E
The Long March 3B/E is an expandable three stage medium-lift rocket, with an optional fourth stage. The rocket has four liquid-fueled side boosters, and is an improved version over the original Long March 3B. It first launched in 2007 and has, due to its upgrades, better payload capabilities to GTO. Specifically, it was increased from 5,100 kg to 5,500 kg compared to the original Long March 3B. The Long March 3B/E flies with a 4.2 m diameter payload fairing compared to the Long March 3B variant with 4 m fairing.
The Long March 3B series features the following sections or stages from ground to nose:
Side boosters
First (center) stage
Second stage
Third stage
Optional fourth stage
Side Boosters
The Long March 3B/E utilizes four side boosters that each use one YF-25 engine, which is powered by Unsymmetrical Di-Methyl Hydrazine (UDMH) and Nitrogen Tetroxide (N2O4). Measuring 16.1 m in length, the side boosters produce 740 kN of thrust at lift-off, with the engines burning for 140 s and an ISP of 260 s.
First (center) Stage
The first stage has four YF-21C engines, which again uses UDMH and N2O4 as propellants. The first stage has an ISP of 260 seconds and produces 2,960 kN of thrust at sea level. The Long March 3B/E's first stage measures 3.35 m in diamter and 24.76 m in hight.
Second Stage
The second stage is powered by a single YF-22E engine. However, attitude control is provided by a single YF-23 Vernier engine, and combined, these engines are known as a YF-24 module. Just like the side boosters and the first stage, the engine runs on UDMH and N2O4 and produces 742 kN of thrust. The second stage is again 3.35m in diameter and 12.9 m tall, while burning for apporximately 185 seconds during flight.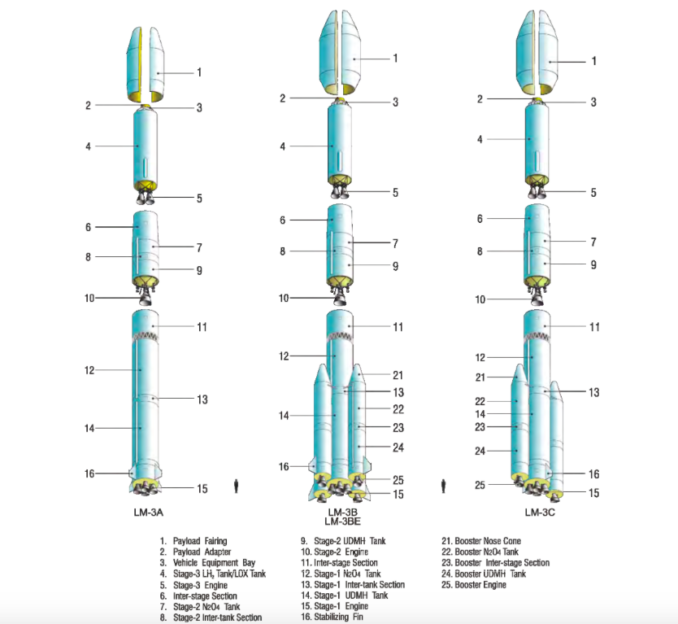 Third Stage
The Long March 3B/E third stage is 12.4 m (40.7 ft) long and is powered by two YF-75 engines. Unlike the other stages, this stage is high energy/efficiency stage powered by liquid hydrogen (LH2) and liquid oxygen (LOx). Since this engine only performs in the vacuum of space, efficiency is more important than thrust, it only produces 157 kN, while having a specific impulse of around 440 s.
Optional Fourth Stage
The optional fourth stage again runs on UDMH and N2O4, and has a singular YF-50D engine producing 6.5 kN at an ISP of 315 s. It is unclear if this stage will be used for this launch.