Featured Image: Rocket Lab/Trevor Mahlman
Lift Off Time

January 24, 2023 – 23:00 UTC | 18:00 EST

Mission Name

Virginia Is For Launch Lovers

Launch Provider
(What rocket company launched it?)

Rocket Lab

Customer
(Who paid for this?)

HawkEye 360

Rocket

Electron

Launch Location

Launch Complex 2 (LC-2), Wallops Island, Virgnia, USA

Payload mass

90 kg (198 lb)

Where did the satellites go?

550 km low Earth orbit at a 40.5 degree inclination

Did they attempt to recover the first stage?

No, this is currently not a capability for Rocket Lab from the United States

Where did the first stage land?

It crashed into the Atlantic Ocean

Did they attempt to recover the fairings?

No, this is not a capability of Rocket Lab

Were these fairings new?

Yes

This wwas the:

– 1st launch of Electron from the United States
– 33rd mission for Rocket Lab
– 1st launch of Electron in 2023
– 13th orbital launch attempt

Where to watch

Official replay
How Did It Go?
Rocket Lab successfully launched the Electron rocket from the United States for the first time. After construction and completion of the LC-2 on Wallops Island, Virginia, USA in 2020 and some unlucky weather during the first launch attempt in December 2022, Electron finally flew in beautiful fashion. The mission was a 100% success from launch to payload deployment of the three HawkEye 360 Cluster 6 satellites.
Virginia Is For Launch Lovers
Rocket Lab has the notion of choosing clever mission titles. Because Electron will be launching from Virginia, a state in the United States who has the motto "Virginia is for Lovers", Rocket Lab aptly named this mission Virginia Is For Launch Lovers. Unlike some previous missions from New Zealand, there will be no air recovery attempt as the infrastructure is not available in the United States, yet.
Rocket Lab has previously attempted to catch Electron's first stage with a helicopter with great success, but has not been able to "stick it on the deck" as CEO Peter Beck stated. Every mission that has featured recovery has seen fully successful satelite deployment resulting in mission success.
HawkEye 360 Cluster 6
The Virginia Is For Launch Lovers mission launched a trio of satellites for the Virgnia based satellite manufacturer, HawkEye 360. HawkEye 360's vision is to "Transform the invisible into solutions for a better world". In more technical terminology, HawkEye 360's satellites study radio frequencies (RF) of wide ranges across the globe to provide data about RF interference to customers of various industries.
This launch was the sixth launch of the constellation which is estimated to be completed in the late 2020s. Prior to this launch, HawkEye 360 has only launched their Cluster satellites with SpaceX on Falcon 9 rockets. In a discussion with Everyday Astronaut, Chief Operating Officer Rob Rainhart stated that the constellation will consist of 20 clusters containting three satellites each. The current goal is to launch two to three clusters a year.
After payload deploy, the satellites will use a specially designed and highly efficient propulsion system to separate to their designated points on their orbit. In this case, the orbit is at 550 km in altitude and is inclined to 40.5 degree inclination. Once the satellites are separated to their desired point, the propulsion system will maintian that position. The formation is not active, therefore the satellites will not move once they are in position.
HawkEye 360 will be launching their Cluster 7 satellites on a SpaceX Falcon 9 Block 5 rocket sometime in early 2023. According to Chief Operating Officer Rob Rainhart, the various launch providers enable them to be able to get to a variety of orbits. The company will continue to use the launch provider that works best for them, so future clusters will launch on a variety of rockets.
Launch Complex 2
A new launch pad requires new infrastructure to support it. Infrastructure includes an Integration and Control Facility (ICF) and launch pad. The ICF includes a large room for rocket assembly and payload integration in addition to a control room to montitor launch vehicle systems throughout the countdown and until satellite deployment, when Rocket Lab's mission has concluded.
What Is Electron?
Rocket Lab's Electron is a small-lift launch vehicle designed and developed specifically to place small satellites (CubeSats, nano-, micro-, and mini satellites) into LEO and Sun-synchronous orbits (SSO). Electron consists of two stages with optional third stages.
Electron is about 18.5 meters (60.7 feet) in height and only 1.2 meters (3.9 feet) in diameter. It is not only small in size, but also light-weighted. The vehicle structures are made of advanced carbon fiber composites, which yields an enhanced performance of the rocket. Electron's payload lift capacity to LEO is 300 kg (~660 lb).
The maiden flight It's A Test was launched on May 25, 2017, from Rocket Lab's Launch Complex-1 (LC-1) in New Zealand. On this mission, a failure in the ground communication system occurred, which resulted in the loss of telemetry. Even though the company had to manually terminate the flight, there was no larger issue with the vehicle itself. Since then, Electron has flown a total of 26 times (23 of them were fully successful) and delivered 146 satellites into orbit.
First And Second Stage
| | First Stage | Second Stage |
| --- | --- | --- |
| Engine | 9 Rutherford engines | 1 vacuum optimized Rutherford engine |
| Thrust Per Engine | 24 kN (5,600 Ibf) | 25.8 kN (5,800 Ibf) |
| Specific Impulse (ISP) | 311 s | 343 s |
Electron's first stage is composed of linerless common bulkhead tanks for propellant, and an interstage, and powered by nine sea-level Rutherford engines. The second stage also consists of tanks for propellant (~2,000 kg) and is powered by a single vacuum optimized Rutherford engine. The main difference between these two variations of the Rutherford engine is that the latter has an extended nozzle that results in improved performance in near-vacuum conditions.
For the Love At First Insight mission, the company introduced an update to the second stage by stretching it by 0.5 m. Moreover, they flew an Autonomous Flight Termination System (AFTS) for the first time.
Rutherford Engine
Rutherford engines are the main propulsion source for Electron and were designed in-house, specifically for this vehicle. They are running on rocket-grade kerosene (RP-1) and liquid oxygen (LOx). There are at least two things about the Rutherford engine that make it stand out.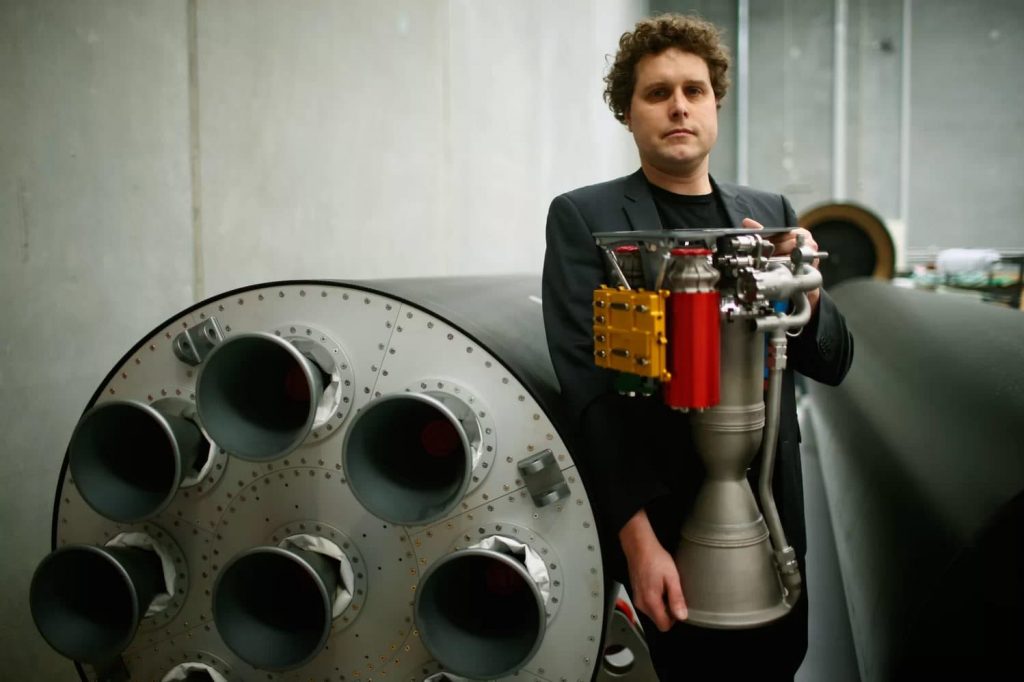 Firstly, all primary components of Rutherford engines are 3D printed. Main propellant valves, injector pumps, and engine chamber are all produced by electron beam melting (EBM), which is one of the variations of 3D printing. This manufacturing method is cost-effective and time-efficient, as it allows to fabricate a full engine in only 24 hours.
Rutherford is the first RP-1/LOx engine that uses electric motors and high-performance lithium polymer batteries to power its propellant pumps. These pumps are crucial components of the engine as they feed the propellants into the combustion chamber, where they ignite and produce thrust. However, the process of transporting liquid fuel and oxidizer into the chamber is not trivial. In a typical gas generator cycle engine, it requires additional fuel and complex turbomachinery just to drive those pumps. Rocket Lab decided to use battery technology instead, which allowed eliminating a lot of extra hardware without compromising the performance.
Kick Stage
Electron has optional third stages, also known as the Kick Stage, Photon, and deep-space version of Photon. The Kick Stage is powered by a single Curie engine that can produce 120 N of thrust. Like Rutherford, it was designed in-house and is fabricated by 3D printing. Apart from the engine, the Kick Stage consists of carbon composite tanks for propellant storage and six reaction control thrusters.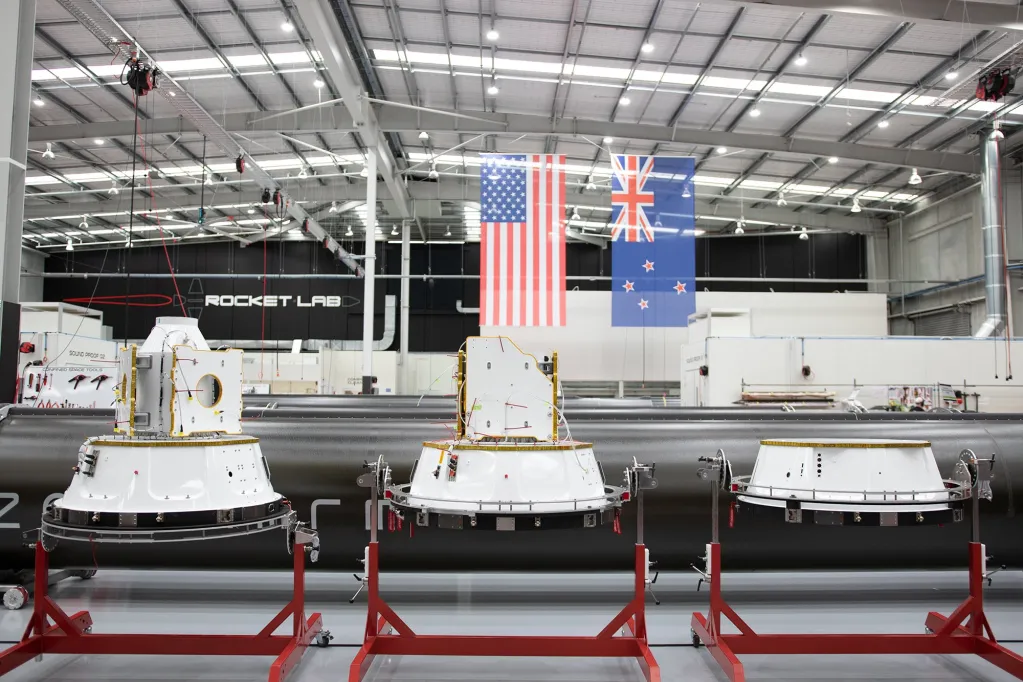 The Kick Stage in its standard configuration serves as in-space propulsion to deploy Rocket Lab's customers' payloads to their designated orbits. It has re-light capability, which means that the engine can re-ignite several times to send multiple payloads into different individual orbits. One example includes Electron 19th mission, They Go Up So Fast, launched in March of 2021. The Curie engine was ignited to circularize the orbit, before deploying a payload to 550 km. Curie then re-lighted to lower the altitude to 450 km, and the remaining payloads were successfully deployed. For the There and Back Again mission, the kick stage was ignited once to circularize its orbit.