Featured image credit: SpaceX
Lift Off Time
(Subject to change)

NET January 15, 2023 – 22:56 UTC | 17:56 EST

Mission Name

USSF-67

Launch Provider
(What rocket company is launching it?)

SpaceX

Customer
(Who's paying for this?)

United States Space Force (USSF)

Rocket

Falcon Heavy, B1064-2, B1070-1, B1065-2

Launch Location

Launch Complex 39A (LC-39A), Kennedy Space Center, Florida, USA

Payload mass

Between 2,380 kg and 5,380 kg

Where are the satellites going?

GEO, the exact longitude is unknown

Will they be attempting to recover the first stage?

Yes (side boosters) and no (center core)

Where will the first stage land?

The two side boosters will land at Landing Zone 1 and Landing Zone 2

Will they be attempting to recover the fairings?

The fairing halves will be recovered from the water by recovery ship TBD.

Are these fairings new?

Yes

How's the weather looking?

Weather is currently >90% GO for launch (as of January 14, 2023 – 19:00 UTC)

This will be the:

– 5th Falcon Heavy launch
– 2nd flight for the side boosters B1064 and B1065
– 163rd and 164th booster landing if successful
– 89th and 90th consecutive landing (a record)
– 207th overall SpaceX mission
– 3rd launch for SpaceX in 2023
– 60th SpaceX launch from LC-39A
– 10th orbital launch attempt of 2023

Where to watch

Official livestream

Tim Dodd, the Everyday Astronaut, will be streaming at around T-30 minutes; come ask questions and join the conversation live!
What Does All This Mean?
USSF-67 is a classified mission for the United States Space Force lifting off from Launch Complex 39A at the Kennedy Space Center in Florida, USA. The payloads of USSF-67 will be inserted directly into a GEO by SpaceX's Falcon Heavy, which will fly for the fifth time in total and the first time this year.
USSF-67 Mission
While the exact payload manifest for this launch is unclear, USSF-67 contains five payloads hosted on the LDPE-3A satellite bus and the Continuous Broadcast Augmenting SATCOM 2 (CBAS-2), which will be directly inserted into a near geostationary orbit (GEO). The main payload, CBAS 2, is a military communications satellite. It is unclear though at what longitude it will be inserted. The other payloads are CubeSats and small satellites that hitch a ride to GEO and will either be deployed by Northrop Grumman's Long Duration Propulsive ESPA, or short LDPE, or stay attached to it.
Continuous Broadcast Augmenting SATCOM (CBAS)
Weighing about 2,000 to 3,000 kg, the Continuous Broadcast Augmenting SATCOM 2, or short CBAS-2, is the second CBAS satellite to launch after the first one which took off back in April of 2018 on an Atlas V 551. CBAS 2 is a military communications and relay satellite designed to ensure communication between commanders and senior government leaders. Due to the classified nature of this mission and satellite, there is no available info on either the satellite, the manufacturer or further mission details.
Long Duration Propulsive ESPA
The LDPE (Long Duration Propulsive ESPA; ESPA = EELV Secondary Payload Adapter; EELV = Evolved Expendable Launch Vehicle) is serving as the ride share payload on the USSF-67 mission. The ESPA is simply a payload adapter used to help attach the LDPE to the main satellite in addition to hosting a few slots for other smallsats. However, the entire system is powered by the ESPAStar satellite bus, which is in charge of power consumption and distribution, as well as propulsion. ESPAStar has the capability to host 6 smallsat payloads totaling 1,920 kg (4,230 lb). The system is also able to provide 400 meters per second of delta-V via a hydrazine propulsion module.
Five out of the six slots will be utilized on this mission, but it's unclear if the payloads will stay attached to the LDPE-3A satellite bus, or if they will be deployed. Two payloads, Catcher and WASSAT, are Space Systems Command (SSC) payloads, while the other three were developed by the Space Rapid Capabilities Office (SRCO).
Catcher is a prototype sensor by The Aerospace Corporation based on the company's Energetic Charged Particle-Light (ECP-Light) designed to monitor space weather hazards. Like the ECP-Light, Catcher will provide local space domain awareness insights. WASSAT most likely stands for Wide Area Search Satellite, which is a camera/sensor designed to monitor other satellites and gather data on their trajectories and anomalies like changes of their orbits. Out of the three SRCO payloads, two are operational prototypes for enhanced situational awareness, while the third and final one is an operational prototype crypto/interface encryption payload that will provide secure space-to-ground communications capability.
What Is Falcon Heavy?
The Falcon Heavy is SpaceX's partially reusable two-stage heavy-lift launch vehicle. The vehicle consists of two reusable side boosters, a reusable center core, an expendable second stage, and a pair of reusable fairing halves.
First Stage
The Falcon Heavy first stage contains 27 Merlin 1D+ sea level engines. Each booster contains nine engines, which use an open gas generator cycle and run on RP-1 and liquid oxygen (LOx). Each engine produces 845 kN of thrust at sea level, with a specific impulse (ISP) of 285 seconds, and 934 kN in a vacuum with an ISP of 313 seconds. Compared to a normal Falcon 9 Block 5, Falcon Heavy's first stage consists of two side boosters and a center core, with the side boosters basically being Falcon 9 boosters with a nose cone on top instead of an interstage. The center core on the other hand is a more modified booster equipped with a booster separation system and modified to handle the increased loads of three boosters.
The Merlin engines are ignited by triethylaluminum and triethylborane (TEA-TEB), which instantaneously burst into flames when mixed in the presence of oxygen. During static fire and launch the TEA-TEB is provided by the ground service equipment. However, as the Falcon Heavy first stage is able to propulsively land, three of the Merlin engines (E1, E5, and E9) contain TEA-TEB canisters to relight for the boost back, reentry, and landing burns.
Second Stage
The Falcon Heavy second stage is the same as a Falcon 9 one. It contains a singular MVacD engine that produces 992 kN of thrust and an ISP of 348 seconds. The second stage is capable of doing several burns, allowing the Falcon Heavy to put payloads in several different orbits.
On this missions, the second stage is equipped with the MEK (mission extension kit) that allows it to support missions with many burns and/or long coasts between burns. This package can have a gray strip, which helps keep the RP-1 warm, an increased number of composite-overwrapped pressure vessels (COPVs) for pressurization control, and additional TEA-TEB for multiple re-lights of the MVacD engine.
Falcon Heavy Boosters
The boosters supporting the USSF-67 mission are B1064, B1065, and B1070, which, in case of the two side boosters, have supported one other missions yet. Hence, its designation for this mission is B1064-2, B1065-2, and B1070-1; this will change to 1064-3, and 1065-3 upon successful landing. The center core, B1070-1, will not be recovered.
| | | |
| --- | --- | --- |
| B1064's missions | Launch Date (UTC) | Turnaround Time (Days) |
| USSF-44 | October 31, 2022 – 14:44 | N/A |
| USSF-67 | January 12, 2023 – 22:45 | 72 |
| | | |
| --- | --- | --- |
| B1065's missions | Launch Date (UTC) | Turnaround Time (Days) |
| USSF-44 | October 31, 2022 – 14:44 | N/A |
| USSF-67 | January 12, 2023 – 22:45 | 72 |
Following booster separation, the Falcon Heavy boosters will conduct three burns. These burns aim to softly touch down the boosters on SpaceX's Landing Zone 1 and Landing Zone 2.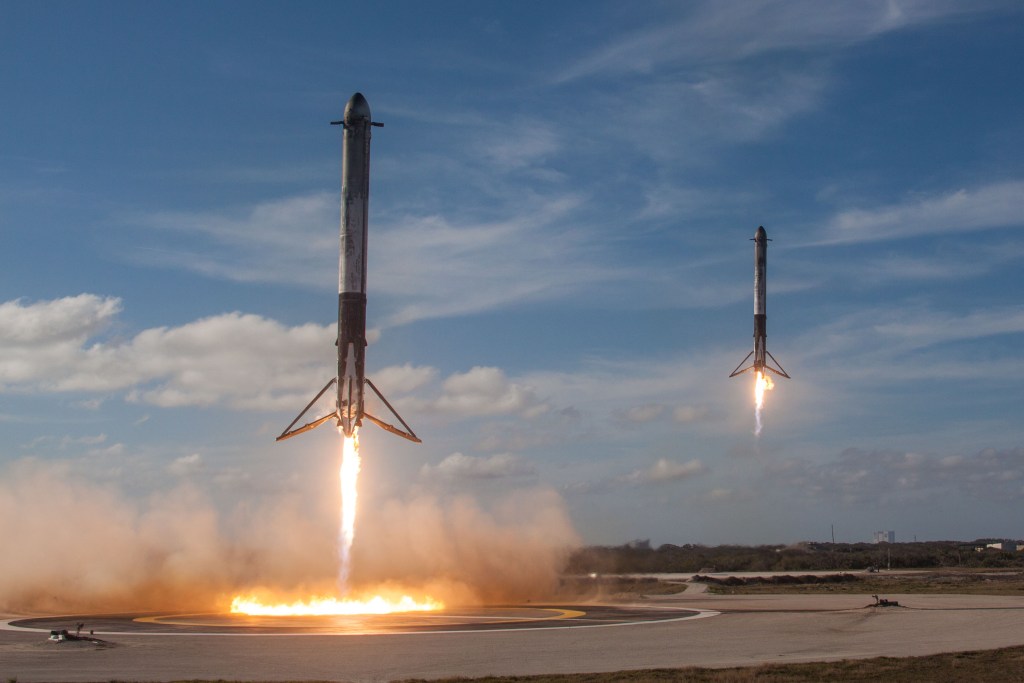 Falcon Heavy Fairings
The Falcon Heavy's fairing consists of two dissimilar reusable halves. The first half (the half that faces away from the transport erector) is called the active half, and houses the pneumatics for the separation system. The other fairing half is called the passive half. As the name implies, this half plays a purely passive role in the fairing separation process, as it relies on the pneumatics from the active half.
Both fairing halves are equipped with cold gas thrusters and a parafoil which are used to softly touch down the fairing half in the ocean. SpaceX used to attempt to catch the fairing halves, however, at the end of 2020 this program was canceled due to safety risks and a low success rate. On USSF-44, SpaceX will attempt to recover the fairing halves from the water with their recovery vessel Doug.
In 2021, SpaceX started flying a new version of the Falcon fairing. The new "upgraded" version has vents only at the top of each fairing half, by the gap between the halves, whereas the old version had vents placed spread equidistantly around the base of the fairing. Moving the vents decreases the chance of water getting into the fairing, making the chance of a successful scoop significantly higher.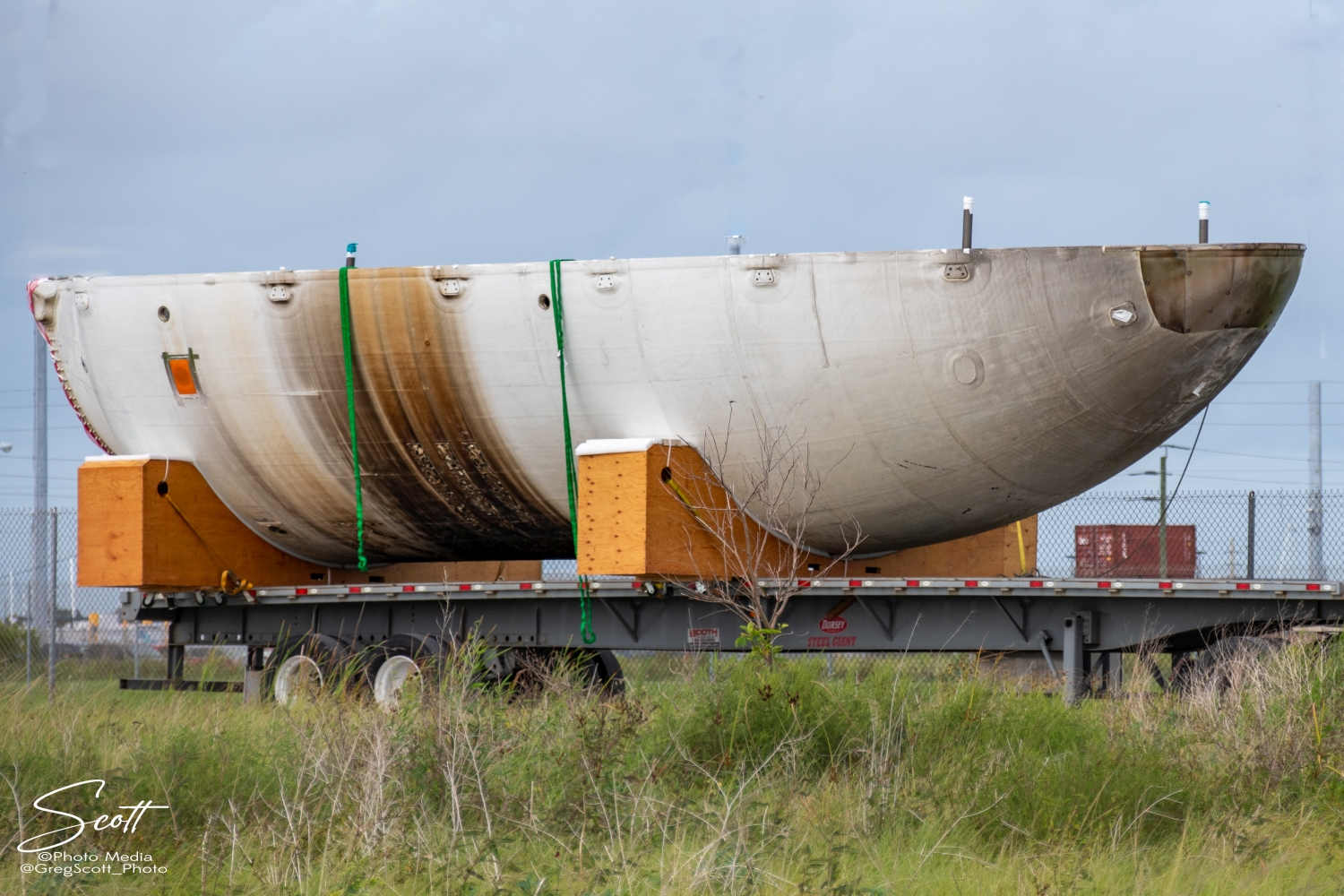 USSF-67 Countdown
All times are approximate
| HR/MIN/SEC | EVENT |
| --- | --- |
| 00:53:00 | SpaceX Launch Director verifies go for propellant load |
| 00:50:00 | RP-1 (rocket grade kerosene) loading underway |
| 00:45:00 | 1st stage and side booster LOX (liquid oxygen) loading underway |
| 00:35:00 | 2nd stage RP-1 loading underway |
| 00:18:30 | 2nd stage LOX loading underway |
| 00:07:00 | Falcon Heavy begins engine chill prior to launch |
| 00:00:59 | Command flight computer to begin final prelaunch checks |
| 00:00:45 | SpaceX Launch Director verifies go for launch |
| 00:00:20 | Propellant tank pressurization to flight pressure |
| 00:00:06 | Engine controller commands engine ignition sequence to start |
| 00:00:00 | Falcon Heavy liftoff |
USSF-67 Launch, And Landing
All times are approximate
| HR/MIN/SEC | EVENT |
| --- | --- |
| 00:01:11 | Max Q (moment of peak mechanical stress on the rocket) |
| 00:02:24 | Side boosters engine cutoff (BECO) |
| 00:02:28 | Side boosters separate |
| 00:02:45 | Side boosters boostback burns start |
| 00:03:53 | Side boosters boostback burn ends |
| 00:03:54 | 1st stage main engine cutoff (MECO) |
| 00:03:58 | Center core 1st and 2nd stages separate |
| 00:04:04 | 2nd stage engine starts |
| 00:04:18 | Fairing deployment |
| 00:06:48 | Side boosters entry burn start |
| 00:07:03 | Side boosters entry burn complete |
| 00:08:00 | Side boosters landing burn start |
| 00:08:11 | Side boosters landing |