Featured image credit: Astra / John Kraus
Lift Off Time

June 12, 2022 – 17:43 UTC | 13:43 EST

Mission Name

TROPICS-1, NASA's first TROPICS mission

Launch Provider
(What rocket company launched it?)

Astra

Customer
(Who paid for this?)

NASA

Rocket

Rocket 3.3 – LV0010

Launch Location

Space Launch Complex 46 (SLC-46), Cape Canaveral Space Force Station, Florida, USA

Payload mass

10.68 kg (2x 5.34 kg) – 23.6 lb (2x 11.8 lb)

Where did the payload go?

To a 550 km low Earth orbit (LEO) at 29.75° inclination

Did they be attempt to recover the first stage?

No, this is not a capability of Astra

Where did the first stage land?

The first stage will crash into the Atlantic Ocean

Did they be attempt to recover the fairings?

No, this is not a capability of Astra

Were these fairings new?

Yes

This was the:

– 3rd launch for Astra in 2022
– 2nd launch failure for Astra in 2022
– 2nd launch for Astra from SLC-46
– 2nd launch failure for Astra from SLC-46
– 5th commercial launch for Astra
– 7th launch of an Astra Rocket 3
– 64th orbital launch attempt of 2022
– 3rd failed orbital launch of 2022
– 5th launch failure for Astra
– 1st of 3 TROPICS missions for NASA

Where to re-watch

NASA Spaceflight's official livestream

Live updates on Astra's Twitter account
How Did It Go?
Astra launched its next payload to space on its Rocket 3.3. TROPICS-1 consisted of two TROPICS 3U CubeSats that were supposed to be launched into a 550 km LEO for NASA. This launch marked Astra's second launch from the Space Coast at Space Launch Complex 46 (SLC-46) at the Cape Canaveral Space Force Station in Florida, USA. Like ELaNa 41 earlier this year, TROPICS-1 failed to achieve orbit. After a nominal first stage burn, stage two shut down prematurely at T+7:21 and lost attitude control resulting in a unintenional panning shot of Earth.
The Time-Resolved Observations of Precipitation structure and storm Intensity with a Constellation of Smallsats (TROPICS) mission will gather microwave measurments of Earth's troposphere to study its thermodynamics and the precipitation structure of storm systems. TROPICS satellites will be placed in three different planes over the tropics to observe storm systems at the mesoscale and synoptic scale for the entire life cycle of aforementioned storms.
This constellation will offer a combination of horizontal and temporal resolution for observing and measuring environmental and inner-core conditions of tropical cyclones nearly globaly. TROPICS will especially improve on the temporal resolution compared to already existing observing systems when it comes to studying high-impact meteorological events.
The TROPICS constellation will, once it's finalized, consist of six identical 3U CubeSats that will launch on Astra's TROPICS-1 through TROPICS-3 missions.
TROPICS-02 and TROPICS-03 will be the two identical dual-spinning 3U CubeSats on board of Astra's LV0010 and the TROPICS-1 mission. Each TROPICS satellite is equipped with a 12-channel passive microwave spectrometer for observations near 90 and 205 GHz, and temperature and moisture sounding at 118 GHz and 183 GHz respectively.
2U of the 3U satellite are comprised of a spacecraft bus by Blue Canyon Technologies with an Attitude Determination and Control System (ADCS), communications, avionics, and power. The top 1U consists of a rotating radiometer payload with integrated microwave receiver electronics designed by the Lincoln Laboratory at MIT. Furthermore, each satellite is equipped with a deployable articulating 5-panel solar array.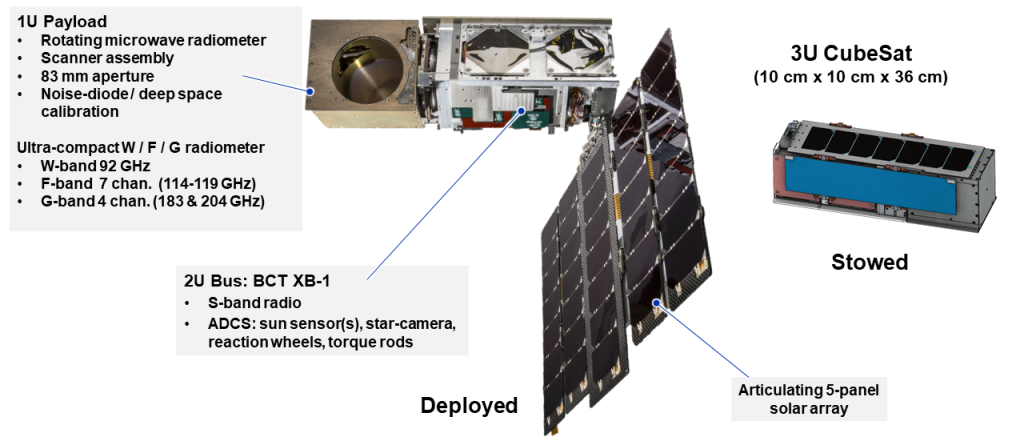 Mission Timeline*
HH:MM:SS
From Lift Off
Events
T-01:15:00
Start of pre-launch procedure
T-00:45:00
Propellant load begins
T-00:20:00
Propellant load complete
T-00:15:00
Entering terminal count
T-00:15:00
Water deluge system test
T-00:00:03
Ignition!

T+-00:00:00

Lift Off!

T+00:00:06
Begin Pitch Over
T+00:01:10
Max Q
T+00:03:00
Main Engine Cut Off (MECO)
T+00:03:05
Fairing separation
T+00:03:10
Stage separation
T+00:03:15
Second stage ignition
T+00:08:30
Second Engine Cut Off (SECO)
T+00:08:40
Payload deployment signal
*times are approximate
Astra's Rocket 3.3 – LV0010
This Rocket 3.3, also known as LV0010 (Launch Vehicle 0010), is only their 5th Rocket 3.3 rocket despite its name. The Rocket 3 series is Astra's orbital rocket series with LV0010 being their 10th rocket overall. With a height of 13.1 m (43 ft), a diameter of 1.32 m (4.3 ft), and a payload capacity of approximately 50 kg to a 500 km Sun-Synchronous Orbit (SSO), it is in the same class of small-sat launch vehicles as Rocket Lab's Electron.
This two-stage rocket is powered by RP-1 and LOx. The first stage will make use of five electric-pump-fed Delphin engines which produce a total thrust of ~145 kN (~32,500 lbf) at liftoff. The second stage is powered by a single pressure-fed Aether engine that will produce ~3.3 kN (740 lbf) of thrust in a vacuum. Since Astra is a rather secretive company, they have not released any technical information about their engines, such as ISP (Specific Impulse), TWR (Thrust to Weight Ratio), or combustion chamber pressure. The aluminum body and tanks of Rocket 3 have some similarities to SpaceX's Starships, with its welded stacked rings of stainless steel.
Another unique characteristic is that Astra's Rocket 3 series rockets fit into a standard shipping container and can be towed by a truck. To set up the rocket on its mobile launch structure, it only takes a handful of ground support staff and about a week to go through vehicle checks, a wet dress rehearsal, and the launch readiness review. Astra's goal for the future is to bring the time required to set up the rocket down to under 24 hours, so that it can meet the needs of some special customers who require a rapid launch schedule for their payloads.
Differences To Earlier Rocket 3 Series Rockets
Astra have upgraded their Series 3 rockets launch after launch. After the failed flight of LV0006, Astra implemented following changes to ensure a successful flight:
Reconfiguration of their propellant supply system to prevent mixing of fuel and oxidizer in case of a leak.
Modification of the propellant supply mechanism to reduce the risk of leaks.
Verification procedures have been improved for design and operational processes.
Furthermore, Chris Kemp, CEO of Astra, stated in an interview with NASA Spaceflight that going from LV0005 to LV0006, they have stretched the first stage tanks for more overall performance.
After the failure of LV0008 with ELaNa41 Astra found two more issues related to its fairing separation system and its second stage guidance system, which they since have fixed with the successful launch of LV0009 and the Spaceflight Astra-1 mission.
Earlier Losses
Astra has launched two orbital class rockets in an attempt to reach orbit. So far, all of these launches have failed to achieve orbit, with the latest, Rocket 3.2, just barely missing orbit by about 500 m/s. Its second stage safely re-entered before completing one full rotation of Earth.
Rocket 3.0: loss of the vehicle during ground testing due to a stuck open valve while detanking the vehicle.
Rocket 3.1: FTS (flight termination system) activated 21s into flight due to a software issue in the guidance system.
Rocket 3.2: Rocket 3.2 failed to achieve orbit by ~500 m/s due to a wrong mixture of fuel and oxidizer on the second stage.
Rocket 3.3: LV0006 was terminated at T+2:31 after one of the engines experienced a failure less than 1s after ignition due to the ignition of leaking fuel and oxidizer in the propellant supply system, better known as a quick disconnect, at the base of the rocket.
Rocket 3.3: LV0008 was lost after failed fairing separation, with its second stage breaking through the not released fairings spinning out of control due to a software issue preventing the TVC system to gimbal the engine.