Featured image credit: SpaceX
Liftoff Time

June 12, 2023 – 21:35 UTC |14:35 PDT

Mission Name

Transporter-8, the eighth SpaceX dedicated small satellite rideshare mission

Launch Provider
(What rocket company launched it?)

SpaceX

Customer
(Who paid for this?)

Numerous

Rocket

Falcon 9 Block 5 B1071-9; 87.09-day turnaround

Launch Location

Space Launch Complex 4 East (SLC-4E), Vandenberg Space Force Base, California, USA

Payload mass

Approximately, 5,000 kg (~11,100 lb)

Where did the spacecraft go?

Approximately, a circular ~530 km (~330 mi) Sun-synchronous orbit (SSO) at ~97.5° inclination

Did they attempt to recover the first stage?

Yes

Where did the first stage land?

Landing Zone 4 (LZ-4), at ~400 m (~1,300 ft) from the launch pad

Did they attempt to recover the fairings?

The fairing halves were recovered from the water ~551 km (~340 mi) downrange by GO Beyond

Were these fairings new?

Both of them are likely flight-proven

This was the:

–232nd Falcon 9 launch
–167th Falcon 9 flight with a flight-proven booster
–173rd re-flight of a booster
–39th re-flight of a booster in 2023
–200th booster landing
–126th consecutive landing (a record)
–41st launch for SpaceX in 2023
–44th SpaceX launch from SLC-4E
–88th orbital launch of 2023

Where to watch

Official replay
How Did It Go?
The Falcon 9 v1.2 Block 5 rocket by SpaceX launched its eighth dedicated mission under the Smallsat Rideshare Program, known as Transporter-8. The objective was to send a diverse range of spacecraft into orbit, provided by an array of clients. The rocket took off from Space Launch Complex 4 East (SLC-4E) at Vandenberg Space Force Base in California, USA.
After stage separation, the booster accurately maneuvered and initiated a burn to redirect its trajectory, returning to its origin. Then, touchdown of the first stage was carried out near the launch pad at Landing Zone 4 (LZ-4). Afterward, the achieved primary objective of the launch vehicle — through its second stage — was to correctly deploy the satellites and other vehicles into a Sun-synchronous orbit (SSO), at an altitude of approximately 530 km (~330 mi) with an inclination of 97.5°.
What Is Transporter-8?
To meet the demands of the New Space market, SpaceX developed the Smallsat Rideshare Program — more on it below — Transporter-8 being a part of it. This mission consisted of a flight to a SSO, where many satellites and orbital transfer vehicles (OTVs, also called space tugs) would be deployed. Additionally, there would be hosted payloads with a purpose of their own and dispensers from different providers.
This Transporter mission's manifest has been made public by SpaceX. Typically, this is usually published only very close to the date of liftoff, with last-minute payload additions and stand-downs. However, sources had reported this mission would include OTVs from D-Orbit and Launcher. Other integration providers listed were Exolaunch, Maverick, TRL11, and Alba Orbital. Many entities provided payloads — considering both hosted ones and satellites — and we present below what is known so far.
Transporter Missions
Typically, this kind of shared mission implied waiting for a primary payload — a larger one — to be ready for launch. Then, smallsats would hitch a ride with the launcher booked for the bigger spacecraft. Consequently, these additional passengers had to make do with going into an imposed orbit whenever the large satellite was ready. As a result, these factors usually impact their on-orbit performance, unavoidable due to the established launch practices. Moreover, the cost of these rides remained mostly prohibitive for small entities like startups or educational institutions.
Contrary to what was back then believed, SpaceX realized that lowering costs, offering more frequent launches, and attempting to loft spacecraft to more convenient orbits, the smallsat segment of the market could prosper.
Thus, in 2019, the firm announced the offering of rideshare flights aboard its Falcon 9 for such customers, addressing their needs. In effect, these flights would come in two different ways: sharing the room inside the fairing on Starlink missions, or through dedicated rideshare missions named Transporter. Both options are part of the Smallsat Rideshare Program.
Moreover, leveraging Falcon 9's mass to orbit capabilities, a rocket supporting a Transporter mission would see its payload volume subdivided. In this way, interested customers could buy a portion of it as needed, for a much more affordable price. Furthermore, these missions would be regularly scheduled, allowing better in-advance planning, regarding launch date and destination orbit. In spite of this, any payload missing launch day could re-book, paying a small additional fee.
SpaceX offers Transporter launches to low-Earth orbit (LEO), polar LEO, and — its most popular ride — to SSO. In fact, mid-inclination launches have only taken place through Starlink flights, while all past Transporter missions have been to SSO. Revisiting the same spot on Earth's surface always at the same time of the day — offered by this type of orbit — turns it into a preferred destination.
Transporter Logistics
From the need for a particular product or service to arriving at the desired orbit and operating the spacecraft, in general many parties are involved in one of these missions. To avoid getting lost in the logistics behind the scenes of one of them, it can be thought of in a simplified manner as follows:
Customer and spacecraft manufacturers: those interested in having a payload in space and those who provide the platform, the instruments on board, or both (basically the payload itself).
Launch/integration service providers: those who broker rideshare flights, offer last-mile trips (via space tugs), care for meeting regulations, provide dispensers or separation systems, and so on.
Launch provider: SpaceX, which has overall responsibility for the launch and the correct insertion into the intended deployment orbit.
This structure will be reflected in a subsequent section later in this article where payloads are listed and discussed.
Mechanical Interfaces — Plates
Apart from the logistics aspect, the company also designed specific hardware to integrate payloads. These, in fact, need an interface to the launch vehicle, provided through rideshare plates, conceptually similar to ESPA rings. Each of these plates can be arranged in these configurations: square — four plates — or hexagon — six of them. The former allows for more available volume than the latter.
In turn, the volume corresponding to each of those can be subdivided, using a quarter of the plate, half of it, or full use. These portions enable unique payload accommodations — e.g., a CubeSat dispenser — or standard ports in three different diameters, as follows.
It is worth noting that, though previously designed, these plates were first implemented on Transporter-8.
| Volume Subdivision | 8 in (~20.3 cm) | 15 in (~38.1 cm) | 24 in (~61.0 cm) |
| --- | --- | --- | --- |
| 1/4 Plate | Yes | – | – |
| 1/2 Plate | Yes | Yes | – |
| Full Plate | – | Yes | Yes |
| Full Plate XL | – | – | Yes |
Combinations of volume and interfaces provided by SpaceX
Cake Topper
Yet another position to integrate payloads in a rideshare is available at the top of the plate stack. This upper mount enables spacecraft massing from 500 kg to 2,500 kg to be launched during a shared flight. If required, two of them can be placed side-by-side. In any case, because of the different disposition, a whole separate set of requirements need to be observed when flying as a cake topper.
Payloads On Transporter-8
39 separation events will take place from Falcon 9's second stage. Moreover, the company confirmed 72 payloads, including OTVs, microsats, CubeSats, a reentry capsule, and hosted payloads. A list of the payloads SpaceX is sending to space on this Transporter mission, showing type and quantity, is as follows.
| | | | |
| --- | --- | --- | --- |
| OTVs: 2 | Deployers: >15 | Satellites: 69 | Hosted: 8 |
A more detailed description is presented here:
What Is Falcon 9 Block 5?
The Falcon 9 Block 5 is SpaceX's partially reusable two-stage medium-lift launch vehicle. It consists of a reusable first stage, an expendable second stage, and, when in payload configuration, a pair of reusable fairing halves.
First Stage
The Falcon 9 first stage contains 9 Merlin 1D+ sea-level engines. Each engine uses an open gas generator cycle and runs on RP-1 and liquid oxygen (LOx). Each engine produces 845 kN of thrust at sea level, with a specific impulse (ISP) of 285 seconds, and 934 kN in a vacuum with an ISP of 313 seconds. Due to the powerful nature of the engine, and the large amount of them, the Falcon 9 first stage is able to lose an engine right off the pad, or up to two later in the flight, and be able to successfully place the payload into orbit.
The Merlin engines are ignited by triethylaluminum and triethylborane (TEA-TEB), which instantly burst into flames when mixed in the presence of oxygen. During static fire and launch the TEA-TEB is provided by the ground service equipment. However, as the Falcon 9 first stage is able to propulsively land, three of the Merlin engines (E1, E5, and E9) contain TEA-TEB canisters to relight for the boost back, reentry, and landing burns.
Second Stage
The Falcon 9 second stage is the only expendable part of the Falcon 9. It contains a singular MVacD engine that produces 992 kN of thrust and an ISP of 348 seconds. The second stage is capable of doing several burns, allowing the Falcon 9 to put payloads in several different orbits.
SpaceX is currently flying two different versions of the MVacD engine's nozzle. The standard nozzle design is used on high-performance missions. The other nozzle is a significantly shorter version of the standard, decreasing both performance and material usage; with this nozzle, the MVacD engine produces 10% less thrust in space. This nozzle is only used on lower-performance missions, as it decreases the amount of material needed by 75%. This means that SpaceX can launch over three times as many missions with the same amount of Niobium as with the longer design.
For missions with many burns and/or long coasts between burns, the second stage is able to be equipped with a mission extension package. When the second stage has this package it has a grey strip, which helps keep the RP-1 warm, an increased number of composite-overwrapped pressure vessels (COPVs) for pressurization control, and additional TEA-TEB.
Falcon 9 Booster
The booster supporting the Transporter-8 mission is B1071-9; as the name implies, the booster had flown eight previous times. The booster's designation changed to B1071-9 upon successful landing.
Following stage separation, the Falcon 9 conducted three burns. These burns allow it to softly touch down the booster on SpaceX's Landing Zone 4 (LZ-4).
Falcon 9 Fairings
The Falcon 9's fairing consists of two dissimilar reusable halves. The first half (the half that faces away from the transport erector) is called the active half, and houses the pneumatics for the separation system. The other fairing half is called the passive half. As the name implies, this half plays a purely passive role in the fairing separation process, as it relies on the pneumatics from the active half.
Both fairing halves are equipped with cold gas thrusters and a parafoil which are used to softly touch down the fairing half in the ocean. SpaceX used to attempt to catch the fairing halves, however, at the end of 2020 this program was canceled due to safety risks and a low success rate. On Transporter-8, SpaceX successfully recovered the fairing halves from the water with their recovery vessel GO Beyond.
In 2021, SpaceX started flying a new version of the Falcon 9 fairing. The new "upgraded" version has vents only at the top of each fairing half, by the gap between the halves, whereas the old version had vents placed spread equidistantly around the base of the fairing. Moving the vents decreases the chance of water getting into the fairing, making the chance of a successful scoop significantly higher.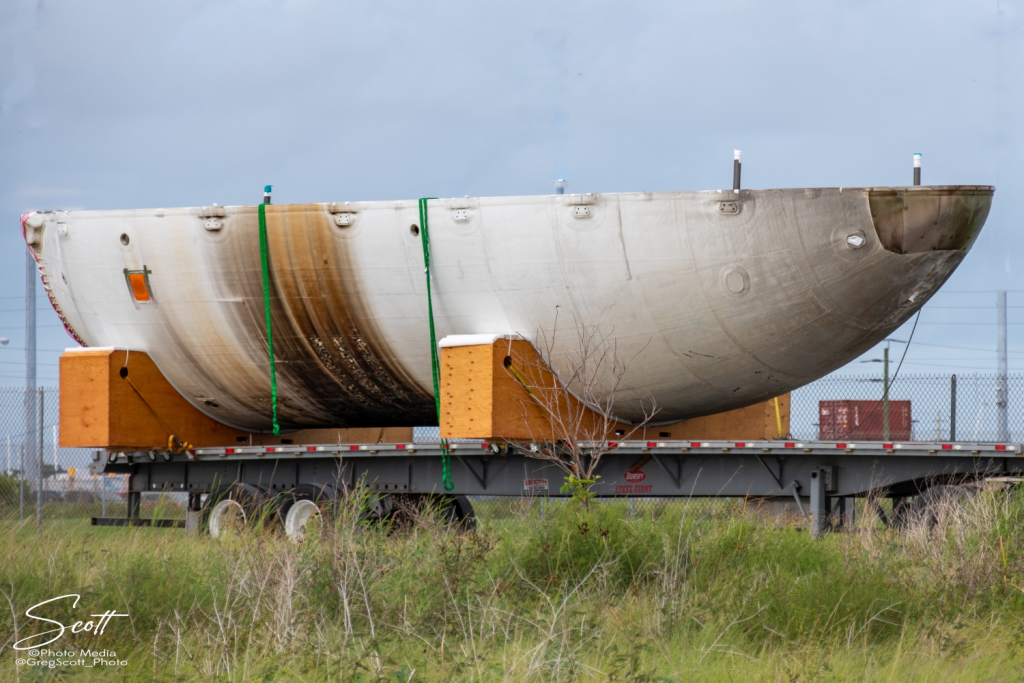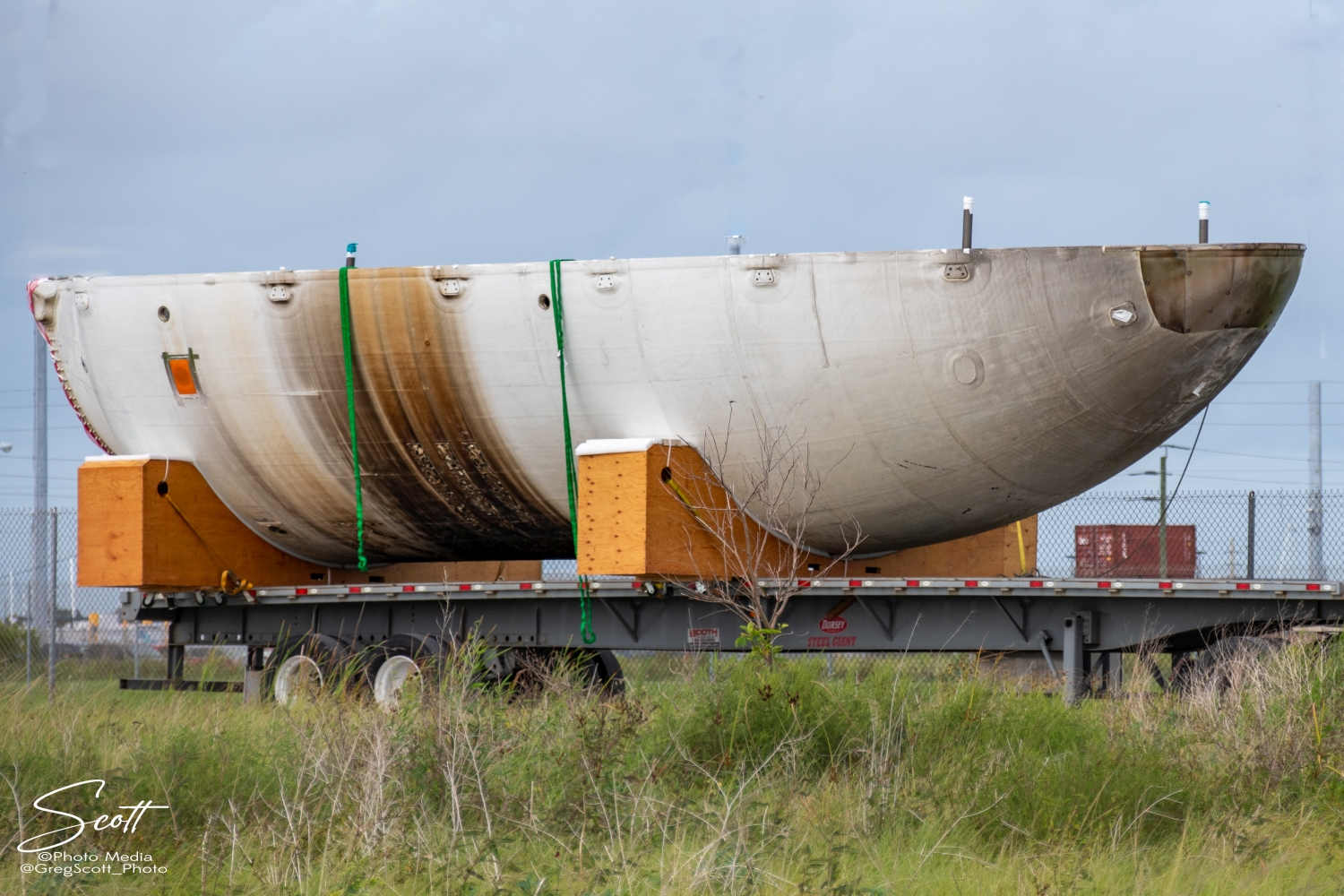 Transporter-8 Countdown
All times are approximate
| HR/MIN/SEC | EVENT |
| --- | --- |
| 00:38:00 | SpaceX Launch Director verifies go for propellant load |
| 00:35:00 | RP-1 (rocket grade kerosene) loading underway |
| 00:35:00 | 1st stage LOX (liquid oxygen) loading underway |
| 00:16:00 | 2nd stage LOX loading underway |
| 00:07:00 | Falcon 9 begins engine chill prior to launch |
| 00:01:00 | Command flight computer to begin final prelaunch checks |
| 00:01:00 | Propellant tank pressurization to flight pressure begins |
| 00:00:45 | SpaceX Launch Director verifies go for launch |
| 00:00:03 | Engine controller commands engine ignition sequence to start |
| 00:00:00 | Falcon 9 liftoff |
Launch, and Landing
All Times Approximate
| HR/MIN/SEC | EVENT |
| --- | --- |
| 00:01:05 | Max Q (moment of peak mechanical stress on the rocket) |
| 00:02:14 | 1st stage main engine cutoff (MECO) |
| 00:02:18 | 1st and 2nd stages separate |
| 00:02:26 | 2nd stage engine starts (SES-1) |
| 00:02:31 | 1st stage boostback burn begins |
| 00:02:56 | Fairing deployment |
| 00:03:25 | 1st stage boostback burn ends |
| 00:06:17 | 1st stage entry burn begins |
| 00:06:32 | 1st stage entry burn ends |
| 00:07:25 | 1st stage landing burn begins |
| 00:07:42 | 1st stage landing |
| 00:08:24 | 2nd stage engine cutoff (SECO-1) |
| 00:56:52 | 2nd stage engine starts (SES-2) |
| 00:56:55 | 2nd stage engine cutoff (SECO-2) |
Deployment
All Times Approximate
| | |
| --- | --- |
| HR/MIN/SEC | EVENT |
| 00:59:59 | FOSSASAT-FEROX deploys, manifested by Maverick Space Systems |
| 01:00:31 | AII-DELTA deploys, manifested by Exolaunch |
| 01:00:44 | GEISAT deploys, manifested by Exolaunch |
| 01:00:54 | Ayris-1 deploys, manifested by Exolaunch |
| 01:01:06 | EIVE deploys, manifested by Exolaunch |
| 01:01:10 | Ayris-2 deploys, manifested by Exolaunch |
| 01:01:20 | LEMUR 2 EMBRIONOVIS deploys, manifested by Exolaunch |
| 01:01:29 | MISR-A deploys, manifested by Maverick Space Systems |
| 01:02:41 | LEMUR 2 NAZIYAH deploys, manifested by Exolaunch |
| 01:02:52 | LEMUR 2 AADAM-ALIYAH deploys, manifested by Exolaunch |
| 01:03:13 | Swarm Spacebees deploy, manifested by Exolaunch |
| 01:03:23 | Droid.001 deploys, manifested by Exolaunch |
| 01:03:39 | XVI deploys, manifested by Maverick Space Systems |
| 01:03:51 | MISR-B deploys, manifested by Maverick Space Systems |
| 01:04:03 | Tiger-4 deploys, manifested by Maverick Space Systems |
| 01:04:17 | NewSat 40 deploys, manifested by Satellogic |
| 01:04:31 | NewSat 41 deploys, manifested by Satellogic |
| 01:05:56 | NewSat 43 deploys, manifested by Satellogic |
| 01:06:07 | NewSat 42 deploys, manifested by Satellogic |
| 01:06:35 | MuSat-1 satellite deploys, manifested by Exolaunch |
| 01:07:57 | AFR-1 deploys, manifested by Exolaunch |
| 01:08:52 | Tomorrow-R2 deploys, manifested by Maverick Space Systems |
| 01:09:43 | Grégoire deploys, manifested by Exolaunch |
| 01:10:42 | 1st ICEYE satellite deploys, manifested by Exolaunch |
| 01:11:48 | Orbiter SN3 deploys, manifested by Launcher |
| 01:12:54 | 2nd ICEYE satellite deploys, manifested by Exolaunch |
| 01:14:43 | 3rd ICEYE satellite deploys, manifested by Exolaunch |
| 01:15:47 | HotSat-1 deploys, manifested by SatVu |
| 01:16:55 | 4th ICEYE satellite deploys, manifested by Exolaunch |
| 01:17:17 | Skykraft-3 deploys, manifested by Skykraft |
| 01:17:59 | GHOSt-3 deploys, manifested by Maverick Space Systems |
| 01:19:04 | Blackjack Aces-2 deploys, manifested by Lockheed Martin Corporation |
| 01:19:30 | QPS-SAR-6 AMATERU-III deploys, manifested by iQPS |
| 01:19:50 | Runner-1 deploys, manifested by Terran Orbital |
| 01:20:16 | ION SCV-011 Savvy Simon deploys, manifested by D-Orbit |
| 01:20:39 | Blackjack Aces-4 deploys, manifested by Lockheed Martin Corporation |
| 01:21:33 | Blackjack Aces-1 deploys, manifested by Lockheed Martin Corporation |
| 01:22:38 | W-Series 1 deploys, manifested by Varda |
| 01:24:48 | Blackjack Aces-3 deploys, manifested by Lockheed Martin Corporation |