Lift Off Time
(Subject to change)

January 24, 2021 – 15:00 UTC | 10:00 EST

Mission Name

Transporter-1, SpaceX's first dedicated rideshare mission

Launch Provider
(What rocket company is launching it?)

SpaceX

Customer
(Who's paying for this?)

SpaceX, NanoRacks, NanoAvionics, Exolaunch, Swarm Technologies, Spaceflight, HawkEye, NASA, iQPS, Umbra Labs, Celestis, Astrocast, Tyvak Nano-Satellite Systems, US DOD, USAF, KelplarianTech, NearSpace, Space Domain Awareness, R2, LINCOLNSHIRE, inOrbit, PlanetiQ, Capella, Kepler, Astro Digital, D-Orbit, Israel defense, spaceQ, UVSQ, and more*

*Please note: the satellites aboard are constantly changing. Satellites could be added/removed up until encapsulation

Rocket

Falcon 9 Block 5 B1058-5; 49 day turn around

Launch Location

Space Launch Complex 40 (SLC-40), Cape Canaveral Space Force Station, Florida

Payload mass

~5,000ish kg (11,000 lbs)

Where are the satellites going?

500 km Sun-Synchronous Orbit (SSO)

Will they be attempting to recover the first stage?

Yes

Where will the first stage land?

553 km downrange on Of Course I Still Love You

Tug: Finn Falgout; Support: GO Searcher

Will they be attempting to recover the fairings?

Fairing recovery is expected, GO Ms. Tree and GO Ms. Chief are stationed ~600 km downrange

Are these fairings new?

Yes

How's the weather looking?

The weather is currently 70% go for launch (As of January 23, 2021 15:30 UTC)

This will be the:

– Most satellites ever launched at once at 143*
– 1st Starlink satellites to go to a polar orbit
– 1st mission ever with GO Searcher as ASDS support
– 2nd fastest turn around of a booster, at 49 days
– 1st Falcon 9 launch with a "transfer" stage
– 1st SpaceX dedicated rideshare mission
– 106th Falcon 9 launch
– 52nd re-flight of a booster
– 3rd re-flight of a booster in 2021
– 73rd booster landing
– 42nd landing attempt on OCISLY
– 1st ASDS landing in the polar corridor
– 23rd consecutive landing (New record for SpaceX)
– 3rd launch for SpaceX in 2021
– 63rd SpaceX launch from SLC-40

*Note: SpaceX is not delaying the launch for any customers, so this number is more of an approximation. This number includes 10 Starlink satellites

Where to watch

Official livestream

Tim Dodd, the Everyday Astronaut, will be streaming at T-30 minutes; come ask questions and join the conversation live!
What does all this mean?
SpaceX will be launching 143 satellites and 3 additional payloads for a variety of organizations on their first dedicated rideshare mission, Transporter-1. The Falcon 9 will lift off from Space Launch Complex 40 (SLC-40) and will place the satellites and third stage into a 500 km Sun-Synchronous Orbit (SSO).
Satellites on Transporter-1
Transporter-1 will include a large number of satellites and will also be the debut of Spaceflight's SHERPA-FX stage.
Lemur-2
Nanoracks will be launching 9 Lemur-2 satellites on Transporter-1. The Lemur-2 constellation is an Earth observation and traffic monitoring constellation built and operated by Spire. The satellites are able to use GPS signal occultation to measure pressure, humidity, and temperature. Lemur-2 is used to monitor trade, prevent piracy, track assets, assist in search and rescue operations, and help prevent illegal fishing.
SuperDove
Also being launch on Transporter-1 are 48 SuperDove satellites. These are part of Planet's SkySat constellation. The SuperDove is an upgraded version of the Dove, which will increase the resolution offered by the constellation. Planet offers a 72 cm resolution, but after their satellites are upgraded the constellation will be under 50 cm.
The SuperDoves satellites have an upgraded camera. The camera is more color accurate, producing a better and sharper image. This means they provide more accurate surface reflection values. The new satellites also feature additional bands. This will allow them to better monitor agriculture, leading to new machine learning applications.
SpaceBees
The SpaceBee constellation is a satellite constellation with the goal of demonstrating two-way communication between cheap and low-data satellites.
Starlink
Transporter-1 will also include 10 Starlink satellites. Starlink is SpaceX's internet communication satellite constellation. The Low-Earth orbit constellation will deliver fast, low-latency internet service to locations where ground-based internet is unreliable, unavailable, or expensive.
These satellites will be the first Starlink satellites in a polar orbit. These satellites will likely be used to test communication in very high latitudes, which the current LEO constellation does not cover. This launch will mark 1,023 Starlink satellites launched, to date.
SHERPA-FX
For the first time Falcon 9 will be flying with a third stage on the Transporter-1 mission. The third "transfer" stage, the SHERPA-FX, is a satellite dispenser designed by Spaceflight to deploy secondary payloads so that other payloads cannot interfere with communications. While the SHERPA-FX does not have any on-board propulsion, it is the first of several models of SHERPA. Future versions will have a monopropellent to boost payloads into different orbits. On this mission, SHERPA will be carrying 18 payloads.
Falcon 9's second stage will deploy SHERPA-FX like any other payload. After separation, the transfer stage will coast distancing itself from the Falcon 9 second stage and the deployed payloads, while four of them stay attached. During this, the stage will continue providing attitude control, telemetry, and communications to the satellites and the ground.
The primary purpose of SHEPRA on this mission will be to ensure that unlike on SSO-A, all the small sats are able to be communicated with after reaching orbit. On Transporter-1, there are just under 20 payloads riding on SHERPA. These payloads include HawkEye, Cluster 2, PTD-1, IZANAMI, Umbra-2001, Celestis 17, Astrocasts, ARCE, P2-10, ELROI, and TAGSAT-1.
Other payloads
Other satellites on Transporter-1 include UVSQ-SAT, Hugo, ADELIS-SAMSON, PULSE, Landmapper, Kepler GEN1, GNOMES-2, Capella Whitney, InOrbit Now, LINCS, and XR-1.
It is worth noting that not all of these satellites may launch; SpaceX is not delaying the launch for customers whose payload was not ready in time. With this, between 90 and 100 payloads could be launched, which will be a new record for the most satellites launched at once.
What is Falcon 9 Block 5?
The Falcon 9 Block 5 is SpaceX's partially reusable two-stage medium-lift launch vehicle. Block 5 is the final iteration of the Falcon 9; the goal is to apply all the lessons learned from 56 previous Falcon 9 pre-Block 5 flights into a human-rated reusable rocket. The Falcon 9 contains 3 main components: a reusable first stage, an expendable second stage, and a reusable fairing.
Block 5 updates:
SpaceX introduced a lot of changes on Block 5, allowing it to become the crew-launching reusable rocket that we know today. To start, the Composite Overwrapped Pressure Vessels (COPVs) had to undergo a complete redesign. NASA mandated the COPV redesign, as it had been the cause of both of the Falcon 9 failures: AMOS-6 and CRS-7.
Alongside with certification for human spaceflight, Block 5 came with a number of other major changes. To increase the amount of flight each booster could handle, and decrease the turnaround time, SpaceX reinforced the landing legs, upgraded the grid fins, and added a carbon fiber interstage. They also added heat-resistant external paint and upgraded the engines. For more information about the changes in Block 5, and the other Blocks of the Falcon 9, check out this video by the Everyday Astronaut:
Falcon 9 Booster B1058
The booster supporting this mission is B1058. This booster has flown four times; its maiden flight was the SpaceX Demonstration Mission 2, which launched on May 30, 2020. The booster's second flight was on ANASIS-II, which launched on July 20, 2020. The booster's third flight was on SpaceX's Starlink V1.0 L12 mission, which launched on October 6, 2020. Finally, CRS-21 was B1058's fourth flight, which launched on December 6, 2020. As Starlink 16 is the booster's fifth mission, it changes its designation to B1058-5.
Following stage separation, the Falcon 9 will conduct 2 burns. These burns will softly touch down the booster on Of Course I Still Love You.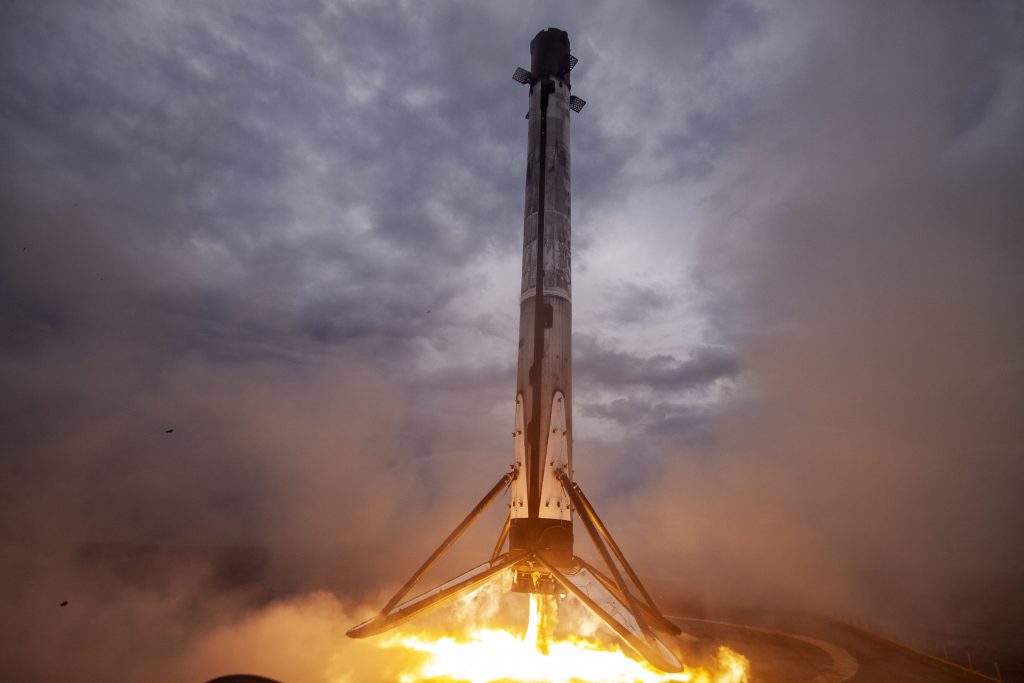 Fairing Reuse
SpaceX is the first entity ever that recovers and reflies its fairings. The recovery vessels, Go Ms. Tree and Go Ms. Chief, will most likely attempt to recover the fairing halves. After being jettisoned, the two fairing halves will use cold gas thrusters to orientate themselves as they descend through the atmosphere. Once at a lower altitude, they will deploy parafoils to help them glide down to a soft landing for recovery.
Transporter-1 Full Mission Profile
Hr/Min/Sec Event
– 00:38:00 SpaceX Launch Director verifies go for propellant load
– 00:35:00 RP-1 (rocket grade kerosene) loading underway
– 00:35:00 1st stage LOX (liquid oxygen) loading underway
– 00:16:00 2nd stage LOX loading underway
– 00:07:00 Falcon 9 begins engine chill prior to launch
– 00:01:00 Command flight computer to begin final prelaunch checks
– 00:01:00 Propellant tank pressurization to flight pressure begins
– 00:00:45 SpaceX Launch Director verifies go for launch
– 00:00:03 Engine controller commands engine ignition sequence to start
– 00:00:00 Falcon 9 Liftoff
Launch, Landing, and Satellite Deployment*
Hr/Min/Sec Event
00:01:12 Max Q (moment of peak mechanical stress on the rocket)
00:02:28 1st stage main engine cutoff (MECO)
00:02:36 1st and 2nd stages separate
00:02:40 2nd stage engine starts (SES-1)
00:02:51 Fairing deployment
00:07:47 1st stage entry burn start
00:08:35 2nd stage engine cutoff (SECO-1)
00:09:42 1st stage landing
00:54:35 2nd stage engine starts (SES-2)
00:54:37 2nd stage engine cutoff (SECO-2)
00:58:59 36 Planet SuperDoves begin deployment
00:59:00 17 spacecraft aboard Kepler's port begin deployment
00:59:09 NASA's V-R3x mission, 3 CubeSats aboard Maverick's Mercury dispenser, begin deployment
01:08:19 Nanoracks' Eyries-1 mission's 9 payloads begin deployment
01:08:44 EXOport-2, with 28 spacecraft aboard, begins deployment
01:13:58 Capella-3 deploys
01:14:10 EXOport-1, with two ICEYE satellites aboard, begins deployment
01:14:23 Spaceflight Inc. customer iQPS's second SAR satellite, iQPs-2, deploys
01:15:38 Capella-4 deploys
01:16:10 Spaceflight Inc's Sherpa-FX1 spacecraft deploys with 13 spacecraft on board
01:16:28 D-Orbit's Pulse mission deploys with 20 spacecraft on board
01:31:10 Starlink satellites deploy
* All times are approximate