Featured image credit: ROSCOSMOS
Lift Off Time
(Subject to change)

October 5, 2021 – 08:55:02 UTC | 11:55:02 MSK

Mission Name

Soyuz MS-19, crewed flight to the International Space Station (ISS)

Launch Provider
(What rocket company is launching it?)

ROSCOSMOS

Customer
(Who's paying for this?)

ROSCOSMOS, Channel 1, the Yellow, Black and White Studio

Rocket

Soyuz 2.1a

Launch Location

Launch Complex 31/6, Baikonur Cosmodrome, Kazakhstan

Payload mass

7,080 kg (15,610 Ib) (for the whole spacecraft)

Where is the spacecraft going?

It will rendezvous with the ISS, ~400 km low Earth orbit (LEO) at a 51.65° inclination

Will they be attempting to recover the first stage?

No, this is not a capability of Soyuz

Where will the first stage land?

The boosters will crash into the steppes of Kazakhstan

Will they be attempting to recover the fairings?

No, this is not a capability of Soyuz

Are these fairings new?

Yes

How's the weather looking?

TBD

This will be the:

– 3rd crewed mission to the ISS in 2021
– 9th launch from the Baikonur Cosmodrome of 2021
– 55th mission of Soyuz 2.1a rocket
– 147th flight of a crewed Soyuz spacecraft
– 95th orbital launch attempt of 2021

Where to watch

Official livestream
What does all this mean?
Soyuz MS-19 is a crewed flight to the International Space Station (ISS) that will give a start to Expedition 66. This mission will be quite different from all the previous flights of the Soyuz spacecraft. This is because it will aim at filming a movie called "The Challenge" on the ISS. For that, the crew will include commander Anton Shkaplerov, film director Klim Shipenko, and actress Yulia Peresild. ROSCOSMOS will launch this mission using a Soyuz MS spacecraft atop a Soyuz 2.1a launch vehicle. The rocket will lift off from Launch Complex 31/6, at the Baikonur Cosmodrome in Kazakhstan.
Soyuz MS-19 Mission
"The Challenge" is a joint project of ROSCOSMOS, the First Channel TV station and the Yellow, Black and White studio. The name of the actress who will be starring the movie was announced on May 14 and was chosen from a shortlist of 20 actresses. Thus, Yulia Peresild who is well-known in the Russian domestic TV and movie industry got a unique chance to demonstrate her acting skills in space.
On this mission, all the crew members will perform different roles. First, the spacecraft will be piloted by a single person, ROSCOSMOS cosmonaut Anton Shkaplerov. Therefore, he will carry out the functions of both commander and flight engineer. For that, the Soyuz MS spacecraft and its replica at the training center were upgraded with a portable remote control for critical commands that are usually executed by a flight engineer. Moreover, together with Oleg Novitsky and Peter Dubrov, he will appear in some scenes of the movie. Then, Klim Shipenko will work not only as a film director but also as a camera and sound operator, and lighting director. Finally, apart from having the lead role in the movie, Yulia Peresild will need to be her own stylist and makeup artist. During flight, Shipenko and Peresild will be responsible for oxygen valves that will need to be opened in emergency situations.
On this mission, there will be three Zero-G indicators: a snow leopard prepared by Shkaplerov's daughter Kira, Cheburashka, and Galchonok (symbol of the charity organization founded by Yulia Peresild).
Training
The crew started its training on May 24, 2021, at the Yuri Gagarin Research & Test Cosmonaut Training Center. Therefore, ROSCOSMOS had a challenge to prepare two civilians for the launch in just four months. During the training, Shipenko and Peresild familiarized themselves with the Soyuz MS spacecraft and the Russian segment of the ISS, worked with on-board systems and equipment, and learnt how the crew's activities are organized both in the spacecraft and at the ISS. Moreover, they have been trained to deal with emergency situations such as depressurization, fire, and problems that may occur during the landing. The First Channel TV station was closely monitoring their training.
Another part of the training was a Zero Gravity flight in the IL-76 MDK aircraft that was specifically designed and developed by the design bureau S.V. Ilyushkina for training of astronauts.
On July 23, the crew participated in a four-hour simulation inside a Soyuz replica while wearing Sokol KV-2 suits. After that, on August 31, the medical committee announced that both the main and backup crews were ready for the launch. Finally, on September 10, they successfully passed all the necessary exams to go to the ISS. On September 29, the Soyuz MS-19 crew performed a check inspection of the spacecraft.
The Challenge
"The Challenge" will be the first drama movie filmed at the ISS. This movie will be about a doctor (Yulia Peresild) who has to go to the ISS and save an astronaut's life. For that, she needs to prepare for the flight in just one month. The first four episodes were already released and can be found on the ROSCOSMOS's website.
However, this mission will yield not only the movie. ROSCOSMOS and Yuri Gagarin Research & Test Cosmonaut Training Center will get unique experience in accelerated training of non-professional astronauts. In the future, it might be useful for sending other specialists (for example, real doctors, scientists) to the ISS.
Who is on Soyuz MS-19?
Each crew member plays a crucial role in the safe travel from the launch pad to the ISS. This time, the Soyuz capsule will include a commander and two civilians. It is not unusual for astronauts from other agencies to fly on a Soyuz capsule, as there is normally at least one astronaut from another agency accompanying a Russian commander. However, this mission will be different since it will mark the first time in 21 years that a Soyuz crew only includes Russian cosmonauts and travelers. The last mission that launched only Russian cosmonauts was Soyuz TM-30 in 2000. Flying on Soyuz MS-19 are ROSCOSMOS cosmonaut Anton Shkaplerov (commander), Klim Shipenko (film director), as well as Yulia Peresild (actress).
Anton Shkaplerov (Commander)
Born in 1972, Anton Shkaplerov attended the Zhukovsky Air Force Engineering Academy, from which he graduated in 1997. After graduation, he worked as a senior pilot-instructor in the Russian Air Force. Shkaplerov was qualified as a cosmonaut in 2005, after completing a basic space training program.
This will be Anton Shkaplerov's fourth spaceflight, all of which occurred on Soyuz vehicles. Shkaplerov first flew on the Soyuz TMA-22 spacecraft as a commander and served as a flight engineer during Expedition 29/30 aboard the ISS. After his first mission, he launched on Soyuz TMA-15M in 2015 and on Soyuz MS-07 in 2017, again as a commander of the spacecraft.
Klim Shipenko (Film Director)
Born in 1983, Klim Shipenko is a Russian film director, screenwriter, actor and producer. When he was 16, he moved to Los Angeles and studied at California State University in Northridge (Department of Cinema and Television Arts).
Shipenko is well-known for directing "Kto ya?" ("Who am I?", 2010), "Salyut-7" (2017), and "Text" (2019) movies. For the last two movies, he received the Golden Eagle Award in 2018 and 2020. This award recognizes excellence of professionals in the film industry.
This will be Shipenko's first flight to space.
Yulia Peresild (Actress)
Born in Pskov in 1984, Yulia Peresild is a Russian actress. Peresild graduated from Russian Institute of Theatre Arts (GITIS). Since 2003, she has appeared in more than 30 films. Currently, she works at the theater School of Modern Play and Malaya Bronnaya theater.
Peresild is well-known among Russian audience for her lead roles in "Nevesta" (2006), "Santa Lyuchiya" (2012), and "Battle for Sevastopol"(2015) films.
Apart from her career, Yulia has found the charity organization "Galchonok", which aims to provide treatment for children with central nervous system disorders. This will be Peresild's first flight to space.
The backup crew includes cosmonaut Oleg Artemyev, actress Alyona Mordovina and cameraman Alexey Dudin.
Soyuz MS-19 Mission's Profile
For the third time on a crewed flight, ROSCOSMOS will use the new fast rendezvous technique (first used on MS-17) to reach the ISS in just two orbits or about three hours. Previous techniques allowed the rendezvous to take four orbits or about six hours. The Soyuz MS-19 will dock to the ISS (Rassvet module) on October 5, at 12:20 UTC (15:20 MSK). Shipenko and Peresild will have only 12 days to film the movie at the ISS. After that, on October 17, they will return to the Earth on the Soyuz MS-18 with Oleg Novitsky. The spacecraft will undock from the ISS at 01:11 UTC (04:11 MSK) and is scheduled to land three hours later at 04:36 UTC (07:36 MSK).
Anton Shkaplerov, in turn, will stay at the ISS as a flight engineer and later will command the expedition from November 8, 2021.
Approximate Timeline (based on the Soyuz MS-18 mission)
Hrs:Min:Sec
From Lift-Off
Events
– 00:00:15
Engine start sequence
00:00:00
Lift-Off
+ 00:01:53
Escape tower jettison
+ 00:01:58
First stage separation
+ 00:02:33
Fairing jettison
+ 00:04:47
Second stage separation
+ 00:04:55
Tail section separation
+ 00:08:46
Third stage main engine cutoff
+ 00:08:49
Soyuz MS separation
What is Soyuz 2.1a?
ROSCOSMOS's Soyuz is a multi-use medium-lift launch vehicle that was introduced in far 1966 and since then has been the workhorse of the Soviet/Russian space program. It is capable to launch civilian and military satellites, as well as cargo and crewed missions to the ISS. Over the decades, several variants of the Soyuz rocket have been developed. Soyuz 2.1a is one of its latest iterations that belongs to the Soyuz-2 rocket family.
The rocket consists of three stages, all of them are expendable. When launching to the ISS, Soyuz-2 can be flown with either a Progress capsule or a Soyuz spacecraft. On the Soyuz MS-19 mission, the Soyuz MS spacecraft will be used.
Soyuz 2.1a is about 46.3 meters (152 ft) in height and 2.95 meters (9 feet) in diameter. The vehicle's total lift-off mass is approximately 312,000 kg (688,000 lb). The rocket's payload lift capacity to low-Earth orbit (LEO) is between 6,600 and 7,400 kg depending on the launch site.
Stages
First Stage
Second Stage
Third Stage
Engine
4 RD-107A
RD-108A
RD-0110
Total Thrust
840 kN (188,720 lbf),
sea level
1,020 kN (229,290 lbf),
vacuum
792 kN (178,140 lbf),
sea level
922 kN (207,240 lbf),
vacuum
298 kN (67,000 lbf),
vacuum
Specific Impulse (ISP)
263 s, sea level
320 s, vacuum
258 s, sea level
321 s, vacuum
326 s, vacuum
Side Boosters
The first stage of the Soyuz 2.1a rocket is composed of 4 side boosters that are powered by RD-107A engines. Each one of the boosters has a conical shape and a dry weight of 3,784 kg. It is approximately 19.6 meters in length, with a diameter of 2.7 meters. Each side booster has two vernier thrusters that are used for flight control.
The RD-107A engine runs on rocket-grade kerosene (RP-1) and liquid oxygen (LOx). The propellants are stored in the pressurized aluminum alloy tanks, the kerosine tank is located in the cylindrical part of the booster, and the LOx one is in the conical section. Each one of those engines has 4 combustion chambers and together they are capable of producing a thrust of 840 kN at sea level and 1,020 kN in a vacuum.
Perhaps, the most spectacular moment of the Soyuz-2 rocket's launch is the separation of the first stage. It happens approximately 2 minutes after the launch. The boosters perform a pattern, known as the "Korolev cross" (named after Sergei Korolev, a very important figure of the USSR space program and history).
Second and Third Stages
The center core stage is powered by a single RD-108A engine, and the upper stage is fitted with a single RD-0110 engine. Both of these engines run on rocket-grade kerosene and LOx and have 4 combustion chambers. The second stage is 27.10 meters long, with a diameter of 2.95 meters, and a dry mass of 6,545 kg. It has 4 vernier thrusters for three-axis flight control.
The third stage of a Soyuz-2 rocket has a height of 6.7 meters, a diameter of 2.7 meters, and a dry mass of 2,355 kg. One interesting thing about the engine on this stage is that it starts its ignition sequence prior to stage separation. This process is called "hot fire staging".
Soyuz MS Spacecraft
The Soyuz MS spacecraft is the latest version of Russia's long-standing three-person spacecraft. Soyuz capsules first flew in the 1960s. The spacecraft external appearance is largely unchanged over this time. However, the internal systems and capabilities have been upgraded many times.
The Soyuz MS variant is one of the versions from the fourth generation of this spacecraft. Its first flight was in 2006. Soyuz consists of three sections:
the orbital module
the descent module
the service module
The orbital module
This is the forward section of the spacecraft, the part that docks to the ISS. It is the part of the spacecraft where the crew will spend most of their time on orbit. It has more living room than the descent module. On the Progress uncrewed resupply missions, this is replaced by a cargo module.
The descent module
This is the middle section of the spacecraft. It is the only part that returns intact to Earth ground level. This is where the crew will sit during the launch and the reentry. They will be wearing spacesuits in case of capsule depressurization. There is very little room for the crew of three in this module. On the Progress uncrewed resupply missions, this is replaced by a refueling module that can transfer fuel into the Russian segment. This can then be used by thrusters on the ISS to boost its orbit.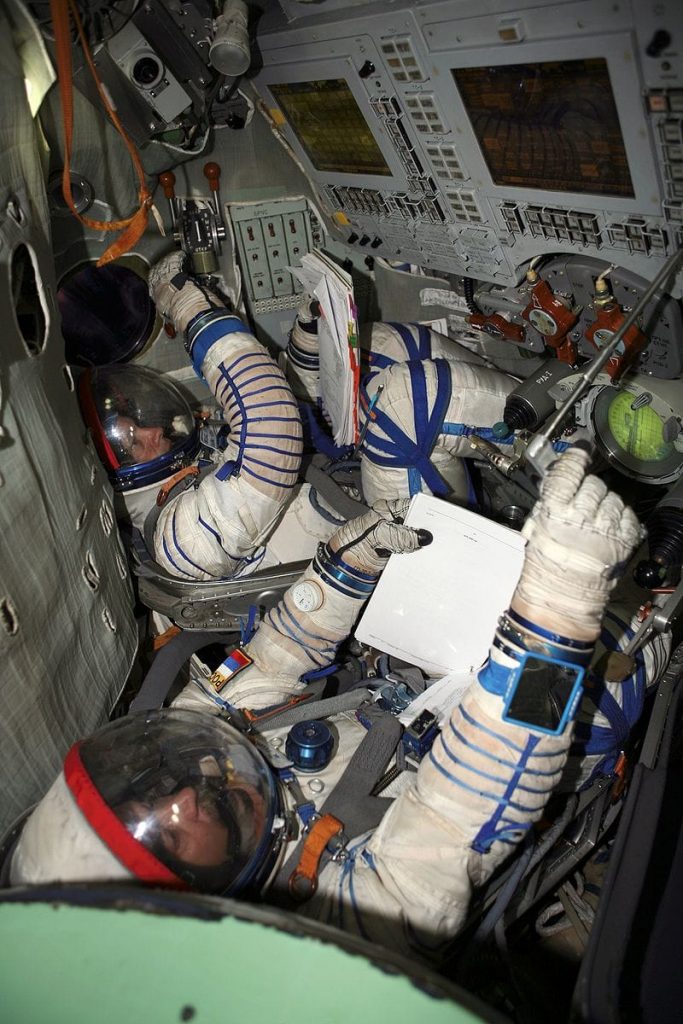 The service module
This is the aft (rear) section of the spacecraft. It provides the main engine used for manoeuvring on orbit and the thrusters for fine control during docking and departure. Also, it also contains the life support system for environmental control of the rest of the spacecraft. In addition, it also supports the solar panels and various radio communication systems.
Kurs-NA Automatic Docking System
Like the Progress MS, the Soyuz spacecraft is equipped with a Kurs-NA automatic docking system that was first tested on the Progress M-15M mission in July 2012. Compared to its ancestor, Kurs-A, the new system has only one AO-753A rendezvous antenna. Kurs-A had five (two 2AO-VKA and three AKR-VKA) of them. This antenna broadcasts radar pulses that are needed to determine the altitude and relative position of the spacecraft to the ISS. Moreover, Kurs-NA uses less power than Kurs-A.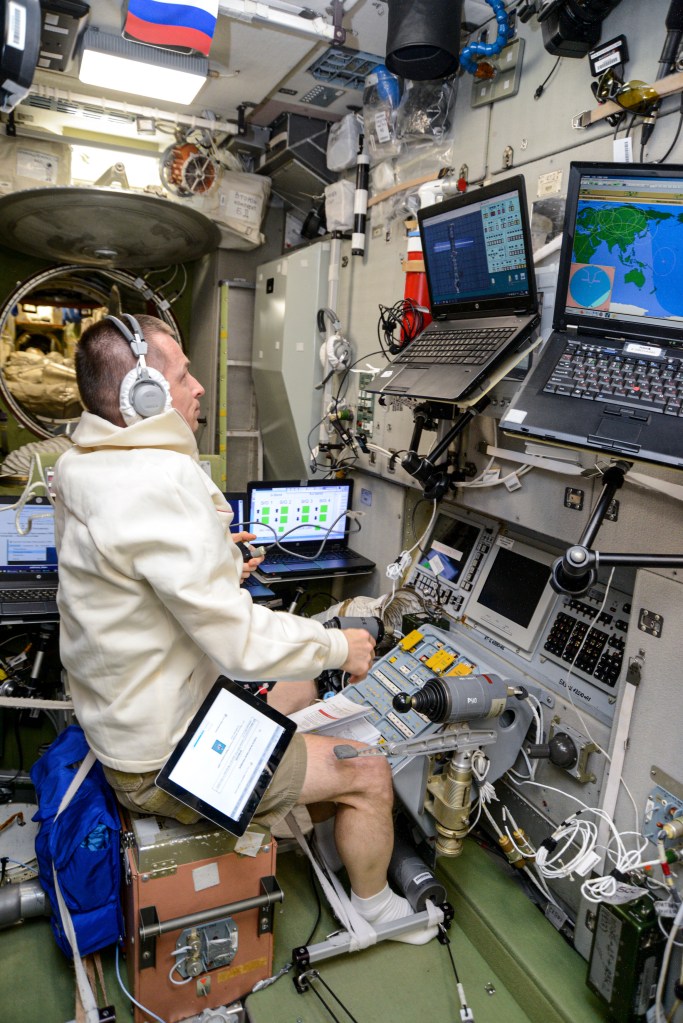 In addition, the Soyuz spacecraft can be docked to the ISS manually by the docking system called the Tele-Robotically Operated Rendevous unit (TORU). This manual system serves as a backup to Kurs-NA in emergency situations and is located inside the Zvezda service module.
Soyuz MS Spacecraft section adapted from Andy Law.