Lift Off Time
(Subject to change)

June 6, 2021 04:26 UTC | 00:26 EDT

Mission Name

SXM-8

Launch Provider
(What rocket company is launching it?)

SpaceX

Customer
(Who's paying for this?)

Sirius XM

Rocket

Flacon 9 Block 5

Launch Location

Space Launch Complex (SLC)-40, Cape Canaveral Space Force Station, Florida, USA

Payload mass

5,400 kg (12,000 lb)

Where are the satellites going?

Subsynchronous Geostationary Transfer Orbit (GTO) ~237 x 19,794 km

Will they be attempting to recover the first stage?

Yes

Where will the first stage land?

The first stage will land 642 km downrange on the Just Read the Instructions (JRtI) Autonomous Spaceport Drone Ship (ASDS)

Will they be attempting to recover the fairings?

Yes

Are these fairings new?

TBD
Both fairing halves will be recovered by GO Searcher and GO Navigator

How's the weather looking?

The weather is currently 60% go for launch (as of June 4, 2021 12:30 UTC)

This will be the:

– 3rd flight of B1061
– 12th flight of a satellite under the Sirius XM corporation
– 44 day turnaround time of B1061
– 101 day average turnaround time of B1061
– 18th SpaceX launch in 2021
– 17th re-flight of a booster in 2021
– 2nd SpaceX launch in June 2021
– 63rd Falcon 9 flight with a flight proven booster
– 51st orbital launch attempt of 2021

Where to watch

When an official livestream is available, you can find it here
What's all this mean?
SpaceX will be launching the Sirius XM 8 (SXM-8) satellite atop a Flacon 9 rocket. The satellite will be going to a geostationary transfer orbit (GTO). The selected launch pad for this launch is Space Launch Complex 40 (SLC-40) which hosted Titian rocket variants up until 2005. This will be the third launch of this Falcon 9 Block 5 booster. Sirius XM satellites enable everyday people to listen to their favorite music, sports, and news shows.
SXM-8 Satellite
Sirius XM satellites have the capability to handle high power broadcasting. The constellation currently has 5 satellites, with SXM-8 raising that number to 6. SXM-8 will be replacing the older XM-4 satellite due to the fact that it's more technologically advanced.
SXM-8 was built by Maxar Technologies and is based off of their SSL-1300 satellite bus; a satellite bus is simply a set of core components that all satellites need (such as avionics, power, communication…) that customers can add to suit their needs. Maxar Technologies is a satellite and space hardware technology company that has empowered numerous companies the ability to build their satellite and NASA to explore the surface of Mars. The SSL-1300 satellite bus is part of the 1300 satellite bus class. Maxar lists the 1300 class as having four main capabilites:
lightweight, high-strength structure
fuel-efficient attitude and station-keeping subsystems
reliable, high-efficiency solar arrays and batteries
advanced command and control subsystems
All of those allow Sirius XM to maximize the capability of their hardware to deliver the best products, desired by their customers. As satellite technology advances, the life span and capabilities of satellites will be even greater, allowing more complicated and better communications. Sirius XM satellites broadcast within the S-Band. The frequencies rang from 2.3200–2.3325 GHz, which is very close to the frequencies XM radio uses, 2.3325–2.3450 GHz.
SXM-7 Failure
Previously, on December 13, 2020, SpaceX launched the SXM-7 satellite. The launch and orbital insertion were both nominal and the booster was recovered when it landed on the Autonomous Spaceport Drone Ship (ASDS) Just Read the Instructions (JRtI). However after the satellite was released, it began it's in orbit checks, which resulted in a failure and total loss of the ~$225 million satellite. The company has not released any more information regarding the failure.
History of the Sirius XM Constellation
The constellation originally began in 2008 when Sirius and XM companies merged to become Sirius XM. Initially Sirius XM launched Sirius FM satellites. A total of six were made all of which going to orbit except one, Sirius FM 4 (Radiosat-4), which was grounded and used as a display model at the National Air and Space Museum's Steven F. Udvar-Hazy Center. These satellites used the help of Russian Proton rockets and launched between 2000 and 2010.
Sirius XM is continuing to launch more satellites to replace the old and outdated ones. For example, SXM-7 was intended to replace XM-3, launched in February, 2005, and SXM-8 is set to replace XM-4, launched in October, 2006. The newer satellites will feature longer life spans and strong capabilities to best suit Sirius XM's customers.
What is Falcon 9 Block 5?
The Falcon 9 Block 5 is SpaceX's partially reusable two-stage medium-lift launch vehicle. The vehicle consists of a reusable first stage, an expendable second stage, and, when in payload configuration, a pair of reusable fairing halves.
First Stage
The Falcon 9 first stage contains 9 Merlin 1D+ sea level engines. Each engine uses an open gas generator cycle and runs on RP-1 and liquid oxygen (LOx). Each engine produces 845 kN of thrust at sea level, with a specific impulse (ISP) of 285 seconds, and 934 kN in a vacuum with an ISP of 313 seconds. Due to the powerful nature of the engine, and the large amount of them, the Falcon 9 first stage is able to lose an engine right off the pad, or up to two later in flight, and be able to successfully place the payload into orbit.
The Merlin engines are ignited by TEA-TEB. During static fire and launch the TEA-TEB is provided by the ground service equipment. However, as the Falcon 9 first stage is able to propulsively land three of the Merlin engines (E1, E5, and E9) contain TEA-TEB canisters to relight for the boost back, reentry, and landing burns.
Second Stage
The Falcon 9 second stage is the only expendable part of the Falcon 9. It contains a singular MVacD engine that produces 992 kN of thrust and an ISP of 348 seconds. The second stage is capable of doing several burns, allowing the Falcon 9 to put payloads in several different orbits.
For missions with many burns and/or long coasts between burns, the second stage is able to be equipped with a mission extension package. When the second stage has this package it has a grey strip, which helps keep the RP-1 warm, an increased number of COPVs for pressurization control, and additional TEA-TEB.
Falcon 9 Booster B1061
The booster that will support SXM-8 is B1061, which has flown twice. As SXM-8 will mark the booster's 3rd flight, it changed its designation to B1061-3. This booster has previously supported both the Crew-1 mission and the Crew-2 mission.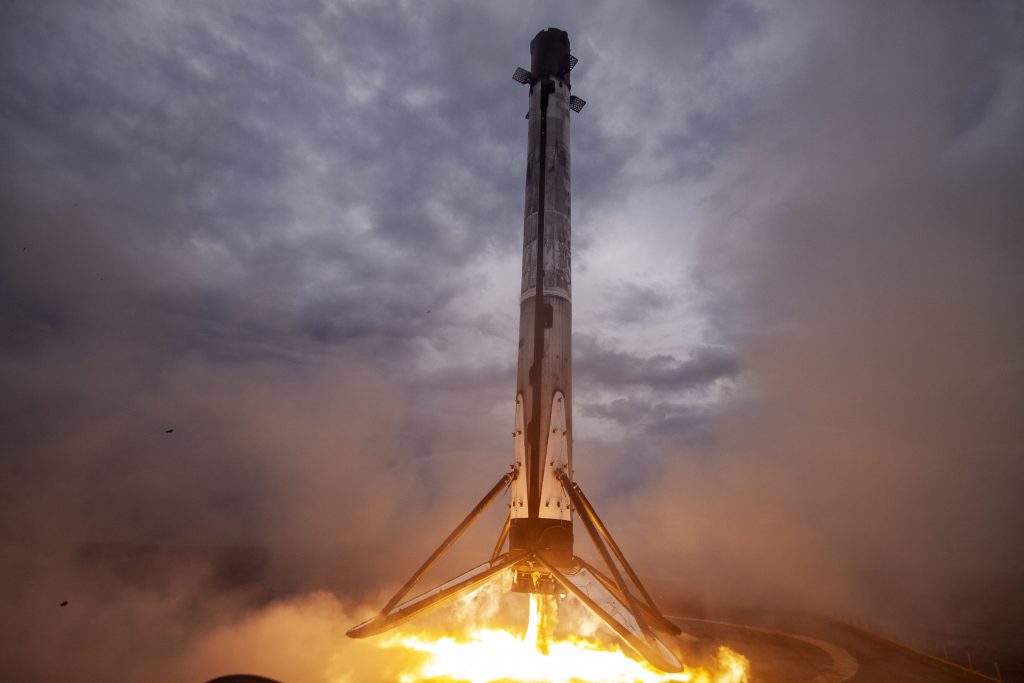 Falcon 9 Fairings
The Falcon 9's fairing consists of two dissimilar reusable halves. The first half (the half that faces away from the transport erector) is called the active half, and houses the pneumatics for the separation system. The other fairing half is called the passive half. As the name implies, this half plays a purely passive role in the fairing separation process, as it relies on the pneumatics from the active half.
Both fairing halves are equipped with cold gas thrusters and a parafoil which are used to softly touch down the fairing half in the ocean. SpaceX used to attempt to catch the fairing halves in nets on GO Ms. Tree and GO Ms. Chief. However, at the end of 2020 this program was cancelled due to safety risks and a low success rate. On Starlink 28, SpaceX attempted to recover both of the fairing halves from the water with their recovery vessels GO Searcher and GO Navigator.
SpaceX is currently flying two slightly different versions of the Falcon 9 fairing. The new "upgraded" version has vents only at the top of each fairing half, by the gap between the halves, whereas the old version had vents placed spread equidistantly around the base of the fairing. Moving the vents decreases the chance of water getting into the fairing, making the chance of a successful scoop significantly higher.
Fairings on this mission
Awaiting fairing information and confirmation.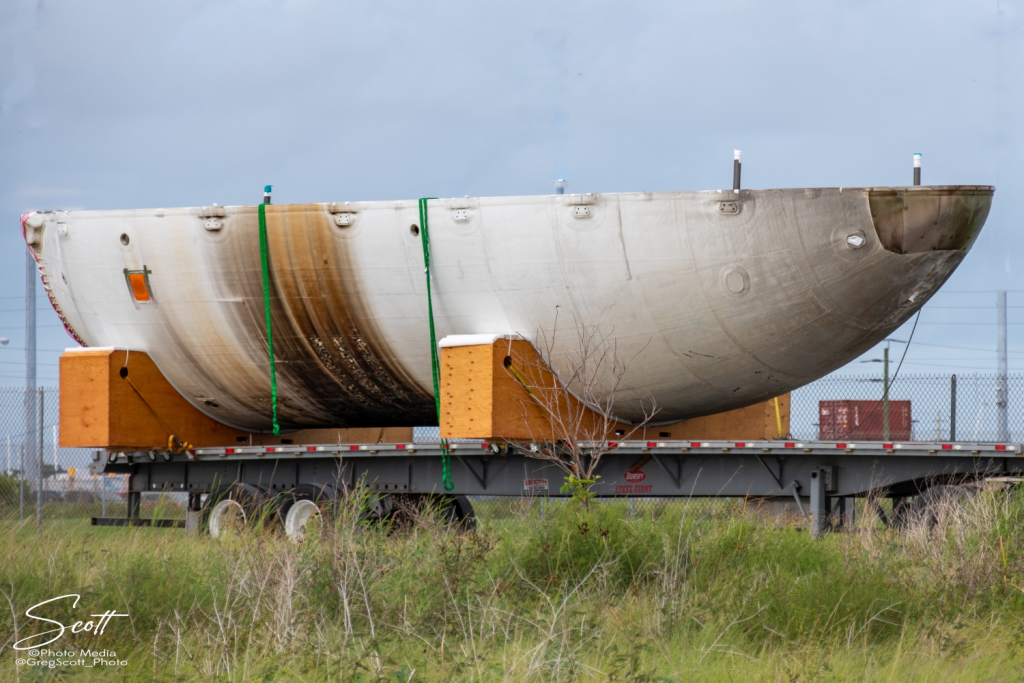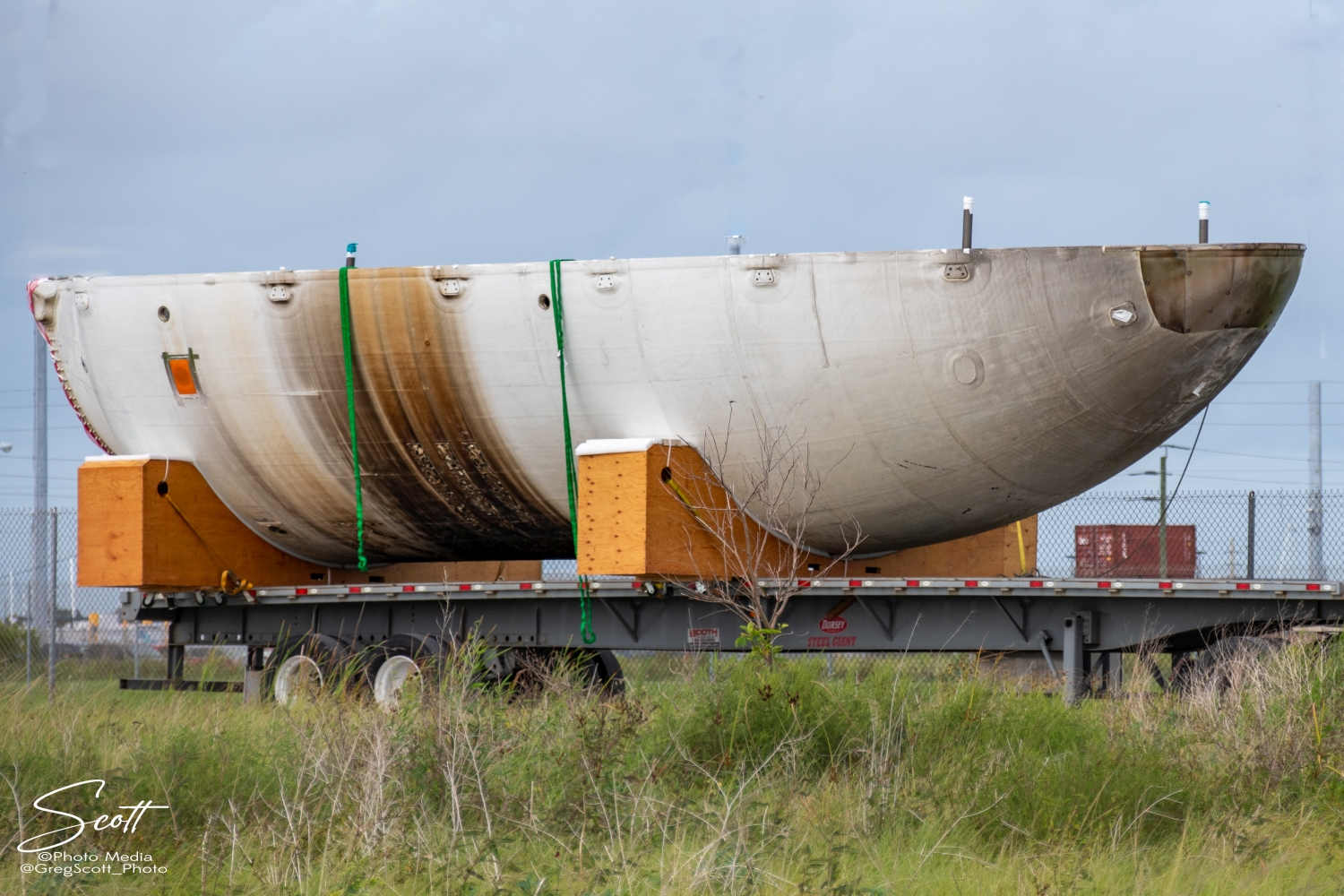 SXM-8 Mission Countdown Sequence
Hr/Min/Sec Event
– 00:38:00 SpaceX Launch Director verifies go for propellant load.
– 00:35:00 RP-1 (rocket grade kerosene) loading underway.
– 00:35:00 1st stage LOx (liquid oxygen) loading underway
– 00:16:00 2nd stage LOx loading underway
– 00:07:00 Falcon 9 begins engine chill prior to launch
– 00:01:00 Command flight computer to begin final prelaunch checks
– 00:01:00 Propellant tank pressurization to flight pressure begins
– 00:00:45 SpaceX Launch Director verifies go for launch
– 00:00:03 Engine controller commands engine ignition sequence to start
– 00:00:00 Falcon 9 Liftoff
Rocket Section by Trevor Sesnic