Lift Off Time
August 04, 2022 – 13:56:07 UTC | 08:56:07 CDT
Mission Name
NS-22
Launch Provider
(What rocket company launched it?)
Blue Origin
Customer
(Who paid for this?)
Blue Origin
Rocket
New Shepard 4
Launch Location
Launch Site One, Corn Ranch, Texas, USA
Payload mass
N/A
Where did the spacecraft go?
Sub-orbital trajectory
Did they attempt to recover the first stage?
Yes
Where did the first stage land?
It successfully landed at Blue Origin's landing pad, ~3.3 km (~2 miles) from the launch site
Did they attempt to recover the fairings?
There are no fairings on the New Shepard vehicle
Were these fairings new?
There are no fairings on the New Shepard vehicle
This was the:
– 3rd flight for Blue Origin in 2022
– 6th flight with humans on New Shepard
– 22nd overall flight of New Shepard
– 23rd consecutive successful capsule landing
– 8th launch and landing of the NS4 booster
Where to watch
Official replay
How Did It Go?
For the sixth time in its 20 year history, Blue Origin successfully launched humans on a sub-orbital flight on the NS-22 mission. A total of six humans flew in the New Shepard Crew Capsule. Coby Cotton, Mário Ferreira, Vanessa O'Brien, Clint Kelly III, Sara Sabry, and Steve Young flew to a height of 107 km above Mean Seal Level (351,232 ft MSL). The crew endured 3,603 kph (2,239 mph) during ascent and flew for a total of 10 minutes and 20 seconds.
Who Was On NS-22?
Coby Cotton
Coby Cotton, the cofounder of the world famous YouTube channel Dude Perfect with more than 57 million subscribers, was selected to fly on NS-22. This selection was conducted through the crypto site, MoonDAO. MoonDAO's mission is to decentralize access to space exploration. The members of MoonDAO voted to have Cotton fly on this flight.
Dude Perfect is comprised of Coby Cotton, his brother Cory Cotton, as well as their friends Garrett Hilbert, Tyler Toney, and Cody Jones. The YouTube channel was created when the friends were college roommates and covers trick shots and comedy using various sports equipment.
Cotton has been a part of Dude Perfect since he received his education at Texas A&M.
Mário Ferreira
A typical attribute displayed by previous participants on New Shepard flights, Mário Ferreira is an adventurer. Ferreira has built up an extensive resume having completed the London Marathon in 2010, competed in the world's most difficult car rally, Dakar, in 2007, and has been a scuba diver since he was 20. In 2003, Ferreira received the title of "Commadador" from the President of Portugal.
In addition to his adventurism, Ferreira is a entrepreneur and President of Pluris Investment Group. The group contains more than 40 companies which span TV and media, tourism, real estate, insurance, and renewable energy.
This flight made him the first Portuguese person to fly to space.
Vanessa O'Brien
Vanessa O'Brien has had a history of extreme firsts, and does not plan on stopping. O'Brien was the first women to summit the worlds highest peak, as measured from ground level, Mt. Everest.
AS of the successful completion of NS-22, O'Brien became the first women to achieve the Guinness World Records Explorers' Extreme Trifecta which includes reaching the extremes on land, air, and sea. These extremes include summiting Mt. Everest, diving the Challenger Deep, and a trip to space.
The first man, and first person overall, to complete this extremely challenging endeavor was Victor Vescovo, a familiar name to the New Shepard missions. Vescovo flew on the NS-21 mission in June, 2022.
Clint Kelly III
Clint Kelly III has been in the technology world his whole life. While working in the government, Kelly III was starting the Autonomous Land Vehicle project in the Defense Advanced Research Projects Agency (DARPA) in 1984. This technology was the leading base for many of today's driverless cars.
He is also a photographer of wildlife, which he now does with his wife. The two have photographed animals all over the world from north to south, east to west. These animals include all 21 species of penguin.
Sara Sabry
Sara Sabry became the first Egyptian person to travel to space after touchdown in the New Shepard crew capsule, but that's not her only first. In 2021, she became the first Egyptian female analog astronaut by completing a two-week simulated Moon mission.
Sabry is a mechanical and biomedical engineer and his the founder of Deep Space Initiative. Her education comes from a bachelors in mechanical engineering from the American University in Cairo and a master's in biomedical engineering from the Politecnico di Milano.
Her seat was sponsored by Space for Humanity.
Steve Young
Steve Young was previously the CEO of Young's Communications LLC (Y-COM). This telecommunications company was the largest contractors in that field while under his leadership from 1992-2021.
Living in Florida, more specifically on the space coast, provides Young with many other side ventures. Young enjoys fishing and has recently opened a new restaurant 'Pineapples' in Melbourne, Florida, USA.
What Is The Crew Capsule?
The New Shepard Crew Capsule has the capability to carry up to six people in a large pressurized 15 m3 (530 ft3) interior. Blue Origin's main goal is to open up the experience of microgravity and the view of the curvature of the Earth to the general public. Each large window can let through 92% of visible light despite its structural ability to hold pressure making the experience that much more clear.
Audiences had the ability to see unique views of the people inside the capsule during the first human flight of New Shepard NS-16. This is due to the power of 12 interior cameras with HDR capabilities so great that both the interior and exterior of the capsule can be properly exposed. Future ordinary space tourists will be able to get their own personal copy of a memorable flight.
For safety, the capsule has a built-in solid-fueled abort motor known as the Crew Capsule Escape Solid Rocket Motor (CCE-SRM) in the "pusher" configuration. Check out the Everyday Astronaut video and article on the differences and advantages/disadvantages to puller versus pusher configured motors. This motor comes from Aerojet Rocketdyne and was proof tested on the final flight of NS2.
What Is New Shepard?
Aptly named New Shepard, after the first American to be launched on a suborbital trajectory, Alan Shepard, this rocket is designed for suborbital flights. So far there have been four New Shepard rockets built: NS1, NS2, NS3, and NS4. NS1 flew for the first time on April 29, 2015 and reached an altitude of 93.5 km (58.1 mi) before failing to land because of a hydraulic pressure issue. The capsule landed successfully by parachute and was recovered.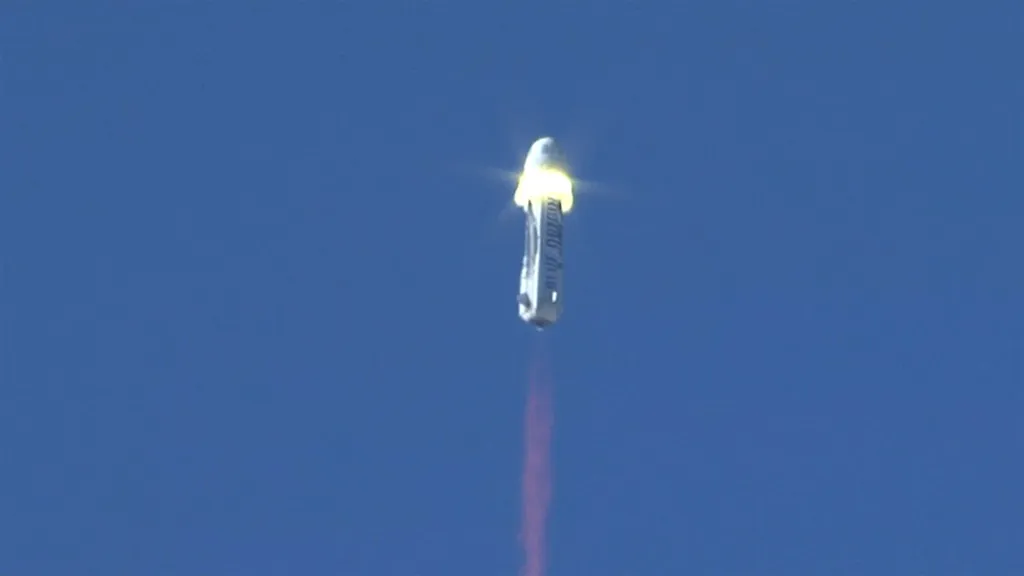 The New Shepard booster is powered by a single BE-3PM liquid-fueled engine with the capability of producing 489 kN (110,000 lbf) of thrust. The BE-3 is fueled by liquid hydrogen (LH2) and liquid oxygen (LOx) and was developed and tested by Blue Origin in the 2000s.
NS2
After the failure of NS1, Blue Origin then moved on to NS2 which completed the first successful launch and landing of a New Shepard booster on November 23, 2015 after reaching an apex of 100.5 km (62.4 miles). This marked the first time that a New Shepard rocket had carried a capsule above the Kármán line, descended it in a controlled fashion, and landed successfully on deployable landing legs. About a month later SpaceX did one better – they landed an orbital class rocket booster for the first time.
NS2 was also the booster to perform the famous in-flight abort where the Crew Capsule 2.0 fired its single solid-propellant abort motor at an altitude of 7.1 km (4.4 miles) to simulate a failure of the booster. This test was successful and both the capsule and booster were recovered. NS2 went on to complete five more successful test flights before it was retired.
NS3
After the retirement of NS2, Blue Origin moved on to testing the still active NS3 vehicle. So far, NS3 has completed 8 successful flights with the first occurring on December 12, 2017. NS3 also flew Crew Capsule 2.0, the second iteration of the capsule. Improvements to NS3 included enhanced recovery hardware to increase reusability, as well as increased thermal protection.
NS4 For NS-22
NS-22 was the eight flight of the NS4 rocket. NS4 has some improved accessibility panels for easier cleaning and checkouts of the hardware. NS4 has already performed five flights, in which it landed successfully along with the capsule. These tests have given Blue Origin and the FAA confidence to fly humans on this booster.