Featured Image: Blue Origin
Lift Off Time
(Subject to change)

December 11, 2021 – 14:45 UTC | 08:45 CST

Mission Name

NS-19

Launch Provider
(What rocket company is launching it?)

Blue Origin

Customer
(Who's paying for this?)

Blue Origin

Rocket

New Shepard 4

Launch Location

Launch Site One, Corn Ranch, Texas, USA

Payload mass

N/A

Where are the satellites going?

Sub-orbital trajectory

Will they be attempting to recover the first stage?

Yes

Where will the first stage land?

It will land at Blue Origin's landing pad, ~3.3 km (~2 miles) from the launch site

Will they be attempting to recover the fairings?

There are no fairings on the New Shepard vehicle

Are these fairings new?

There are no fairings on the New Shepard vehicle

How's the weather looking?

Weather for the launch is currently favorable. (As of December 11, 2021 at 12:15 UTC)

This will be the:

– 3rd flight of humans on a New Shepard launch vehicle
– 19th launch of a New Shepard vehicle
– 5th launch of the NS4 booster
– 1st launch of 6 people on a New Shepard vehicle

Where to watch

Official livestream
What's All This Mean?
For the third time in its 20 year history, Blue Origin will be launching humans on a sub-orbital flight. However, for the first time, Blue Origin will be launching a total of six people. Laura Shepard Churchley, Michael Strahan, Lane Bess, Cameron Bess, Evan Dick, and Dylan Taylor will strap into the New Shepard Crew Capsule at Corn Ranch in West Texas and take part in another historic flight. Similar to most other flights of New Shepard, the launch vehicle will put the capsule on a sub-orbital trajectory.
Who Is On NS-19?
Laura Shepard Churchley
Her maiden name might sound a bit familiar, "Shepard". Laura Shepard Churchley is indeed the daughter of Alan Shepard, America's first man to dare take a ride to space aboard Freedom 7. Alan Shepard later went on to walk on the Moon with Apollo 14.
Shepard Churchley continued to keep the astronaut blood alive in the family by becoming the Chair of the Astronaut Scholarship Foundation Board of Trustees. Shepard Churchley will have the opportunity to ride on a rocket named after her pioneering father 60 years after he took flight for the first time.
Michael Strahan
Michael Strahan is known for multiple accomplishments such as playing in the National Football League (NFL) for the New York Giants, winning two Emmy's, and hosting "Good Morning America" on ABC. Strahan keeps his football brain active by preforming as an analyst for "FOX NFL Sunday".
As a football player, Strahan helped his team achieve victory over the New England Patriots during Super Bowl XLII (the NFL championship). He began his football career playing linebacker at Mannheim American High School (MAHS), located in Käfertal (Mannheim), in then West Germany. He later went on to attend Texas Southern University
In other media jobs, Strahan hosts "The $100,000 Pyramid", a game show. Strahan was invited by Blue Origin to join the NS-19 crew.
Dylan Taylor
One of the four paying customers on NS-19, Voyager Space CEO Dylan Taylor is very active and invested in the space industry. Founded in 2019, Voyager Space offers multiple services in the NewSpace economy to help smaller founders and startups achieve their big goals.
Dylan has also donated to and supported multiple non-profits such as Space for Humanity and co-founded the Commercial Spaceflight Federation which seeks to develop commercial human spaceflight even further.
Evan Dick
Evan Dick is a very active individual who lives for adventure. Dick is a rated Airline Transport Pilot (ATP) who also enjoys riding motorcycles and sailing. On the business side of things, Dick is an engineer, investor, and Managing Member of Dick Holdings, LLC. His company is a part of the Management of Companies and Enterprises Industry.
Lane Bess
Lane Bess, father of Cameron Bess, is perhaps most known for his work in helping to start two of the most critical cybersecurity companies. These two companies include Zscaler (NASDAQ) and Palo Alto Networks (NYSE), both of which perform very well today. Lane is Trustee at Carnegie Melon University.
One of his major accomplishments is currently operating a $100 million investment firm – Bess Ventures and Advisory, LLC. There, he takes money which he generates from his operational success and then gives it to other firms to boost their own positive outcome.
Cameron Bess
Cameron Bess, also known as MeepsKitten, is a content creator who is joining their dad (Lane Bess) on NS-19. Cameron studied Computer Science and Game Design at Digipen Institute for Technology and went on to use their skills to livestream them playing video games on the streaming platform Twitch and other various platforms.
What Is The Crew Capsule?
The New Shepard Crew Capsule has the capability to carry up to six people in a large pressurized 15 m3 (530 ft3) interior. Blue Origin's main goal is to open up the experience of microgravity and the view of the curvature of the Earth to the general public. Each large window can let through 92% of visible light despite its structural ability to hold pressure making the experience that much more clear.
Audiences had the ability to see unique views of the people inside the capsule during the first human flight of New Shepard NS-16. This is due to the power of 12 interior cameras with HDR capabilities so great that both the interior and exterior of the capsule can be properly exposed. Future ordinary space tourists will be able to get their own personal copy of a memorable flight.
For safety, the capsule has a built-in solid-fueled abort motor known as the Crew Capsule Escape Solid Rocket Motor (CCE-SRM) in the "pusher" configuration. Check out the Everyday Astronaut video and article on the differences and advantages/disadvantages to puller versus pusher configured motors. This motor comes from Aerojet Rocketdyne and was proof tested on the final flight of NS2.
What Is New Shepard?
Aptly named New Shepard, after the first American to be launched on a suborbital trajectory, Alan Shepard, this rocket is designed for suborbital flights. So far there have been four New Shepard rockets built: NS1, NS2, NS3, and NS4. NS1 flew for the first time on April 29, 2015 and reached an altitude of 93.5 km (58.1 mi) before failing to land because of a hydraulic pressure issue. The capsule landed successfully by parachute and was recovered.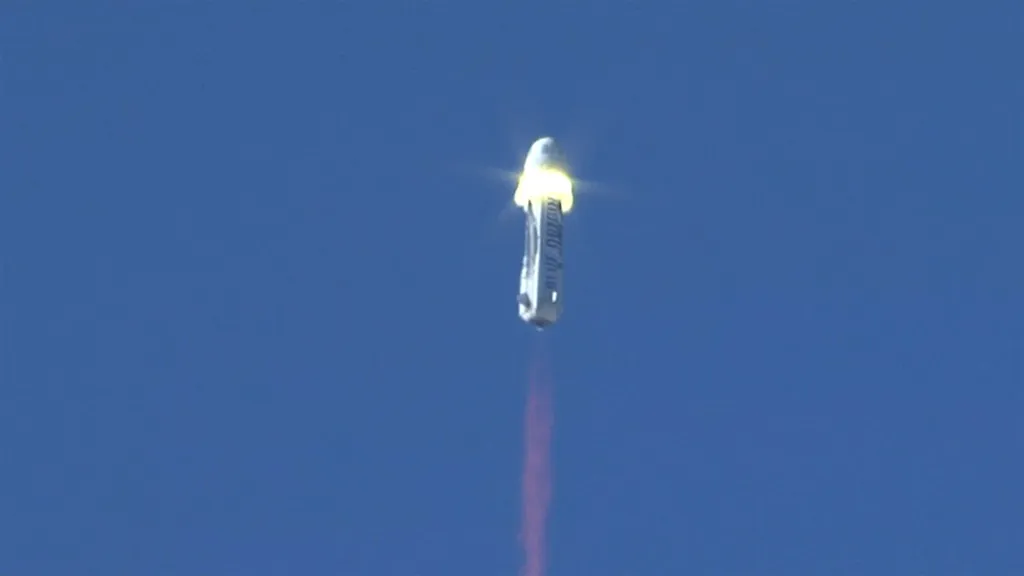 The New Shepard booster is powered by a single BE-3PM liquid-fueled engine with the capability of producing 489 kN (110,000 lbf) of thrust. The BE-3 is fueled by liquid hydrogen (LH2) and liquid oxygen (LOx) and was developed and tested by Blue Origin in the 2000s.
NS2
After the failure of NS1, Blue Origin then moved on to NS2 which completed the first successful launch and landing of a New Shepard booster on November 23, 2015 after reaching an apex of 100.5 km (62.4 miles). This marked the first time that a New Shepard rocket had carried a capsule above the Kármán line, descended it in a controlled fashion, and landed successfully on deployable landing legs. About a month later SpaceX did one better – they landed an orbital class rocket booster for the first time.
NS2 was also the booster to perform the famous in-flight abort where the Crew Capsule 2.0 fired its single solid-propellant abort motor at an altitude of 7.1 km (4.4 miles) to simulate a failure of the booster. This test was successful and both the capsule and booster were recovered. NS2 went on to complete five more successful test flights before it was retired.
NS3
After the retirement of NS2, Blue Origin moved on to testing the still active NS3 vehicle. So far, NS3 has completed 8 successful flights with the first occurring on December 12, 2017. NS3 also flew Crew Capsule 2.0, the second iteration of the capsule. Improvements to NS3 included enhanced recovery hardware to increase reusability, as well as increased thermal protection.
NS4 for NS-19
NS-19 will be the fifth flight of the NS4 rocket. NS4 has some improved accessibility panels for easier cleaning and checkouts of the hardware. NS4 has already performed four flights, in which it landed successfully along with the capsule. These tests have given Blue Origin and the FAA confidence to fly humans on this booster.