Lift Off Time
(Subject to change)

October 13, 2021 ~ 9:50 CDT | 14:50 UTC

Mission Name

NS-18

Launch Provider
(What rocket company is launching it?)

Blue Origin

Customer
(Who's paying for this?)

Blue Origin

Rocket

New Shepard 4

Launch Location

Launch Site One, Corn Ranch, Texas, USA

Payload mass

N/A

Where is the spacecraft going?

Sub-orbital trajectory

Will they be attempting to recover the first stage?

Yes

Where will the first stage land?

It will land at Blue Origin's landing pad, ~3.3 km (~2 miles) from the launch site

Will they be attempting to recover the fairings?

There are no fairings on the New Shepard vehicle

Are these fairings new?

There are no fairings on the New Shepard vehicle

How's the weather looking?

TBD

This will be the:

– 2nd flight of humans on a New Shepard vehicle
– 18th launch of a New Shepard vehicle
– 4th launch of the NS4 booster
– Launch of the oldest person to space (90 years old)

Where to watch

Official livestream
What's all this mean?
For the second time in its 20 year history, Blue Origin will once again be launching humans on a sub-orbital flight. Willian Shatner, Audrey Powers, Dr. Chris Boshuizen, and Glen de Vries will strap into the New Shepard Crew Capsule on Corn Ranch in West Texas and take part in another historic flight. Similarly to most other flights of New Shepard, the launch vehicle will put the capsule on a sub-orbital trajectory.
Who is on NS-18?
William Shatner (Capt. Kirk)
Famous actor William Shatner, who played Captain James T. Kirk in the long running science fiction franchise Star Trek which has had many iterations over the years. In addition to acting, Shatner directed one Star Trek movie and worked as a producer and recording artist.
Born in Montreal, Quebec, Canada, Shatner worked his way up the school system and participated in many theater programs, specifically Montreal Children's Theatre. In 1952, he graduated from McGill University and immediately entered the theater world. The Canadian National Repertory Theatre in Ottawa helped him train as a Shakespearean actor which he put to use at the Stratford, Ontario Shakespeare Festival.
Soon after he was gaining attention of top directors and producers in New York. He starred in TV shows such as The Twilight Zone and worked on movies such as The Intruder. However, Shatner is most known for his work on Star Trek, which occurs in space. Finally, Captain Kirk will be able to travel in the stars for real.
Dr. Chris Boshuizen
Dr. Chris Boshuizen has had space ingrained in his brain for many years having worked jobs at NASA and being the co-founder of Planet Labs (now known as Planet). After graduating from the University of Sydney with a Doctorates in Physics and a and Bachelors in Physics and Mathematics, Chris took up the role of Space Mission Architect at NASA Ames Research Center.
Shortly after, he shifted his focus to a specific satellite, Phonesat. Phonesat is a nanosatellite completely designed from a smart phone. After his work at NASA, Chris went on to co-found Planet Labs, a company dedicated to producing Earth observational data.
Audrey Powers
For the past many years, Audrey Powers has worked with nearly everyone at Blue Origin to get New Shepard certified for human flight. Powers graduated from Purdue University with a BS in Aeronautical and Astronautical Engineering. Ten years after first attending Purdue, she went back to school at Santa Clara University School of Law and graduated with Doctor of Jurisprudence and Doctor of Laws degrees.
Powers previously worked at NASA as a Guidance and Control engineer garnering over 2,000 hours of console time at Mission Control for the International Space Station. Her time at NASA spanned 1999-2003, the early years of the now twenty year old space station.
She then transitioned to become a lawyer and soon after joining Blue Origin, she oversaw legal and regulatory matters at the company. As of the time of her flight she has worked at Blue Origin for more than eight years.
Glen de Vries
Glen de Vries is the co-founder of Medidata Solutions, which has conducted tens of thousands of clinical trials to study potential vaccines, cancers, and other diseases. In 2019, Medidata was acquired by Dassault Systèmes. As of current, de Vries is the Vice Chair of Life Sciences and Healthcare.
Before he co-founded Medidata, de Vries attended Carnegie Mellon University and graduated with a Bachelors degree in Biological Sciences. He then continued on to other universities such a New York University and Columbia University to help educate future generrations.
What is the crew capsule?
The New Shepard Crew Capsule has the capability to carry up to six people in a large pressurized 15 m3 (530 ft3) interior. Blue Origin's main goal is to open up the experience of microgravity and see the curvature of the Earth to the general public. Each large window can let through 92% of visible light despite its structural ability to hold pressure making the experience that much more clear.
Audiences had the ability to see unique views of the astronauts inside the capsule during the first human flight of New Shepard NS-16. This is due to the power of 12 interior cameras with HDR capabilities so great that both the interior and exterior of the capsule can be properly exposed. Future ordinary space tourists will be able to get their own personal copy of a memorable flight.
For safety, the capsule has a built-in solid-fueled abort motor known as the Crew Capsule Escape Solid Rocket Motor (CCE-SRM) in the "pusher" configuration. Check out the Everyday Astronaut video and article on the differences and advantages/disadvantages to puller versus pusher configured motors. This motor comes from Aerojet Rocketdyne and has already been proof tested on the final flight of NS2.
What is New Shepard?
Aptly named New Shepard, after the first American to be launched on a suborbital trajectory, Alan Shepard, this rocket will only ever perform suborbital flights. So far there have been four New Shepard rockets built: NS1, NS2, NS3, and NS4. NS1 flew for the first time on April 29, 2015 and reached an altitude of 93.5 km (58.1 mi) before failing to land because of a hydraulic pressure issue. The capsule landed successfully by parachute and was recovered.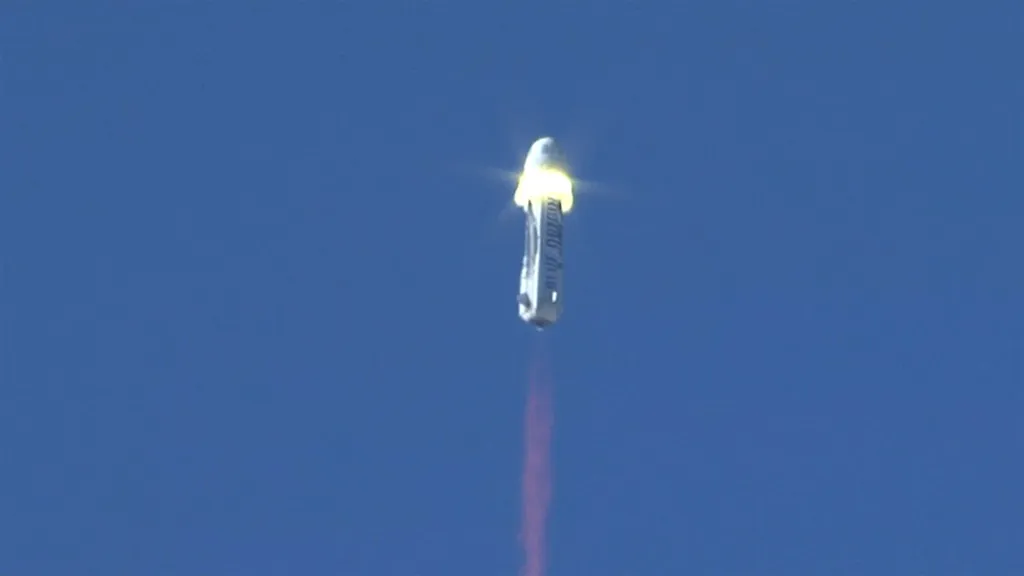 The New Shepard booster is powered by a single BE-3PM liquid-fueled engine with the capability of producing 489 kN (110,000 lbf) of thrust. The BE-3 is fueled by liquid hydrogen (LH2) and liquid oxygen (LOx) and was developed and tested by Blue Origin in the 2000s.
NS2
After the failure of NS1, Blue Origin then moved on to NS2 which completed the first successful launch and landing of a New Shepard booster on November 23, 2015 after reaching an apex of 100.5 km (62.4 miles). This marked the first time that a New Shepard rocket had carried a capsule to just above the Kármán line, descended in a controlled fashion, and landed successfully on deployable landing legs. About a month later SpaceX did one better – they landed an orbital class rocket booster for the first time.
NS2 was also the booster to perform the famous in-flight abort where the Crew Capsule 2.0 fired its single solid-propellant abort motor at an altitude of 7.1 km (4.4 miles) to simulate a failure of the booster. This test was successful and both the capsule and booster were recovered. NS2 went on to complete five more successful test flights before it was retired.
NS3
After the retirement of NS2, Blue Origin had moved on to testing their still active NS3 vehicle. So far, NS3 has completed 8 successful flights with the first flight occurring on December 12, 2017. NS3 was also the booster to fly Crew Capsule 2.0, the second iteration of the capsule. Improvements to NS3 included enhanced recovery hardware to increase reusability, as well as increased thermal protection. There are more planned flights for NS3 with the next one being sometime during 2021.
NS4 for NS-18
NS-18 will be the fourth flight of the NS4 rocket. NS4 has some improved accessibility panels for easier cleaning and checkouts on the hardware. NS4 has already performed two flights, in which it landed successfully along with the capsule. These tests have given Blue Origin and the FAA confidence to fly humans on this booster.