Lift Off Time

March 31, 2022 ~ 12:59:00 UTC | 08:59:00 CDT

Mission Name

NS-20

Launch Provider
(What rocket company launched it?)

Blue Origin

Customer
(Who paid for this?)

Blue Origin

Rocket

New Shepard 4

Launch Location

Launch Site One, Corn Ranch, Texas, USA

Payload mass

N/A

Where did the spacecraft go?

Sub-orbital trajectory

Did they attempt to recover the first stage?

Yes

Where did the first stage land?

It landed at Blue Origin's landing pad, ~3.3 km (~2 miles) from the launch site

Did they attempt to recover the fairings?

There are no fairings on the New Shepard vehicle

Were these fairings new?

There are no fairings on the New Shepard vehicle

This was the:

– 1st flight for Blue Origin in 2022
– 4th flight with humans on New Shepard
– 20th overall flight of New Shepard
– 6th launch of the NS4 booster

Where to watch

Official livestream
How Did It Go?
For the fourth time in its 20 year history, Blue Origin successfully launched humans on a sub-orbital flight for the NS-20 mission. A total of six humans flew in the New Shepard Crew Capsule. Marty Allen, Sharon Hagle, Marc Hagle, Gary Lai, Jim Kitchen, and George Nield flew to a height of 107 km above Mean Sea Level (351,276 ft MSL). The crew endured 3,599 kph (2,236 mph) during ascent and flew for a total of 10 minutes and four seconds.
Who Was On NS-20?
Gary Lai
Gary Lai is a Blue Origin employee who joined the team in 2004, being among the first 20 employees. Lai graduated from Cornell University with a Bachelor of Science in Applied Economics and Business Management.
Lai's current position is the Senior Director and Chief Architect of New Shepard. This means Lai constructs and approves new designs, safety features, and overall upgrades to the New Shepard design.
Throughout his nearly 20 years of working in the space industry, he has acquired three patents. Gary will now be able to ride the vehicle he has been working on for nearly two decades on NS-20.
Marty Allen
Marty Allen is the former president and CEO of the California based company Party America. Allen was able to bring the company from rags to riches, as it stands now as a major American retailer. One of his biggest strategies was to produce a greater focus on Halloween.
Allen is also the former CEO of California Closet Company where he was known to make great profits. He now spreads his knowledge by hosting board activities for other CEOs.
Sharon Hagle
Sharon Hagle is the founder of SpaceKids Global and has been very active in the aviation and aerospace industry. SpaceKids Global is an organization based in Winter Park, Florida that strives to bring Science Technology Engineering, Art, and Mathematics (STEM) to young kids, specifically elementary students. According to SpaceKids Global, Hagle has reached over 96, 500 students across the globe.
According to LinkedIn, Hagle signed up for a flight on Blue Origin in April of 2021, making her flight on NS-20 just under a year later.
Marc Hagle
Husband to Sharon Hagle, Marc Hagle will be accompanying her on NS-20. Marc has a plethora of accomplishments himself, currently occupying the position of president and CEO of Tricor International. Tricor develops and builds residential and commercial properties such as apartment complexes and single family homes.
Jim Kitchen
An achievement most people do not have checked off, Jim Kitchen has visited all 193 United Nations recognized countries. "My mission is to now see these countries from space," says Kitchen. Kitchen was also in person for some of the Apollo launches from Florida. Since 2010, Kitchen has worked at the University of North Carolina's (UNC) Kenan-Flagler Business School teaching students about for-profit and non-profit ventures.
Kitchen is a UNC graduate with a Bachelors in Russian and Eastern European Studies. He later graduated from the University of Tennesse-Knoxville with a Masters of Business Education. Kitchen topped of his educational venture with a Masters in Political Management from The George Washington University.
Jim Kitchen is currently writing a book about his world travels, expected to release in the Fall of 2022, titled A Bigger World. NS-20 would be a highlight and a unique experience to bring to the reader.
Dr. George Nield
Dr. George Nield is currently the president of Commercial Space Technologies LLC. Previously he served as associate administrator for the Federal Aviation Administration (FAA) Office of Commercial Space Transportation for 15 years. The position required him to license and regulate all commercial launch activities.
During the Shuttle Era, Dr. Nield held the position of manager of the Flight Integration Office for seven years. Dr. Neild's educational career reached the United States Air Force Academy, Standford University, and The George Washington State University.
What Is The Crew Capsule?
The New Shepard Crew Capsule has the capability to carry up to six people in a large pressurized 15 m3 (530 ft3) interior. Blue Origin's main goal is to open up the experience of microgravity and the view of the curvature of the Earth to the general public. Each large window can let through 92% of visible light despite its structural ability to hold pressure making the experience that much more clear.
Audiences had the ability to see unique views of the people inside the capsule during the first human flight of New Shepard NS-16. This is due to the power of 12 interior cameras with HDR capabilities so great that both the interior and exterior of the capsule can be properly exposed. Future ordinary space tourists will be able to get their own personal copy of a memorable flight.
For safety, the capsule has a built-in solid-fueled abort motor known as the Crew Capsule Escape Solid Rocket Motor (CCE-SRM) in the "pusher" configuration. Check out the Everyday Astronaut video and article on the differences and advantages/disadvantages to puller versus pusher configured motors. This motor comes from Aerojet Rocketdyne and was proof tested on the final flight of NS2.
What Is New Shepard?
Aptly named New Shepard, after the first American to be launched on a suborbital trajectory, Alan Shepard, this rocket is designed for suborbital flights. So far there have been four New Shepard rockets built: NS1, NS2, NS3, and NS4. NS1 flew for the first time on April 29, 2015 and reached an altitude of 93.5 km (58.1 mi) before failing to land because of a hydraulic pressure issue. The capsule landed successfully by parachute and was recovered.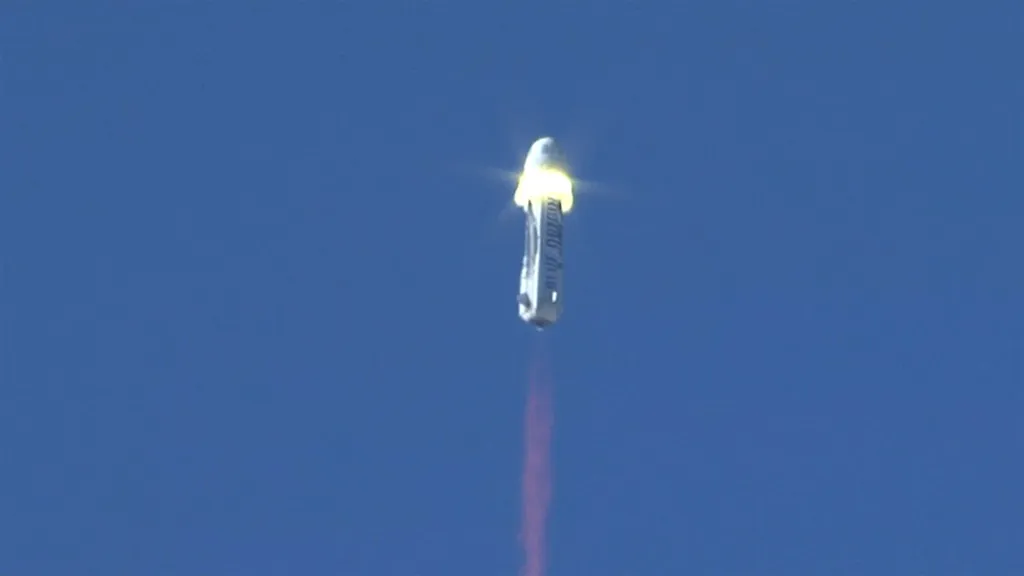 The New Shepard booster is powered by a single BE-3PM liquid-fueled engine with the capability of producing 489 kN (110,000 lbf) of thrust. The BE-3 is fueled by liquid hydrogen (LH2) and liquid oxygen (LOx) and was developed and tested by Blue Origin in the 2000s.
NS2
After the failure of NS1, Blue Origin then moved on to NS2 which completed the first successful launch and landing of a New Shepard booster on November 23, 2015 after reaching an apex of 100.5 km (62.4 miles). This marked the first time that a New Shepard rocket had carried a capsule above the Kármán line, descended it in a controlled fashion, and landed successfully on deployable landing legs. About a month later SpaceX did one better – they landed an orbital class rocket booster for the first time.
NS2 was also the booster to perform the famous in-flight abort where the Crew Capsule 2.0 fired its single solid-propellant abort motor at an altitude of 7.1 km (4.4 miles) to simulate a failure of the booster. This test was successful and both the capsule and booster were recovered. NS2 went on to complete five more successful test flights before it was retired.
NS3
After the retirement of NS2, Blue Origin moved on to testing the still active NS3 vehicle. So far, NS3 has completed 8 successful flights with the first occurring on December 12, 2017. NS3 also flew Crew Capsule 2.0, the second iteration of the capsule. Improvements to NS3 included enhanced recovery hardware to increase reusability, as well as increased thermal protection.
NS4 for NS-20
NS-20 was the sixth flight of the NS4 rocket. NS4 has some improved accessibility panels for easier cleaning and checkouts of the hardware. NS4 has already performed five flights, in which it landed successfully along with the capsule. These tests have given Blue Origin and the FAA confidence to fly humans on this booster.