Featured image credit: ABL Space Systems
Lift Off Time


January 10, 2023 – 23:27 UTC | 14:27 AKDT

Mission Name

RS1 Maiden Flight

Launch Provider
(What rocket company launched it?)

ABL Space Systems

Customer
(Who paid for this?)

Omniteq

Rocket

RS1

Launch Location

Pad 3C, Pacific Spaceport Center, Kodiak Island, Alaska, USA

Payload mass

∼22 kg

Where were the satellites supposed to go?

350 x 200 km elliptical orbit with an inclination of 87.3°

Did they attempt to recover the first stage?

No, RS1 is not capable of recovery

Where did the first stage land?

It crashed back onto the pad

Did they attempt to recover the fairings?

No, RS1 is not capable of recovery

Were these fairings new?

Yes

This was the:

– 1st RS1 orbital launch attempt
– 1st orbital launch attempt for ABL
– 2nd failure of an orbital class rocket in 2023
– 6th orbital launch attempt of 2023

Where to re-watch

ABL did not livestream their attempt, but posted live updates in this Twitter thread.
How Did It Go?
ABL Space Systems conducted the maiden flight of its RS1 rocket. The launch vehicle lifted-off from the Pacific Spaceport Center in Alaska and carried two satellites for Omniteq (Varisat-1A and Varisat-1B).
After a nominal lift off at 23:27 UTC (14:27 AKST) on January 10, 2023, ABL's RS1 rocket rose to the skies. ABL later stated on their Twitter that the rocket experienced an anomaly resulting in all nine E2 engines shutting down. As a result, RS1 fell back onto the pad severely damaging the pad and starting a fire. No personnel were harmed and the fire was put out shortly after with no major impact to the surrounding area.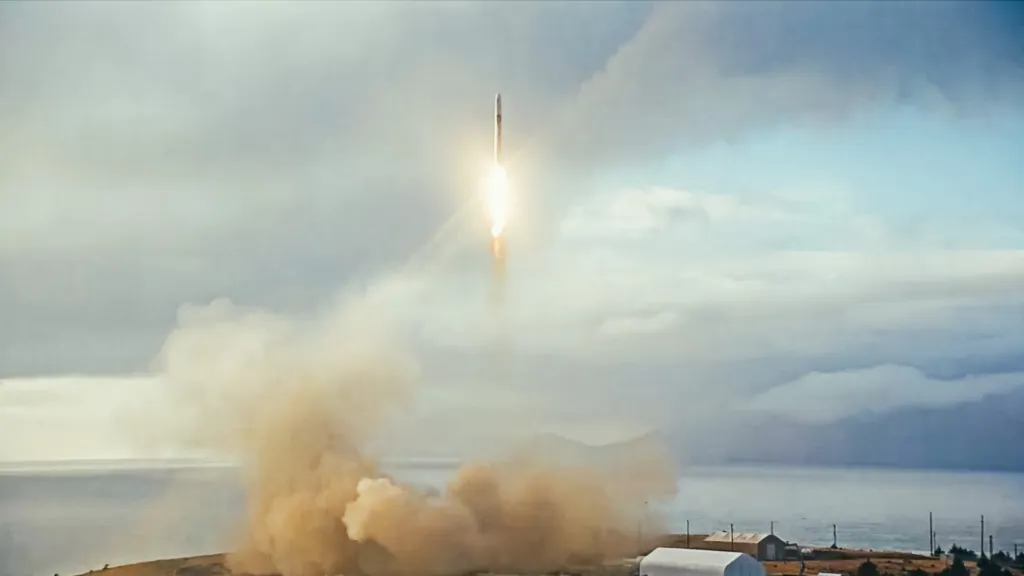 Video and image analysis of the footage posted by ABL suggests that the anomaly must have occurred at least 12 seconds after lift off with the rocket falling back down onto the pad less than 30 seconds after engine ignition. ABL is now working together with the FAA to investigate the anomaly and implement changes for flight two. More information on the launch failure is expected to be published over time.
ABL Space Systems
ABL Space Systems (ABL) was founded in 2017. The company still keeps in secret what the ABL and RS1 acronyms stand for. Based in El Segundo, California, ABL already occupies several facilities with end-to-end manufacturing capabilities in-house. The company has two test sites, the first one is located at the Mojave Air and Spaceport and has two active engine test bays, and the second one is located at Edwards Air Force Base and is used for general testing.
Harry O'Hanley is the Chief executive officer (CEO) and Dan Piemont is the Chief financial officer (CFO) of ABL Space Systems.
Maiden Flight
Payload
On its maiden launch, the RS1 rocket carried two satellites (Varisat-1A and Varisat-1B) for Omniteq toward a designated orbit with a 350 km apogee, a 200 km perigee, and an inclination of 87.3 degrees. Varisat-1A&B are technology demonstration satellites that are composed of two identical 6U CubeSats. The total mass of each satellite is about 11 kg.
The spacecraft would have demonstrated a new HF marine data communications capability. The satellites are gravity gradient and aerodynamic drag stabilized and have six deployable solar array panels with no propulsion system on the craft.
One of Omniteq's satellites, Varisat-1C, has already been delivered to its designated orbit on the Transporter-5 mission, on May 25, 2022. Additional information about Varisat-1 satellites can be found here.
Testing Before The Maiden Flight
In 2019, the company successfully carried out testing of the E2 engine at Spaceport America. The team was able to rapidly activate its deployable test site and was happy with how the engine performed.
Then, in October 2020, ABL performed a series of static-fire tests of the upper stage at Edwards Air Force Base. These tests consisted of the stage fueling, refining startup sequences, and firing its vacuum-optimized E2 engine. At that time, the company aimed to conduct the maiden flight in 2021.
In January 2022, ABL lost an upper stage during a static firing at the Mojave Air and Spaceport, which was caused by a hard start of the E2 vacuum engine and delayed the vehicle's first flight. After this accident, the company was able to build another stage in only three weeks and proceeded with its testing.
In May 2022, the company completed acceptance testing of the upper stage. After that, it was shipped to its launch site in Kodiak, Alaska. Check out the video on ABL's YouTube channel showing a static-fire test of the stage and its loading into the standard 20′ container!
Finally, on July 9, the company successfully performed a static-fire test of the first stage at Pacific Spaceport Center, Alaska.
What Is RS1?
ABL's RS1 is a ground-launched small-lift rocket consisting of two stages. When fully integrated, RS1 has a length of about 26.8 m (88 ft) and a diameter of 1.8 m (6 ft). The rocket's design is deliberately simple, which allows the company to rapidly produce reliable, low-cost, and simple in operation launch vehicles. The company's philosophy is perfectly described by the slogan on its website "Even rockets can be simple".
One interesting thing about RS1 is that all its stages are sized to fit in standard shipping containers that could be delivered to the desired launch site. For instance, the first stage can be shipped in a 53′ container, whereas the second stage and fairing – in 20′ containers. Moreover, the only piece of ground infrastructure required at the launch site is a flat concrete pad with dimensions of 150′ x 50′. With this approach, the company will be able to provide responsive launch services by activating launch sites quickly, at a low cost, and with a small team.
The vehicle's structures are entirely metallic and made of high-strength aluminum alloy. The propellant tank architecture represents a common dome and yields minimized structural mass. The vehicle's dry weight is about 3,200 kg (7,000 lb), while its gross lift-off weight is about 6,800 kg (15,000 lb). RS1 is capable of placing 1,350 kg to low Earth orbit (LEO) and 970 kg to a 500 km Sun-Synchronous orbit (SSO).
First And Second Stages
| | First Stage | Second Stage |
| --- | --- | --- |
| Engine | 9 x E2 engines | 1 x vacuum optimized E2 engine |
| Thrust | 485 kN (109,000 Ibf) | 58 kN (13,000 Ibf) |
First Stage
The first stage has a length of 15 m (50 ft) and uses nine E2 Sea Level engines that use liquid oxygen (LOx) as the oxidizer and kerosene as the propellant.
E2 Engine
E2 engines are the main propulsion source for RS1 and were designed and developed in-house, specifically for this vehicle. They are gas generator cycle, turbopump-fed engines running on kerosene (RP-1 or Jet-A) and liquid oxygen (LOx). The E2 engine is capable of producing 12,100 Ibf at sea level and 13,000 in a vacuum.
The company combines a traditional approach (forging and machining method) and additive manufacturing for building different components of the rocket. For example, 3D printing with the following post-processing is used for components that require complex internal geometry and fluid passageways (e.g., a thrust chamber, an injector, and turbopumps). The E2 thrust chamber is made of high-performance nickel alloy using a direct metal laser sintering (DMLS) method. In this process, the metal powder is melted by the scanning of a high-power laser beam. It has high detail resolution due to the small powder diameter (20 um) and is widely used for the fabrication of aerospace parts for high heat applications. At the same time, the company uses well-established forging and machining methods for components that are less complex.
Second Stage
The second stage has a length of 1.6 m (5.4 ft) and accommodates one E2 vacuum engine that also runs on kerosene and LOx. It can relight to deliver payloads to their designated orbits.
Fairing
The front end of the vehicle includes a custom-designed payload adapter fitting and a metallic bi-conic fairing with acoustic protection. RS1 can use two types of fairings: standard and expanded. The standard type has a diameter of 2.0 m (80"), while the expanded type has a diameter of 2.7 m (108"). The fairing consists of two parts and separates along a longitudinal seam using low shock pneumatic actuators.
Mission Profile
Stage separation was planned to occur at approximately 160 seconds into the flight, at an altitude of 75 km. The fairing would have separated at 200 seconds, at an altitude of 125 km. In a typical mission, SECO-1 would have taken place at approximately 508 seconds, at an altitude of 208 km. All the separation devices are non-pyrotechnic pneumatic pusher systems.
Reference Mission Timeline
Hrs:Min:Sec
From Lift-Off
Events
– 00:00:02
Stage 1 Startup
00:00:00
Lift-Off
+ 00:01:18
Maximum Dynamic Pressure (MaxQ)
+ 00:02:58
Main Engine Cut Off (MECO)
+ 00:03:00
Stage 1 Separation
+ 00:03:04
Stage 2 Startup 1
+ 00:03:16
Fairing Separation
+ 00:07:59
Second Engine Cut Off (SECO)
+ 00:08:37
Payload Deploy
+ 00:10:00
Collision Avoidance Maneuver (CAM)
+ 00:15:00
Deorbit Burn