Featured image credit: ROSCOSMOS
Lift Off Time

October 21, 2022 – 19:20:15 UTC | 22:20:15 MSK

Mission Name

Kosmos 2561 & Kosmos 2562, a pair of military satellites

Launch Provider
(What rocket company launched it?)

ROSCOSMOS

Customer
(Who paid for this?)

Ministry of Defense of the Russian Federation

Rocket

Soyuz 2.1v

Launch Location

Site 43, Plesetsk Cosmodrome, Russia

Payload mass

Unknown

Where did the satellite go?

Sun-Synchronous orbit (SSO), at a 97° inclination

Did they attempt to recover the first stage?

No, this is not a capability of Soyuz

Where did the first stage land?

It crashed in the waters of the Barents Sea, north of Murmansk

Did they attempt to recover the fairings?

No, this is not a capability of Soyuz

Were these fairings new?

Yes

This was the:

– 2nd launch of Soyuz 2.1v of 2022
– 7th launch from the Plesetsk cosmodrome in 2022
– 11th launch of Soyuz 2.1v
– 142nd orbital launch attempt of 2022

Where to re-watch

Unfortunately, there was no livestream of this launch
How Did It Go?
The Russian Federal Space Agency successfully launched a pair of military satellites on a Soyuz 2.1v launch vehicle into a Sun-synchronous orbit, at a 97° inclination. The rocket lifted off on October 21, 2022, from the Plesetsk Cosmodrome, in Russia. The satellites were assigned the serial numbers Kosmos 2561 & Kosmos 2562. This mission marked the second launch of the Soyuz 2.1v rocket of this year.
Kosmos 2561 and Kosmos 2562 Mission
Due to the classified nature of this mission, nothing is known about the characteristics of the Kosmos 2561 & Kosmos 2562 satellites.
The Soyuz 2.1v has already been used nine times to carry military satellites into space; eight of them were successful. Its maiden flight took place on December 28, 2013.
What Is Soyuz 2.1v?
ROSCOSMOS's Soyuz is a multi-use medium-lift launch vehicle that was introduced in far 1966 and since then has been the workhorse of the Soviet/Russian space program. It is capable of launching civilian and military satellites, as well as cargo and crewed missions to the ISS. Over the decades, several variants of the Soyuz rocket have been developed. Soyuz 2.1v is one of its latest iterations that belongs to the Soyuz-2 rocket family and is based on the Soyuz 2.1b.
However, the Soyuz 2.1v drastically differs from other family members, the Soyuz 2.1a and Soyuz 2.1b. Unlike them, the Soyuz 2.1v is a small-lift launch vehicle that lacks the four strap-on boosters. Consequently, this rocket does not feature the "Korolev cross", a pattern that happens when the four side boosters separate from the core stage.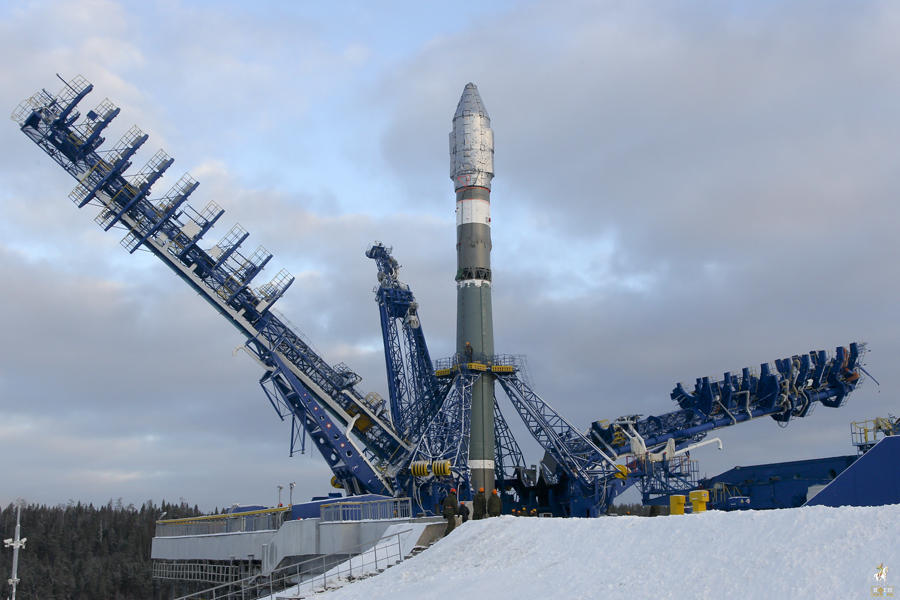 The rocket consists of two stages, both of which are expendable. Moreover, it can feature the Volga upper stage. Soyuz 2.1v is about 44 meters (144 ft) in height and 3 meters (9 ft) in diameter. The vehicle's total lift-off mass is approximately 160,000 kg (365,967 lb). The rocket's payload lift capacity to low-Earth orbit (LEO) is between 2,800 and 3,300 kg depending on the launch site. Further, its payload lift capacity to SSO is between 1,200 and 1,400 kg.
Stages
First Stage
Second Stage
Engine
1 NK-33A + 1 RD-0110R
1 RD-0124
Total Thrust
1,535 kN (345,082 lbf),
sea level
1,714 kN (385,323 lbf),
vacuum
294 kN (66,094 lbf),
vacuum
Specific Impulse (ISP)
297 s, NK-33A, sea level
261 s, RD-0110R, sea level
359 s, vacuum
First Stage
The first stage of the Soyuz 2.1v rocket is powered by a single-chamber NK-33 engine and a steering RD-0110R engine. They are capable of producing a thrust of 1,535 kN at sea level and 1,714 kN in a vacuum. Originally, the NK-33 engine was designed and built for the N-1 rocket for the Soviet lunar program, by the Kuznetsov Design Bureau. It runs on kerosene and liquid oxygen (LOx) and works in the staged combustion cycle.
Second Stage
The second stage of the Soyuz 2.1v is identical to the third stage of the Soyuz 2.1b. It is powered by a single RD-0124 engine that runs on kerosene and LOx and has four combustion chambers. This engine produces a thrust of 294 kN in a vacuum, with an ISP of 359 s.
One interesting thing about the RD-0124 engine on this stage is that it starts its ignition sequence prior to stage separation. This process is called "hot fire staging" and is possible thanks to the open interstage that has a lattice structure.
Volga Upper Stage
On this mission, an upper stage was also used.
The development of the Volga upper stage began in 2008 because the existing stages that time were not optimal for placing payloads to the circular orbits higher than 250-300 km. It was developed by TsSKB Progress and flew on the Soyuz 2.1v launch vehicle in 2013 for the first time. Apart from the Soyuz 2.1v, this upper stage can be paired with Soyuz 2.1a.
The stage has a diameter of 2.7 m and a height of 1 m, the dry mass is 840 kg. It features one 17D64 engine that uses UDMH and NTO as propellants. The engine is capable of producing 2.94 kN of thrust in a vacuum, with a specific impulse of 307 s. The Volga's payload lift capacity to SSO (835 km, 98.7° inclination) is around 1,400 kg.