Launch Window
(Subject to change)

September 16, 2021 00:02:56 UTC
September 15, 2021 20:02:56 EDT

Mission Name

Inspiration4

Launch Provider
(What rocket company is launching it?)

SpaceX

Customer
(Who's paying for this?)

Jared Isaacman

Rocket

Falcon 9 Block 5 B1062-3; 91 day turnaround time

Launch Location

Launch Complex 39A (LC-39A), Kennedy Space Center, Florida, USA

Payload mass

12,519 kg (~27,600 lbs) (~12,000 kg dry mass + cargo)

Where is the spacecraft going?

Crew Dragon C207-2 will be placed into a 575 km orbit at 51.6° (136.7 day turnaround time)

Will they be attempting to recover the first stage?

Yes

Where will the first stage land?

543 km downrange on Just Read the Instructions

Tug: Finn Falgout; Support: GO Quest

Will they be attempting to recover the fairings?

There are no fairings on Dragon 2

How's the weather looking?

The weather is currently 90% GO* for launch (as of September 15, 2021 14:00 UTC)

This PGO only takes into account launch site weather, and not down sea recovery weather

This will be the:

– 1st fully private crewed orbital mission, ever
– 1st spacecraft not destined to a space station since STS-125 (final Hubble repair mission)
– 1st crewed flight on a -3 booster flight
– 1st Crew Dragon with a cupola
– 1st time 3 Dragons will be in orbit
– Highest a human has gone since STS-103 in 1999
– Fastest turnaround time of a dragon at 136.7 days (previous record: 227.2)
– 2nd free flight mission of a Dragon ever (first was COTS Demo Flight 1)
– 4th SpaceX crewed mission
– 3rd operational Crew Dragon mission
– 3rd reuse of a Dragon 2
– 12th reuse of a Dragon spacecraft
– 2nd crewed mission on a flight proven Falcon 9
– 7th Crew Dragon mission
– 126th Falcon 9 launch (tied with Soyuz 2 for most launched operational rocket)
– 67th Falcon 9 flight with a flight proven booster
– 71st re-flight of a booster
– 22nd re-flight of a booster in 2021
– 92nd booster landing
– 23rd launch for SpaceX in 2021
– 38th SpaceX launch from LC-39A
– 90th orbital launch attempt of 2021

Where to watch

SpaceX's official livestream

Tim Dodd, the Everyday Astronaut, will be streaming at T-4ish hours; come ask questions and join the conversation live!
What's all this mean?
SpaceX will launch four private astronauts on the first free flight mission of Crew Dragon on Inspiration4. The Falcon 9 B1062-3 will launch Crew Dragon C207-2 into a 575 km low-Earth orbit; this will mark the highest orbit a crewed mission has gone to since the STS-103 mission in 1999. The Inspiration4 mission will launch from Launch Complex 39A (LC-39A), at the Kennedy Space Center, in Florida, USA.
Inspiration4
Inspiration4 marks the first orbital crewed mission where all of the astronauts are private citizens. Paid for by Jared Isaacman, the Inspiration4 mission is a charity fundraiser for St. Jude Children's Research Hospital, with the goal of raising $200 million to help research and fight childhood cancer; to reach this goal, Isaacman is personally donating $100 million. The four person crew is comprised of four civilians, who have never been to space before.
Due to Isaacman's primary objective on the Inspiration4 mission to inspire people, the mission has four mission pillars: Leadership, Prosperity, Hope, and Generosity. Because of this, Isaacman decided to team up with St. Jude's, allowing them to help find a suitable candidate for the Hope seat. Isaacman stated that the crew members could not just be "fishing buddies", and each member must represent one of these pillars to inspire future generations.
Meet the Crew
The Inspiration4 crew:
Mission Commander, representing Leadership: Jared Isaacman
Mission Pilot, representing Prosperity: Dr. Sian Proctor
Chief Medical Officer, representing Hope: Hayley Arceneaux
Mission Specialist, representing Generosity: Christopher Sembroski
Inspiration4 Commander Jared Isaacman
Born on February 11, 1983, Isaacman is the CEO and founder of Shift4 Payments, a payment processor used by roughly 250,000 entities.
In 2004, Isaacman began taking flight lessons. Due to the success of Shift4 Payments, Isaacman had the opportunity to get type rated in a number of military jets. This allowed him to, in 2009, set the record for circumnavigating the globe in just under 62 hours. This world record flight also served as a fundraising event for the Make-A-Wish foundation. Additionally, Isaacman has performed in a large number of airshows as part of the Black Diamond Jet team.
As the Mission Commander and sponsor, Isaacman is representing the Leadership on the Inspiration4 mission, which is his first mission to space.
Inspiration4 Pilot Dr. Sian Proctor
Dr. Sian Proctor was born on March 28, 1970 in Hagåtña, Guam. Proctor has been in love with space since a young age, as her father worked on the Guam Remote Ground Terminal, during the Apollo era. Her family later moved to the continental US, where she went to high school.
She graduated from Fairport High School before attending Edinboro University. Dr. Proctor graduated with a Bachelor's in Environmental Science in 1992. In 1998, she graduated from Arizona State University with a Master's in geology. Finally, in 2006 she received her Ph.D in science education.
Dr. Proctor is now a science communicator and a geology professor at South Mountain Community College, in Phoenix, Arizona. She is also the aerospace education officer for the Civil Air Patrol's Arizona wing.
Dr. Proctor was a final candidate in the 2009 NASA Astronaut group (Group 20). However, Dr. Proctor was not selected, which makes the Inspiration4 mission her first mission to space.
The Prosperity seat was awarded to a contestant who created a successful Shift4Shop, selling whatever they could dream of. Dr. Proctor created a Shift4Shop to sell her art and poetry. Additionally, contestants had to create a video about their shop and how they'll use this opportunity to inspire people. After the shop took off, she was awarded the Prosperity seat on the Inspiration4 mission.
Inspiration4 Medical Officer Hayley Arceneaux
Born in Baton Rouge, Louisiana, on December 4, 1991, at the age of 29 Arceneaux will be the youngest American to orbit the Earth, ever.
At 10 years old, Arceneaux was diagnosed with osteosarcoma, which is a type of bone cancer. Her parents turned to St. Jude Children's Research Hospital for her treatment. After a number of surgeries, including a knee replacement, and chemotherapy, Arceneaux won her battle with cancer. Her experience at St. Jude's inspired her get her Physician Assistant degree, allowing her to help other cancer patients at St. Jude's.
In 2014, Arceneaux received an undergraduate degree in Spanish. In 2016, she obtained her Physician Assistant degree, allowing her to receive her current job at St. Jude Children's Hospital.
Due to Arceneaux's story, she will be representing Hope on the Inspiration4 mission. Isaacman's goal is that showing a childhood cancer survivor going to space will inspire children suffering from childhood cancer, and give them hope. Arceneaux stated "I'm going to space not physically perfect; with this rod in my leg, I would have immediately been disqualified [from NASA's astronaut program]."
Inspiration4 Mission Specialist Christopher Sembroski
Christopher Sembroski was born on August 28, 1979 and grew up in Kannapolis, North Carolina. Sembroski graduated with a Bachelor's in science from Embry-Riddle Aeronautic University, then joined the US Air Force as an electro-mechanical technician.
During his years in college, Sembroski served as a counselor at Space Camp, an educational camp in Huntsville. He also volunteered for ProSpace, a non-profit organization that advocates for private spaceflight.
Sembroski was selected for the Inspisration4 mission after his friend was chosen for the Generosity seat, but was unable to make the flight. However, as Sembroski had also donated to St. Jude's for a chance to win the Generosity seat, Sembroski's friend transferred the win to Sembroski, as he has been a lifelong space fan.
Inspiration4 Science
The Inspiration4 astronauts are also being tasked with conducting research during their three day mission. As the four astronauts will be the highest a human has been since 1999, they will be exposed to more radiation than astronauts on board the International Space Station (ISS). The astronauts will collect research-grade ECG activity, movement, sleep, heart rate and rhythm, blood oxygen saturation, cabin noise, and light intensity data. Teams will also gather data on the molecular processes in the body, and how they change throughout the spaceflight.
Additionally, the four astronauts will be monitored for changes in behavioral and cognitive performance throughout and after the mission. Researchers will use the public Cognition app to track any changes.
The crew members will also use the Butterfly IQ+ Ultrasound device to attempt to acquire clinical grade images without the guidance of professionally trained ground support members. Teams hope to be able to monitor biological changes during and after the spaceflight. The Butterfly IQ+ is also being tested aboard the ISS.
Once the astronauts splash down, they will immediately conduct a series of balance and perception tests. This will provide researches with valuable data of how the human body's ability to balance degrades over time.
Finally, as Hayley Arceneaux will be the first person in space with a prosthetic, she will be testing out a test bed. Based on the results, this could lead to NASA astronauts being allowed to have prosthetics.
Crew Dragon C207 Resilience
The Crew Dragon supporting the Inspiration4 mission is Crew Dragon C207-2. C207 previously supported the NASA Crew-1 (USCV-1) mission, where it launched NASA astronauts Mike Hopkins, Victor Glover, and Shannon Walker along with JAXA astronaut Soichi Noguchi to the International Space Station (ISS). Ahead of the Crew-1 launch, the astronauts announced that they had named the spacecraft Resilience.
Resilience splashed down in the Gulf of Mexico on May 2, 2021, and was later recovered by SpaceX's recovery ship GO Navigator. The Crew Dragon was then taken to SpaceX's Dragon refurbishment center (nicknamed "Dragonland"), at the Cape, where it spent the following months undergoing a series of inspections, refurbishments, and upgrades. C207 received a number of upgrades since its previous flight: most notably the replacement of the docking port with a glass cupola.
Changes to C207
The most notable upgrade made to Resilience is an upgraded SuperDraco abort system. The amount of propellent stored on the vehicle has increased, which allows for Crew Dragon to launch in stronger offshore winds, while ensuring the crew's safety. SpaceX also replaced parts of titanium in the SuperDraco with steel, further increasing the safety of the abort system. The same upgrades were made to C206 between SpaceX's Demonstration Mission 2 and the Crew-2 mission.
SpaceX also strengthened part of Dragon's structure allowing Dragon to withstand stronger secondary splashes. A secondary splash is the splash after the initial splashdown that could damage the vehicle under certain conditions. To ensure Dragon does not get damaged, NASA and SpaceX have strict splashdown weather criteria, and by strengthening the structure of Dragon these criteria were re-evaluated, increasing the amount of acceptable splashdown conditions.
Most notably, the Inspiration4 mission will mark the first Dragon to be equipped with a glass cupola. The cupola is installed in replacement of the docking adapter on the nose of Crew Dragon, under the moving nosecone. Once the nosecone opens, the forward Draco thrusters and cupola will be exposed to space. The astronauts will then have to open an airlock to be able to access the cupola.
Inspiration4 mission profile
Following separation from the second stage, Crew Dragon will begin opening its nosecone. This exposes the forward Draco thrusters and the cupola.
The Inspiration4 mission will last roughly three days. The crew will splashdown either in the Gulf of Mexico or off the coast of Florida.
What is Falcon 9 Block 5?
The Falcon 9 Block 5 is SpaceX's partially reusable two-stage medium-lift launch vehicle. The vehicle consists of a reusable first stage, an expendable second stage, and, when in payload configuration, a pair of reusable fairing halves.
First Stage
The Falcon 9 first stage contains 9 Merlin 1D+ sea level engines. Each engine uses an open gas generator cycle and runs on RP-1 and liquid oxygen (LOx). Each engine produces 845 kN of thrust at sea level, with a specific impulse (ISP) of 285 seconds, and 934 kN in a vacuum with an ISP of 313 seconds. Due to the powerful nature of the engine, and the large amount of them, the Falcon 9 first stage is able to lose an engine right off the pad, or up to two later in flight, and be able to successfully place the payload into orbit.
The Merlin engines are ignited by TEA-TEB. During static fire and launch the TEA-TEB is provided by the ground service equipment. However, as the Falcon 9 first stage is able to propulsively land, three of the Merlin engines (E1, E5, and E9) contain TEA-TEB canisters to relight for the boost back, reentry, and landing burns.
Second Stage
The Falcon 9 second stage is the only expendable part of the Falcon 9. It contains a singular MVacD engine that produces 981 kN of thrust and an ISP of 348 seconds. The second stage is capable of doing several burns, allowing the Falcon 9 to put payloads in several different orbits.
For missions with many burns and/or long coasts between burns, the second stage is able to be equipped with a mission extension package. When the second stage has this package it may a grey strip (depending on the mission profile), which helps keep the RP-1 warm, an increased number of COPVs for pressurization control, and additional TEA-TEB.
Falcon 9 Booster B1062
The booster supporting the Inspiration4 mission is B1062. Inspiration4 is the boosters third flight, changing its designation to B1062-3.
| | | |
| --- | --- | --- |
| B1060's missions | Launch Date (UTC) | Turn Around Time (Days) |
| GPS III SV04 | November 5, 2020 | N/A |
| GPS III SV05 | June 17, 2021 | 224 |
| Inspiration4 | September 15, 2021 | 90 |
Following stage separation, the Falcon 9 will conduct 2 burns. These burns will softly touch down the booster on SpaceX's autonomous spaceport drone ship Just Read the Instructions.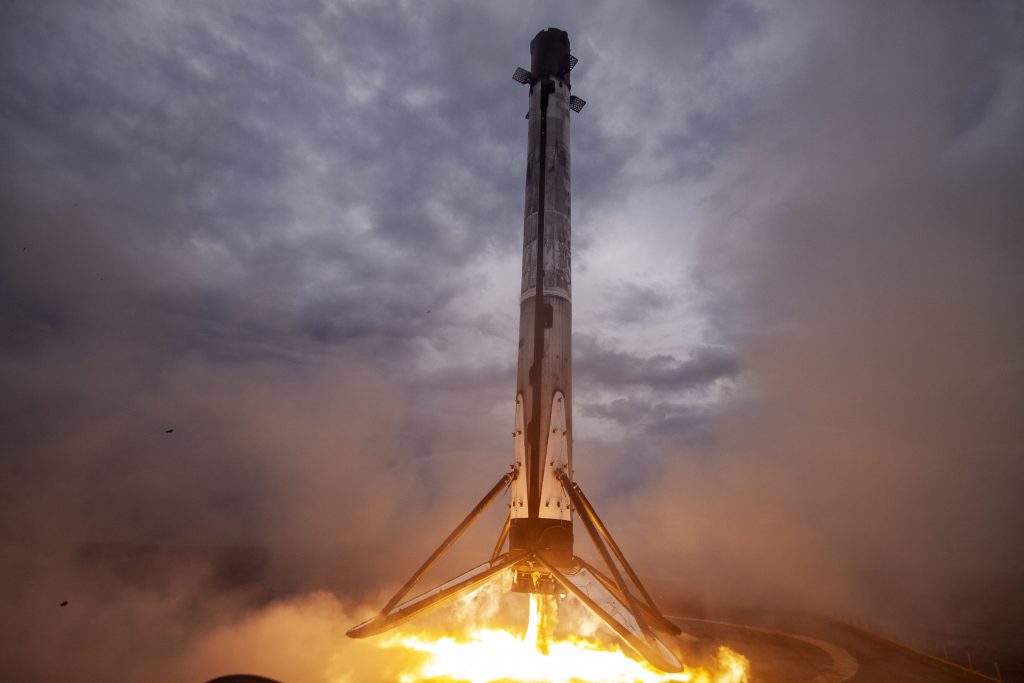 Inspiration4 Mission Timeline
COUNTDOWN
All Times Approximate
| HR/MIN/SEC | EVENT |
| --- | --- |
| 00:45:00 | SpaceX Launch Director verifies go for propellant load |
| 00:42:00 | Crew access arm retracts |
| 00:37:00 | Dragon's launch escape system is armed |
| 00:35:00 | RP-1 (rocket grade kerosene) loading begins |
| 00:35:00 | 1st stage LOX (liquid oxygen) loading begins |
| 00:16:00 | 2nd stage LOX loading begins |
| 00:07:00 | Falcon 9 begins engine chill prior to launch |
| 00:05:00 | Dragon transitions to internal power |
| 00:01:00 | Command flight computer to begin final prelaunch checks |
| 00:01:00 | Propellant tank pressurization to flight pressure begins |
| 00:00:45 | SpaceX Launch Director verifies go for launch |
| 00:00:03 | Engine controller commands engine ignition sequence to start |
| 00:00:00 | Falcon 9 liftoff |
LAUNCH, LANDING, AND DEPLOYMENT
All Times Approximate
| HR/MIN/SEC | EVENT |
| --- | --- |
| 00:01:02 | Max Q (moment of peak mechanical stress on the rocket) |
| 00:02:37 | 1st stage main engine cutoff (MECO) |
| 00:02:40 | 1st and 2nd stages separate |
| 00:02:41 | 2nd stage engine starts |
| 00:07:30 | 1st stage entry burn |
| 00:08:51 | 2nd stage engine cutoff (SECO-1) |
| 00:09:04 | 1st stage landing burn |
| 00:09:31 | 1st stage landing |
| 00:12:09 | Dragon separates from 2nd stage |
| 00:13:02 | Dragon nosecone open sequence begins |
In case you want even more information on the timeline of the mission, make sure to check out the Mission Timeline Video.