Featured Image: Virgin Galactic
Lift Off Time
(Subject to change)

October 06, 2023 – 14:30 UTC | 08:30 MDT

Mission Name

Galactic 04 (VSS Unity 28)

Launch Provider
(What rocket company is launching it?)

Virgin Galactic

Customer
(Who's paying for this?)

Virgin Galactic

Rocket

SpaceShipTwo

Launch Location

VMS Eve, Spaceport America, New Mexico, USA

Payload mass

N/A

Where is the spacecraft going?

Suborbital trajectory

Will they be attempting to recover the first stage?

Yes

Where will the first stage land?

SpaceShipTwo will land on a runway at Spaceport America, New Mexico, USA

Will they be attempting to recover the fairings?

There are no fairings on SpaceShipTwo

Are these fairings new?

There are no fairings on SpaceShipTwo

How's the weather looking?

TBD

This will be the:

– 6th fully crewed flight of SpaceShipTwo
– 29th flight of VSS Unity
– 18th mission for SpaceShipTwo
– 6th mission for SpaceShipTwo in 2023
– 9th crewed flight of VSS Unity

Where to watch

There will be no livestream of this flight
What's All This Mean?
Showing off it's rapid launch cadence, Virgin Galactic is once again launching a set of humans on a suborbital flight aboard the SpaceShipTwo vehicle from New Mexico in the United States. Similar to the last launch, Galactic 03, Virgin Galactic will launch three paying customers in contrast to Galactic 01, the company's first commerical spaceflight, which was a research mission.
The launch will take place from Spaceport America in New Mexico and will follow a suborbital trajectory. A total of six people will be onboard, including two pilots and four mission specialists. Following the launch, the spacecraft will coast back to Earth and land on a runway like an ordinary airplane.
Who Is On Galactic 04?
VSS Unity has the ability to carry up to six people, two of whom are trained and experienced pilots, while the others are passengers. For Galactic 04, very little information has been released on the three occupants. Onboard are customers from the United States, United Kindom, and Pakistan, who will be the first member of that country to go to space. Commanding VSS Unity, or the spacecraft, is Kelly Latimer with Pilot CJ Sturckow. In charge of the mothership, VMS Eve, is Commander Nicola Pecile with Pilot Jameel Janjua. There also is an astronaut instructor on board. Her name is Beth Moses.
What Is SpaceShipTwo?
SpaceShipTwo is a rocket powered spaceplane that launches from under the wing of a carrier aircraft. It uses a hybrid rocket engine to boost itself up to beyond the edge of space to give paying passengers a few minutes of weightlessness.
VSS Unity is the second SpaceShipTwo vehicle. The previous vehicle, VSS Enterprise, crashed in 2014 in an accident which killed co-pilot Michael Alsbury. The pilot, Peter Siebold, also suffered severe injuries in the accident. That flight was conducted from Mojave Air and Space Port, California, before Virgin Galactic moved its operations to New Mexico. An investigation found that the crash occurred when the tail section accidentally moved into the feathered position during powered ascent.
SpaceShipTwo and its mothercraft, White Knight Two, were designed and built by The Spaceship Company, formed by Burt Rutan and Sir Richard Branson in 2005. Burt Rutan's pre-existing company, Scaled Composites, previously built and flew SpaceShipOne.
SpaceShipTwo is designed to fly with two flight crew and four passengers. It uses its onboard rocket motor for powered ascent following separation from White Knight Two. On reaching apogee, it deploys a special feathered tail section in order to gain the proper nose-down attitude prior to reentry.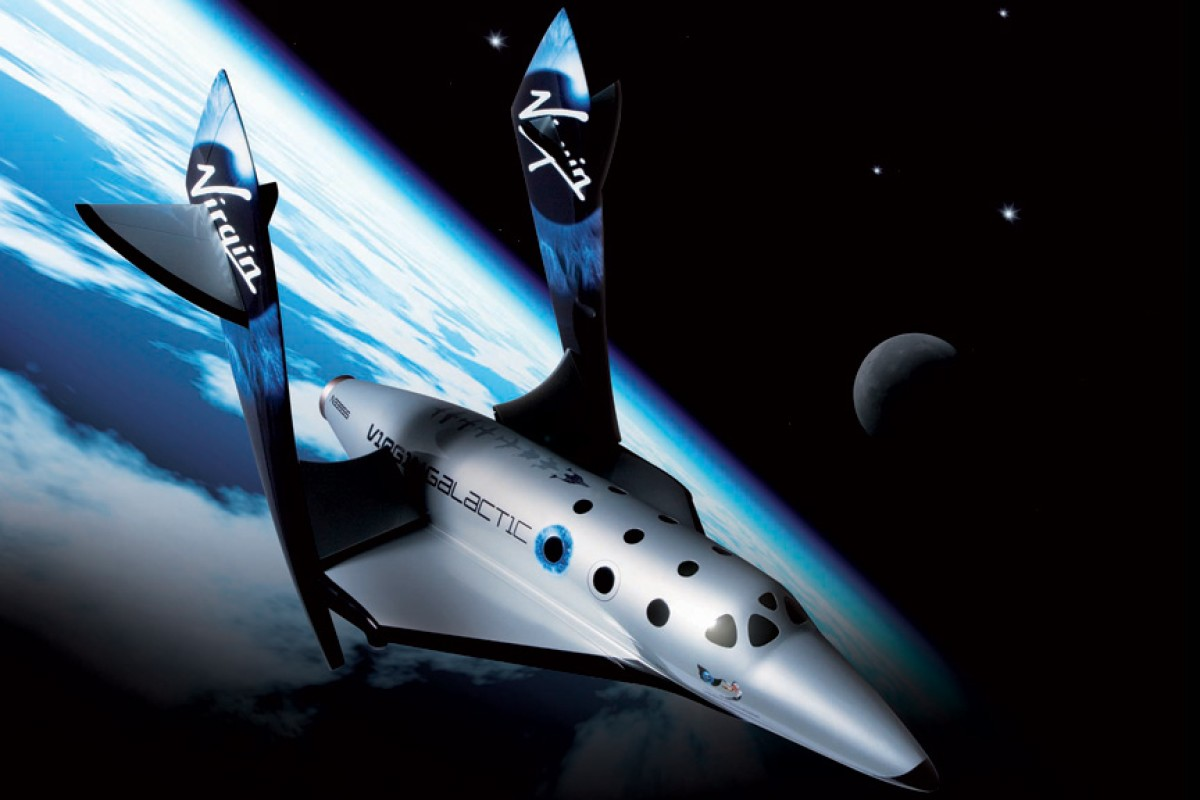 SpaceShipTwo's Rocket Motor
SpaceShipTwo originally used a hybrid motor developed by Sierra Nevada Corporation. This engine used hydroxyl-terminated polybutadiene (HTPB) as fuel and nitrous oxide (N20) as oxidizer. A hybrid engine is one in which the fuel and oxidizer exist in different phases of matter. In this case, the fuel is solid, and the oxidizer is stored as liquid and consumed as a gas.
Around the time of the crash of VSS Enterprise, Virgin Galactic experimented with changing the engine design to run on a polyamide plastic fuel instead of HTPB. Since then, however, Virgin has switched back to using HTPB, but now produces the RocketMotorTwo engines in house instead of buying them from SNC.
What Is White Knight Two?
White Knight Two is the carrier aircraft that takes SpaceShipTwo up from local ground level to an altitude above mean sea level of 15,000 m (50,000 ft). The carrier aircraft then releases SpaceShipTwo which begins its own powered flight seconds later.
White Knight Two then returns to land under normal jet engine power, as during its ascent. The aircraft has four Pratt & Whitney PW308 engines and two fuselages. Each engine provides 30.7 kN (6,900 lbf) of thrust. One fuselage holds the active cockpit for control of the aircraft, while the other fuselage is a direct copy of SpaceShipTwo. This is so that White Knight Two can be used for training crew and passengers on what to expect for their flights on board SpaceShipTwo.
The first White Knight Two vehicle, VMS Eve, flew for the first time in 2008. It carries a flight crew of two, plus additional personnel to take part in the deployment of the spacecraft, and those undergoing training for SpaceShipTwo.
White Knight Two has a service ceiling of 21,000 m (70,000 ft), based on a relatively large wingspan of 43 m (141 ft).