Featured Image: SpaceX
Lift Off Time

March 02, 2023 – 05:34:14 UTC | 00:34:14 EST

Mission Name

Crew-6, or United States Crew Vehicle mission 6 (USCV-6)


Launch Provider
(What rocket company launched it?)

SpaceX

Customer
(Who paid for this?)

National Aeronautics and Space Administration (NASA)

Rocket

Falcon 9 Block 5, Booster B1078-1

Launch Location

Launch Complex 39A (LC-39A), Kennedy Space Center, Florida, USA

Payload mass

Not specified

Where did the spacecraft go?

Crew Dragon sucessfully docked to the ISS in a 400km low Earth orbit.

Did they attempt to recover the first stage?

Yes

Where did the first stage land?

Just Read the Instructions (JRtI)

This was the:

– 207th Falcon 9 launch
– 175th booster landing
– 101st consecutive booster landing (a record)
– 9th SpaceX crewed mission
– 62nd SpaceX launch from LC-39A
– 6th CCtCap (Commercial Crew Transportation Capability) mission
– 4th flight of Crew Dragon C206 "Endeavour"
– 4th flight of an unused Falcon 9 booster to launch humans
– 14th launch for SpaceX in 2023
– 29th orbital launch attempt of 2023

Where to watch

Official replay
How Did It Go?
For the sixth time, SpaceX successfully launched four astronauts to the International Space Station (ISS) in the Crew Dragon spacecraft atop a Falcon 9 rocket for the Commercial Crew Program. Approximately 24 hours later, the spacecraft docked to the ISS which was followed by crew enrty into the station shortly after.
Crew-6 launched during the second attempt due to an issue with TEA-TEB which is supplied by ground support equipment for ignition on the Falcon 9's Merlin engines. Although the issue was discovered late into the count, while the crew of four was already onboard and propellant fully loaded, the crew disembarked safely and prepared for the new launch attempt three days later.
The sole veteran and three new space fliers reported a smooth ride to orbit and a steady coast up to the International Space Station (ISS). While at Waypoint 2, teams on the ground observed an alert with one of 20 hooks related to the docking mechanism. The hook was not showing to appeared locked in place. A short time later, a software reboot solved this small hiccup and Crew Dragon successfully docked with the ISS.
SpaceX's crewed flights have ranged from commercial astronauts to private citizens. As of Crew-6, SpaceX will have launched nine missions with humans onboard. These include the six commercial crew program missions, Demonstration Mission-2, Inspiration 4, and Axiom 1 which visited the ISS. The total number of humans launched by SpaceX now totals 34.
Crew-6 (USCV-6)
Crew-6 is the sixth regular crew rotation mission to the ISS to launch atop a SpaceX Falcon 9 rocket. Crew Dragon Endeavour carried four astronauts to the station where they will stay for six months. On Saturday, March 11, 2023, the Crew-5 astronauts currently aboard the ISS—Nicole Aunapu Mann, Josh Cassada, Koichi Wakata, and Anna Kikina —departed the ISS and returned to Earth. Crew-6 joined the MS-22 cosmonauts Sergey Prokopyev, Dmitry Petelin, and astronaut Francisco Rubio, bringing the total crew members aboard to the station to 11.
Meet The Crew
Flying on Crew Dragon Endeavour are two NASA astronauts, one MBRSC (UAE) astronaut, and one ROSCOSMOS cosmonaut:
Commander: NASA astronaut Stephen Bowen
Pilot: NASA astronaut Warren Hoburg
Mission Specialist: MBRSC (UAE) astronaut Sultan Al Neyadi
Mission Specialist: ROSCOSMOS cosmonaut Andrey Fedyaev
Crew-6 Commander Stephen Bowen
Commander Bowen was born on February 13, 1964, in Cohasset, Massachusetts, USA where he attended high school. He quickly pursued a love for engineering by acquiring his Bachelor of Science in Electrical Engineering from the United States Naval Academy and, later, his Master of Science in Ocean Engineering from the Massachusetts Institute of Technology and Woods Hole Oceanographic Institution Joint Program.
Bowen worked for the United States Special Operations Command (USSOCOM) and also served as a Reactor and Propulsion inspector for the Navy's Submarine Board of Inspection and Survey (INSURV). This prior experience made him the first Submarine Officer selected by NASA as a mission specialist.
No foe to spaceflight, Bowen has completed three prior trips to space, all on the Space Shuttle. These missions include STS-126, STS-132, and STS-133. As of the launch of Crew-6, Bowen has completed over 47 days in space.
Crew-6 Pilot Warren "Woody" Hoburg
Warren "Woody" Hoburg was born in Pittsburgh, Pennsylvania and is no foe to adventure. Woody is an avid rock climber, mountaineer, and pilot.
Hoburg obtained a degree in Aeronautics and Astronautics from the Massachusetts Institute of Technology and later, a Doctorate in Electrical Engineering and Computer Science from UC Berkeley.
In June 2017, Hoburg was selected to be an astronaut and trained as an Astronaut Candidate. Crew-6 is his first trip to space.
Crew-6 Mission Specialist Sultan Al Neyadi
Sultan Al Neyadi was born on May 23, 1981, Al Ain, United Arab Emirates. After his primary and secondary schooling, Al Neyadi joined the UAE Armed Forces, just like his father.
Al Neyadi first studied at the University of Brighton in Britain to earn a Bachelor's of Science in Electronic and Communications Engineering. Once arriving back in the UAE, he spent a year at Zayed Military College.
By 2011, Al Neyadi received his master's in Information and Networks Security from Griffith University in Australia.
Sultan Al Neyadi is one of two astronauts selected from 4,022 for the UAE. The other astronaut is Hazzah Al Mansouri who already launched to space on Soyuz MS-15.
Crew-6 Mission Specialist Andrey Fedyaev
Andrey Fedyaev was born on February 26, 1981, and will be launching a day after he turns 42. He attended Balashov Military Aviation School where he earned a degree in air transport and air traffic control.
He joined the Russian Air Force in the 317th mixed aviation segment, logging over 500 hours in Russian aircraft.
In 2012, Fedyaev was selected as a cosmonaut. Crew-6 is his first flight to space.
What Is Falcon 9 Block 5?
The Falcon 9 Block 5 is SpaceX's partially reusable two-stage medium-lift launch vehicle. The vehicle consists of a reusable first stage, an expendable second stage, and, when in payload configuration, a pair of reusable fairing halves.
First Stage
The Falcon 9 first stage contains nine Merlin 1D+ sea-level engines. Each engine uses an open gas generator cycle and runs on RP-1 and liquid oxygen (LOx). Each engine produces 845 kN of thrust at sea level, with a specific impulse (ISP) of 285 seconds, and 934 kN in a vacuum with an ISP of 313 seconds. Due to the powerful nature of the engine, and the large amount of them, the Falcon 9 first stage is able to lose an engine right off the pad, or up to two later in flight, and be able to successfully place the payload into orbit.
The Merlin engines are ignited by triethylaluminum and triethylborane (TEA-TEB), which instantaneously burst into flames when mixed in the presence of oxygen. During static fire and launch the TEA-TEB is provided by the ground service equipment. However, as the Falcon 9 first stage is able to propulsively land, three of the Merlin engines (E1, E5, and E9) contain TEA-TEB canisters to relight for the boost back, reentry, and landing burns.
Second Stage
The Falcon 9 second stage is the only expendable part of the Falcon 9. It contains a singular MVacD engine that produces 992 kN of thrust and an ISP of 348 seconds. The second stage is capable of doing several burns, allowing the Falcon 9 to put payloads in several different orbits.
For missions with many burns and/or long coasts between burns, the second stage is able to be equipped with a mission extension package. When the second stage has this package it has a grey strip, which helps keep the RP-1 warm, an increased number of composite-overwrapped pressure vessels (COPVs) for pressurization control, and additional TEA-TEB.
Falcon 9 Booster
The booster supporting the Crew-6 mission is B1078-1. As the name implies, the booster has supported zero previous missions, making Crew-6 the very first. This is the fourth time an unused Falcon 9 booster has launched humans.
Following stage separation, the Falcon 9 will conduct three burns. These burns will softly touch down the booster on SpaceX's Autonomous Spaceport Droneship, A Shortfall of Gravitas.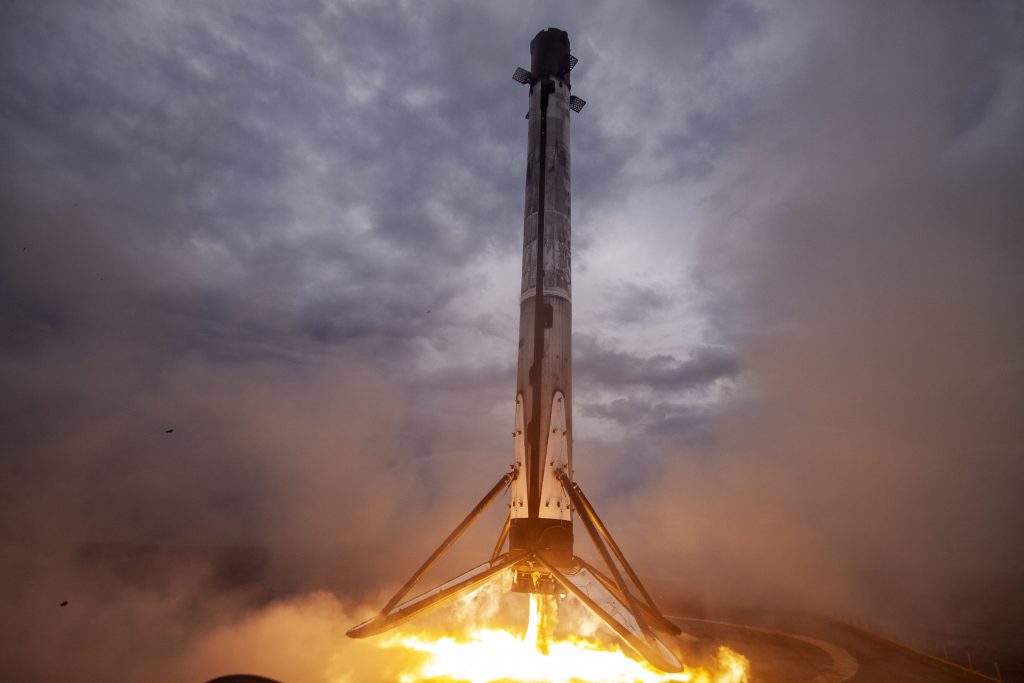 Crew-6 Countdown
| HR/MIN/SEC | EVENT |
| --- | --- |
| 00:45:00 | SpaceX Launch Director verifies go for propellant load |
| 00:42:00 | Crew access arm retracts |
| 00:37:00 | Dragon's launch escape system is armed |
| 00:35:00 | RP-1 (rocket grade kerosene) loading begins |
| 00:35:00 | 1st stage LOX (liquid oxygen) loading begins |
| 00:16:00 | 2nd stage LOX loading begins |
| 00:07:00 | Falcon 9 begins engine chill prior to launch |
| 00:05:00 | Dragon transitions to internal power |
| 00:01:00 | Command flight computer to begin final prelaunch checks |
| 00:01:00 | Propellant tank pressurization to flight pressure begins |
| 00:00:45 | SpaceX Launch Director verifies go for launch |
| 00:00:03 | Engine controller commands engine ignition sequence to start |
| 00:00:00 | Falcon 9 liftoff |
Crew-6 Launch, Landing, and Deployment
All Times Approximate
| HR/MIN/SEC | EVENT |
| --- | --- |
| 00:01:02 | Max Q (moment of peak mechanical stress on the rocket) |
| 00:02:34 | 1st stage main engine cutoff (MECO) |
| 00:02:38 | 1st and 2nd stages separate |
| 00:02:45 | 2nd stage engine starts |
| 00:07:22 | 1st stage entry burn |
| 00:08:47 | 2nd stage engine cutoff (SECO-1) |
| 00:08:59 | 1st stage landing burn |
| 00:09:26 | 1st stage landing |
| 00:11:57 | Dragon separates from 2nd stage |
| 00:12:45 | Dragon nosecone open sequence begins |