Featured Image: Ben Cooper/SpaceX
Lift Off Time/Launch Window
(Subject to change)

April 27, 2022 – 07:52 UTC | 03:52 EST

Mission Name

Crew-4, or United States Crew Vehicle mission 4 (USCV-4)

Launch Provider
(What rocket company is launching it?)

SpaceX

Customer
(Who's paying for this?)

National Aeronautics and Space Administration (NASA)

Rocket

Falcon 9 Block 5 B1067-4

Launch Location

Launch Complex 39A (LC-39A), Kennedy Space Center, Florida, USA

Payload mass

Around 13,000 kg (~28,700 lbs)

Where is the spacecraft going?

Crew Dragon will rendezvous with the International Space Station (ISS) in an orbit of around 400 km.

Will they be attempting to recover the first stage?

Yes

Where will the first stage land?

A Shortfall of Gravitas (ASOG)

Will they be attempting to recover the fairings?

No, there are no fairing on Crew Dragon

Are these fairings new?

There are no fairings on Crew Dragon

How's the weather looking?

The weather is currently 90% go for launch (As of April 26, 2022 at 11:00 UTC)

This will be the:

– 6th SpaceX crew mission
– 4th CCtCap (Commercial Crew Transportation Capability) mission
– 1st flight of Crew Dragon C212 "Freedom"
– 148th Falcon 9 launch
– 43rd orbital launch attempt

Where to watch

Official livestream
What's All This Mean?
For the fourth time, SpaceX will launch four astronauts to the International Space Station in the Crew Dragon spacecraft atop a Falcon 9 rocket. The rocket is set to lift off from Launch Complex 39A (LC-39A), Kennedy Space Center, Florida, USA. Crew-4 will be the first flight of the Crew Dragon Freedom spacecraft, which now features USB charging ports.
Crew-4 (USCV-4)
Crew-4 is the fourth regular crew rotation mission to the ISS to launch atop a SpaceX Falcon 9 rocket. Crew Dragon Freedom will carry four astronauts to the station where they will stay for six months. Only a few days after the arrival of Crew-4, the Crew-3 astronauts currently aboard the ISS—Raja Chari, Thomas Marshburn, Kayla Barron, and Matthias Maurer—will depart and return to Earth. Crew-4 will join the MS-21 cosmonauts Oleg Artemyev, Denis Matveev, and Sergey Korsakov, bringing the total crew members aboard to the station to seven.
Meet the Crew
Flying on Crew Dragon Endurance will be three NASA astronauts and one ESA astronaut:
Commander: NASA astronaut Kjell Lindgren
Pilot: NASA astronaut Robert Hines
Mission Specialist: NASA astronaut Jessica Watkins
Mission Specialist: ESA astronaut Samantha Cristoforetti
Crew-4 Commander Kjell Lindgren
NASA astronaut Kjell Lindgren was born on January 23, 1973 in Taipei, Taiwan. He grew up in England as a child and then lived in the Midwestern United States. After moving back to the United States he finished his education with a Doctorate in Medicine from the University of Colorado.
While at the U.S. Air Force Academy, Lindgren was part of the 'Wings of Blue" parachute team. This already demonstrated his love for adventure.
Lindgren was selected as a NASA astronaut in June 2009 after serving as the Deputy Crew Surgeon for STS-130 and Expedition 24.
Crew-4 Pilot Robert Hines
Bob Hines was born on January 11, 1975, in Fayetteville, North Carolina and proceeded to live around the east coast of the United States for most of his early life.
After graduating from Crestwood High School in Mountaintop, Pennsylvania, he continued his education at Boston University. Hines graduated with a Bachelors of Science degree in Aerospace Engineering.
Like Lindgren, Hines also went to the United States Air Force Academy where he went through pilots training to eventually fly the F-15E aircraft.
Hines was selected by NASA in August 2017 and has recently been preparing for his first mission, Crew-4.
Crew-4 Mission Specialist Jessica Watkins
Jessica Watkins was born on May 14, 1988 in Gaithersburg, Maryland, but grew up in Lafayette, Colorado. She attended and graduated from Fairview High School in Boulder, Colorado.
Watkins continued her education at Stanford University. She graduated with a Bachelor of Science in Geological and Environmental Sciences. Watkins later went one to earn her Doctorate in Geology from the University of California, Los Angeles.
Since college, Watkins has been involved in NASA work reaching out to Mars. In undergraduate internships, Watkins conducted research on Mars soil simulant to support the Phoenix lander. Later, she analyzed data for NEOWISE and Curiosity.
Watkins was selected by NASA in August of 2017 and has recently been preparing for her first mission, Crew-4.
Crew-4 Mission Specialist Samantha Cristoforetti
Samantha Cristoforetti was born on April 26, 1977 in Milan, Italy. After completing one year as an exchange student in the United States, she finished her education at Liceo Scientifico.
Cristoforetti graduated with a Masters in Mechanical Engineers specializing in Aerospace Propulsion and Lightweight Structures from the Technical University of Munich, Germany.
Similar to many other astronauts, Cristoforetti joined the Italian Air Force Academy in 2001. She later went on to become an ESA astronaut in May 2009.
What Is Falcon 9 Block 5?
The Falcon 9 Block 5 is SpaceX's partially reusable two-stage medium-lift launch vehicle. The vehicle consists of a reusable first stage, an expendable second stage, and, when in payload configuration, a pair of reusable fairing halves.
First Stage
The Falcon 9 first stage contains nine Merlin 1D+ sea level engines. Each engine uses an open gas generator cycle and runs on RP-1 and liquid oxygen (LOx). Each engine produces 845 kN of thrust at sea level, with a specific impulse (ISP) of 285 seconds, and 934 kN in a vacuum with an ISP of 313 seconds. Due to the powerful nature of the engine, and the large amount of them, the Falcon 9 first stage is able to lose an engine right off the pad, or up to two later in flight, and be able to successfully place the payload into orbit.
The Merlin engines are ignited by triethylaluminum and triethylborane (TEA-TEB), which instantaneously burst into flames when mixed in the presence of oxygen. During static fire and launch the TEA-TEB is provided by the ground service equipment. However, as the Falcon 9 first stage is able to propulsively land, three of the Merlin engines (E1, E5, and E9) contain TEA-TEB canisters to relight for the boost back, reentry, and landing burns.
Second Stage
The Falcon 9 second stage is the only expendable part of the Falcon 9. It contains a singular MVacD engine that produces 992 kN of thrust and an ISP of 348 seconds. The second stage is capable of doing several burns, allowing the Falcon 9 to put payloads in several different orbits.
For missions with many burns and/or long coasts between burns, the second stage is able to be equipped with a mission extension package. When the second stage has this package it has a grey strip, which helps keep the RP-1 warm, an increased number of composite-overwrapped pressure vessels (COPVs) for pressurization control, and additional TEA-TEB.
Falcon 9 Booster
The booster supporting the Crew-4 mission is B1067-4. As the name implies, the booster has supported three previous missions: CRS-22, which launched on June 3, 2021, Crew-3, which launched on November 11, 2021, and Turksat 5B, which launched on December 19, 2021.
Following stage separation, the Falcon 9 will conduct three burns. These burns will softly touch down the booster on SpaceX's Autonomous Spaceport Droneship, A Shortfall of Gravitas.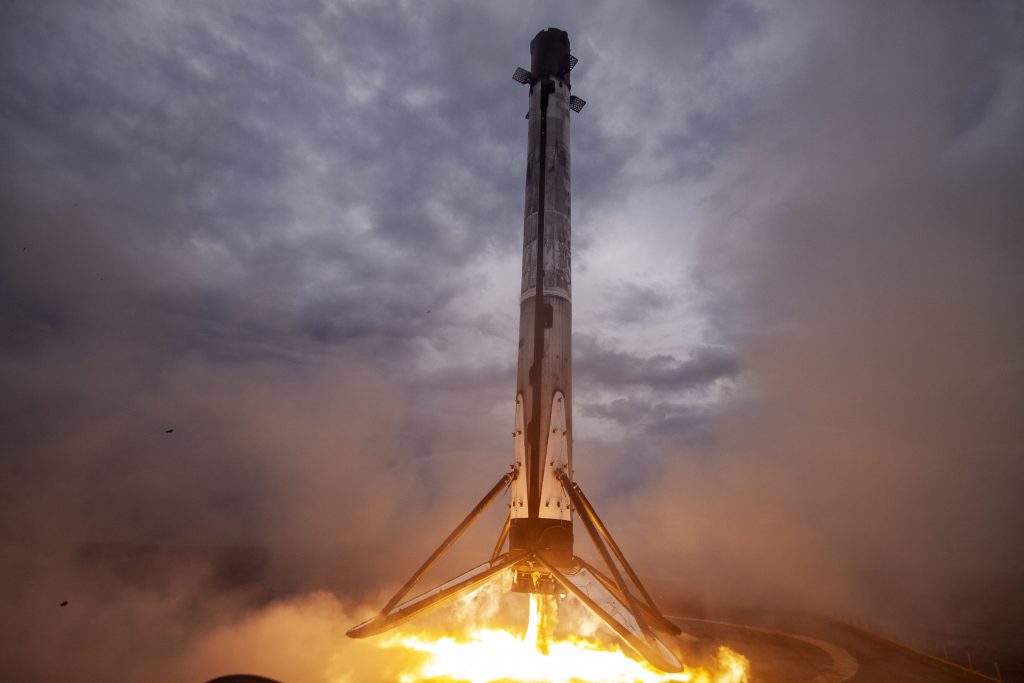 Falcon 9 Fairings
The Falcon 9's fairing consists of two dissimilar reusable halves. The first half (the half that faces away from the transport erector) is called the active half, and houses the pneumatics for the separation system. The other fairing half is called the passive half. As the name implies, this half plays a purely passive role in the fairing separation process, as it relies on the pneumatics from the active half.
Both fairing halves are equipped with cold gas thrusters and a parafoil which are used to softly touch down the fairing half in the ocean. SpaceX used to attempt to catch the fairing halves, however, at the end of 2020 this program was canceled due to safety risks and a low success rate. On NROL-85, SpaceX will attempt to recover the fairing halves from the water with their recovery vessel NRC Quest.
In 2021, SpaceX started flying a new version of the Falcon 9 fairing. The new "upgraded" version has vents only at the top of each fairing half, by the gap between the halves, whereas the old version had vents placed spread equidistantly around the base of the fairing. Moving the vents decreases the chance of water getting into the fairing, making the chance of a successful scoop significantly higher.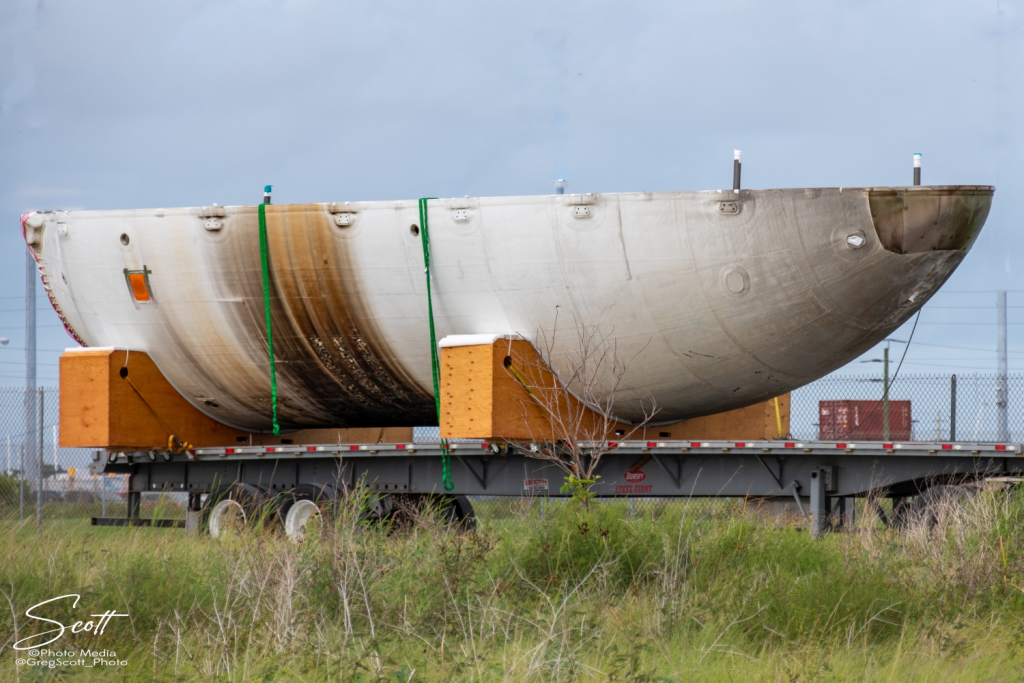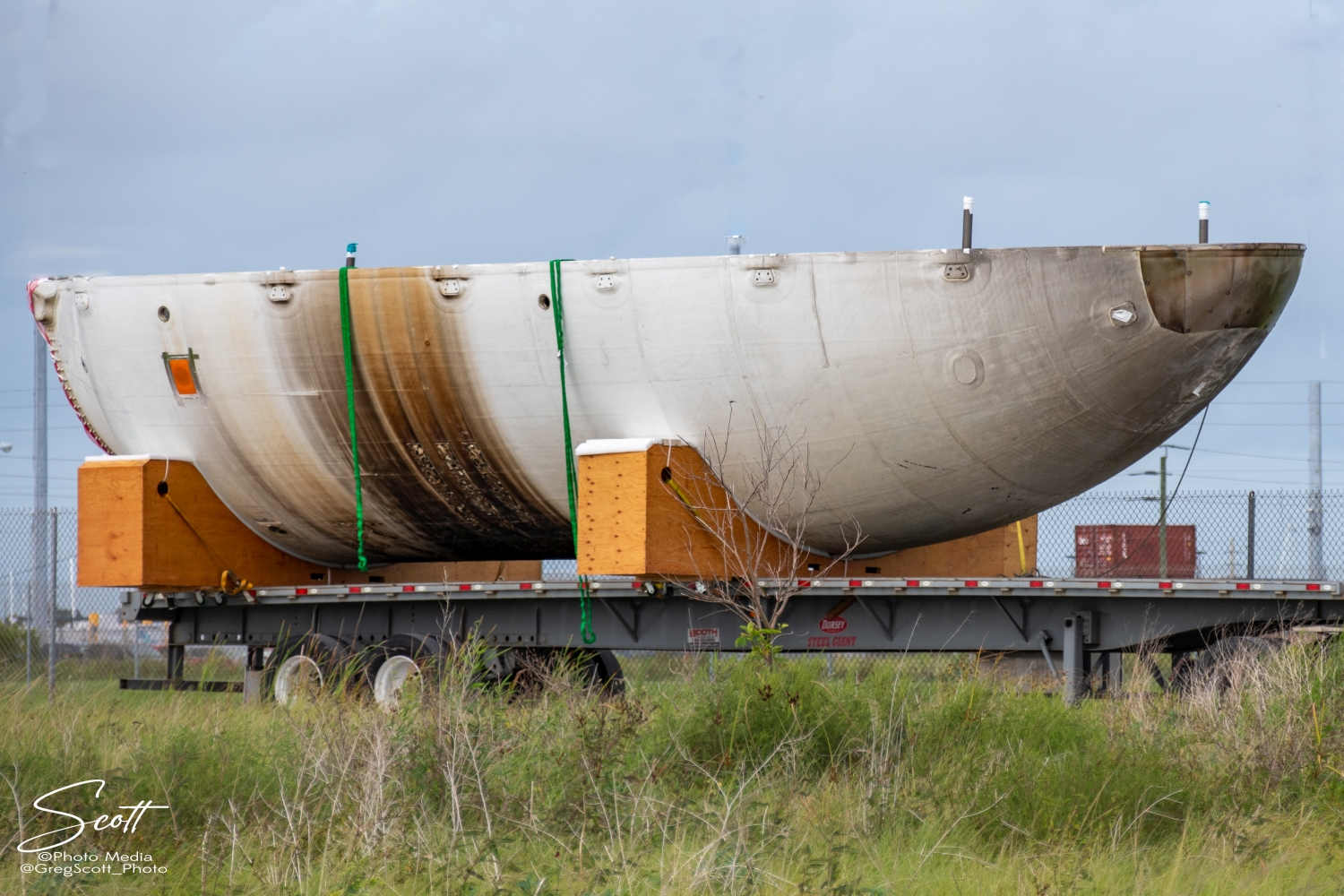 Crew-4 Countdown
All times are approximate
| HR/MIN/SEC | EVENT |
| --- | --- |
| 00:45:00 | SpaceX Launch Director verifies go for propellant load |
| 00:42:00 | Crew access arm retracts |
| 00:37:00 | Dragon's launch escape system is armed |
| 00:35:00 | RP-1 (rocket grade kerosene) loading begins |
| 00:35:00 | 1st stage LOX (liquid oxygen) loading begins |
| 00:16:00 | 2nd stage LOX loading begins |
| 00:07:00 | Falcon 9 begins engine chill prior to launch |
| 00:05:00 | Dragon transitions to internal power |
| 00:01:00 | Command flight computer to begin final prelaunch checks |
| 00:01:00 | Propellant tank pressurization to flight pressure begins |
| 00:00:45 | SpaceX Launch Director verifies go for launch |
| 00:00:03 | Engine controller commands engine ignition sequence to start |
| 00:00:00 | Falcon 9 liftoff |
Launch and Landing
All times are approximate
| HR/MIN/SEC | EVENT |
| --- | --- |
| 00:01:02 | Max Q (moment of peak mechanical stress on the rocket) |
| 00:02:36 | 1st stage main engine cutoff (MECO) |
| 00:02:39 | 1st and 2nd stages separate |
| 00:02:40 | 2nd stage engine starts |
| 00:07:28 | 1st stage entry burn starts |
| 00:08:48 | 2nd stage engine cutoff (SECO-1) |
| 00:09:02 | 1st stage landing burn starts |
| 00:09:30 | 1st stage landing |
| 00:11:58 | Dragon separates from 2nd stage |
| 00:12:46 | Dragon nosecone open sequence begins |