Featured image credit: Xinhua
Lift Off Time

November 5, 2022 – 11:50 UTC | 19:50 BJT

Mission Name

ChinaSat 19, (also known as Zhongxing 19)

Launch Provider
(What rocket company launched it?)

China Aerospace Science and Technology Corporation (CASC)

Customer
(Who paid for this?)

China Satellite Communications Co., Ltd.

Rocket

Long March 3B/E

Launch Location

LC-2, Xichang Satellite Launch Center, Sichuan Province, China

Payload mass

Unknown, but up to 5,500 kg (~12,200 lb) according to the rocket's capabilities to GTO

Where did the spacecraft go?

Geosynchronous Equatorial Orbit (GEO); but it was initially be dropped into 220 km x 35,787 km x 28.3 degrees Geosynchronous Transfer Orbit (GTO)

Did they attempt to recover the first stage?

No, the Long March 3B/E is not capable of booster recovery

Where did the first stage land?

It will crashed over Chinese territory

Did they attempt to recover the fairings?

No, the Long March 3B/E is not capable of fairing recovery

Were these fairings new?

Yes

This was the:

–3rd launch of a Long March 3 of 2022
–144th launch of a Long March 3
–153rd orbital launch attempt of 2022

Where to watch

Unofficial replay
What Does All This Mean?
The China Aerospace Science and Technology Corporation (CASC) — the main contractor working in the Chinese space program — successfully launched the ChinaSat 19 satellite (also Zhongxing 19, or ZX-19) atop a Long March 3B/E rocket, to a geostationary transfer orbit (GTO). Lift-off took place at the Xichang Satellite Launch Center's Launch Complex 2, in the Sichuan Province of China. The spacecraft will operate in a geosynchronous equatorial orbit (GEO).
What Is the ChinaSat 19 Satellite?
Not much is known about the ChinaSat 19, though it is considered to be a high-throughput communications satellite that will operate in the Ka-band. As is the case with many of the "ChinaSats," it will most probably broadcast television and radio, and relay data. In order to do it, these satellites are placed in GEO, positioning them in an almost fixed spot in the sky. Consequently, antennas on Earth's surface do not need to adjust their orientation in order to keep on receiving communications.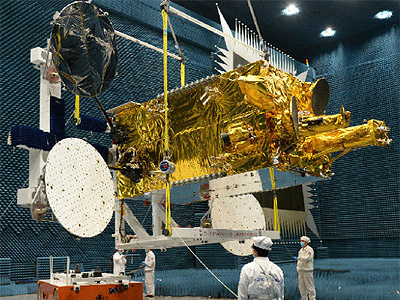 In the specific case of ChinaSat 19, it is presumably going to be assigned the job the failed ChinaSat 18 would have done. This machine, launched on August 19, 2019, achieved orbit nominally, but it was not capable of establishing a connection with ground segments in a proper manner. As a result, the satellite was rendered useless and considered lost.
Accordingly, this spacecraft is likely a development by the China Academy of Space Technology (CAST), with its payload provided by the Franco-Italian Thales Alenia Space. Similarly to the ZX-18, ChinaSat 19 will make use of 14 Ka-band broadband transponders, but most probably also of 30 Ku-band such transmitters for commercial broadcasting services. Another two Ka BSS-band transponders will most likely be present.
ChinaSat 19's Bus
Developed and manufactured by the Chinese CAST, the DFH-4E is most probably the platform used to manufacture the ChinaSat 19. Those initials stand for "Dongfanghong-4 Enhanced," meaning "The East is Red." Its first implementation was in the previously mentioned ChinaSat 18 satellite. Among its applications, this bus can support payloads of many different sorts, like broadband communications, mobile communications, broadcasting, and high-orbit remote sensing.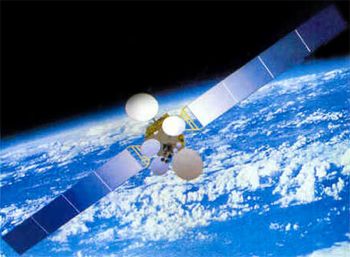 It represents an upgrade from the DFH-4 bus, as it incorporates electric propulsion and an improved efficiency in thermal management for the communications compartment. It presents a maximum launch mass of between 5,500 kg (~12,200 lb) and 6,000 kg (~13,300 lb), while its dry mass is lower than 2,700 kg (~6,000 lb). This allows for a payload massing in the range of 800 kg (~1,800 lb) to 1,000 kg (~2,200 lb), with an output power of over 10,000 W. In itself, the bus is capable of generating 13,500 W by means of two deployable solar arrays, with batteries available to store electrical power.
What Is The Long March 3B?
Despite the Chinese rockets having different heritages, most of China's orbital launch vehicles use the "Long March" (Chang Zheng) naming scheme. Thus, the Long March 3B is a three-stage rocket, with an optional fourth stage. Four liquid-fueled side boosters stand strapped to the first stage, and the launcher's maiden flight took place in 1996.
The Long March 3B/E, the enhanced version of the Long March 3B, was first launched in 2007, and has greater Geostationary Transfer Orbit (GTO) payload capacity. The enhanced 3B/E's have a larger first stage and larger side boosters, compared to the original Long March 3B. As a result, its payload capacity to GTO was increased from 5,100 kg (~11,300 lb) to 5,500 kg (~12,200 lb).
The Long March 3B series features the following sections or stages:
Side boosters
First (center) stage (ignited at launch)
Second stage
Third stage
Optional fourth stage
Side Boosters
There are four side boosters that each use one YF-25 engine, which runs on unsymmetrical di-methyl hydrazine (UDMH), the fuel, and nitrogen tetroxide (N2O4), the oxidizer. Although the regular Long March 3B's side boosters are 15.33 m (50.3 ft) long, the enhanced versions are 16.1 m (52.3 ft) long, producing 740 kN of thrust for both versions. The YF-25 engine has a specific impulse (ISP) of 260 s, and burns for 140 s on the 3B/E variant.
First (Center) Stage
The first stage has four YF-20C engines (the group of them forms a YF-21C engine), which also use UDMH/N2O4 for propellant. The first stage has an ISP of 260 s and produces 2,960 kN of thrust. In the LM-3B's case, its length is 23.27 m (76.35 ft) tall, but the 3B/E's version is 24.76 m (81.23 ft) tall.
Second Stage
The second stage is powered by a single YF-22E engine, which is a vacuum-adapted version of the YF-20E. However, a single YF-23C vernier engine provides attitude control, which combined with the main one forms a YF-24E engine. The engine runs on UDMH and N2O4, and produces 742 kN of thrust. The second stage is 12.9 m (42.3 ft) tall and burns for 185 s.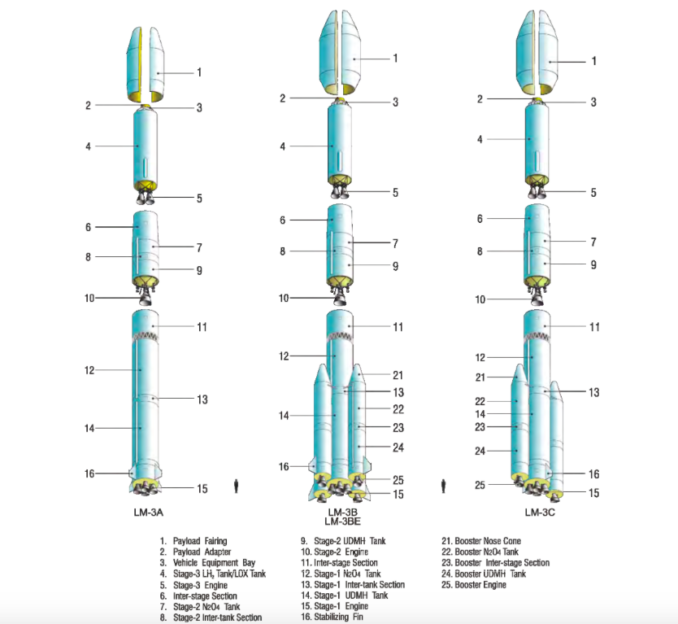 Third Stage
The third stage is 12.4 m (40.7 ft) long and two YF-75 engines power it. Unlike the other stages, this stage runs on liquid hydrogen (LH2) and liquid oxygen (LOx).
The third stage will ignite its engine after the second stage is jettisoned, in order to continue to raise the orbital apogee (maximum altitude). Once the target apogee has been achieved, it shuts down. The vehicle will then coast to apogee, where the stage relights and burns to raise the perigee (lowest altitude) of the orbit.
Optional Fourth Stage
The fourth stage runs on UDMH / N2O4, and has a singular YF-50D engine.
Rocket section adapted from Andy Law