Featured image credit: SpaceX
Lift Off Time
(Subject to change)

May 21, 2023 – 21:37 UTC | 17:37 EDT

Mission Name

Axiom Space Mission 2, the second fully private mission to the International Space Station

Launch Provider
(What rocket company is launching it?)

SpaceX

Customer
(Who's paying for this?)

Axiom

Rocket

Falcon 9 Block 5, B1080-1

Launch Location

Launch Complex 39A (LC-39A), Kennedy Space Center, Florida, USA

Payload mass

Launch mass: ~13,000 kg (~28,600 lb)
Landing mass: ~10,000 kg (~22,000 lb)

Where is the spacecraft going?

Crew Dragon C212 Freedom will dock with the International Space Station (ISS) in a ~420 km circular orbit at 51.6º; C212 splashed down 219.03 days ago

Will they be attempting to recover the first stage?

Yes

Where will the first stage land?

Landing Zone 1, Cape Canaveral Space Force Station, Florida

Will they be attempting to recover the fairings?

There are no fairings on the vehicle

Are these fairings new?

N/A

How's the weather looking?

The weather is currently 60% go for launch (as of May 20, 2023 12:30 UTC)

This will be the:

– 1st Return to Launch Site (RTLS) crewed mission
– 2st private mission to the ISS
– 226th Falcon 9 launch
– 194 booster landing
– 120th consecutive landing (a record)
– 35th launch for SpaceX in 2023
– 65th SpaceX launch from LC-39A
– 73rd orbital launch attempt of 2023

Where to watch

Official Livestream

Tim Dodd, the Everyday Astronaut, will be streaming at around T-30 minutes; come ask questions and join the conversation live!
What's This All Mean?
SpaceX will launch four astronauts to the International Space Station (ISS) aboard its Crew Dragon vehicle. With all four crew members being tourists, the Axiom Space Mission 2 (Ax-2) mission will mark the second fully private mission to the ISS, following only the Axiom Space Mission 1, launched in April of 2022. The crew will launch atop a Falcon 9 Block 5, from Launch Complex 39A, at the Cape Canaveral Space Force Station, in Florida.
This mission will mark the first return to launch site landing of a crewed mission. This is made possible by SpaceX's high Starlink launch cadence, which has allowed many optimizations to be made to the vehicle.
Axiom Space Mission 2
With SpaceX as the launch/mission provider and Axiom as the customer, the four astronauts will launch in SpaceX's Crew Dragon C212 Freedom spacecraft. This will mark the 19th reuse of a Dragon spacecraft, with Freedom splashing down just 219 days ago after supporting the Crew-4 mission. The Ax-2 mission is a planned 10-day mission with eight days at the ISS, one day for ascending and docking, and one day for undocking and descent.
Who Are The Astronauts?
Commander Peggy Whitson
Serving as the spacecraft commander, Penny Annette Whitson is a retired NASA astronaut, biochemistry researcher, and former NASA chief astronaut. Whitson has launched on three missions so far (STS-111, Soyuz TMA-11, and Soyuz MS-03). On these missions, she has spent just under 666 days in space and conducted 10 EVAs, for a total EVA time of just over 60 hours.
Born and raised in Beaconsfield, Iowa, Whitson got inspired to become an astronaut when watching humans land on the moon in 1969. She then went to Iowa Wesleyan College and studied biology and chemistry, graduating in 1981. Five years later, she received her doctorate in biochemistry from Rice University.
Whitson joined NASA in 1989 as a research biochemist in the Biomedical Operations and Research Branch and NASA-JSC. During this time she served a number of roles, including being a payload element developer, a project scientist, and deputy division chief of the medical sciences division. In April 1996, she was selected as an astronaut candidate.
In October 2009, Whitson was appointed NASA Chief other the Astronaut Office. Later, she joined Axiom Space as the Director of Human Space Flight. In May 2021, she was announced as the commander of Axiom Space Mission 2.
Pilot John Shoffner
Born in Fairbanks, Alaska, John Shoffner will serve as the spacecraft pilot for this mission. As an avid pilot, Shoffner has over 8,500 flight hours on his aircraft, including fixed-wing and military aircraft, alongside several helicopters.
In his early ears, Shoffner was the president of Kentucky-based telecommunications manufacturer Dura-Line. Shoffner created his own motorsports team J2-Racing in 2012.
This will be Shoffner's first mission to space.
Mission Specialist Ali AlQarni
As one of the mission specialists, Ali AlQarni is a Saudi astronaut selected for the Axiom Space Mission 2 by the Saudi Space Commission. His selection was announced on Feb. 12, 2023.
AlQarni holds a bachelor's degree in aeronautical sciences from the King Faisal Air Academy, where he served in the Royal Saudi Air Force. As an F-15SA pilot, AlQarni has over 2,400 flight hours.
Mission Specialist Rayyanah Barnawi
The final crew member of the Ax-2 mission is Rayyanah Barawi. Barnawi, who was born in 1990, will be the first female Saudi astronaut. She holds a Bachelor's degree in biomedical sciences from the University of Otago and a master's in Biomedical Sciences from Alfaisal University, where she studied the adhesion of breast cancer stem cells. This will be her first flight.
Crew Dragon C212 Freedom
The Crew Dragon supporting the Axiom Space Mission 2 is the fourth (and latest) operational Crew Dragon: C212. This Dragon has previously supported the USCV-4 mission; the spacecraft was named ahead of the Crew-4 launch by the crew. Kjell Lindgren said the name was chosen because it celebrates the fundamental human right, and alludes to the Freedom 7 capsule that was used by Alan Shepard on the Mercury Redstone 3–the US' first human spaceflight mission.
Following the Crew-4 mission, Freedom was recovered from the Gulf of Mexico on Oct. 10, 2022, by Megan. It was then taken to SpaceX's Dragon Land–the place where SpaceX refurbishes Dragons. The spacecraft was then moved back to LC-39A's horizontal integration facility, where it was integrated atop the Falcon 9 and then onto the transporter erector.
Axiom Space Mission 2 Mission Profile
Following separation from the second stage, Crew Dragon will begin opening its nosecone. This exposes the forward Draco thrusters and the docking mechanism. Freedom will then use its Draco thrusters to perform a number of phasing burns to increase its orbital altitude and align with the ISS.
Once the spacecraft is in the correct orbit and near the station, it will enter the ISS' "keep out sphere." Following a series of go/no-go polls, Dragon will dock itself to the ISS' Zenith port on the Harmony module.
What Is Falcon 9 Block 5?
The Falcon 9 Block 5 is SpaceX's partially reusable two-stage medium-lift launch vehicle. The vehicle consists of a reusable first stage, an expendable second stage, and, when in payload configuration, a pair of reusable fairing halves.
First Stage
The Falcon 9 first stage contains 9 Merlin 1D+ sea-level engines. Each engine uses an open gas generator cycle and runs on RP-1 and liquid oxygen (LOx). Each engine produces 845 kN of thrust at sea level, with a specific impulse (ISP) of 285 seconds, and 934 kN in a vacuum with an ISP of 313 seconds. Due to the powerful nature of the engine, and the large amount of them, the Falcon 9 first stage is able to lose an engine right off the pad, or up to two later in the flight, and be able to successfully place the payload into orbit.
The Merlin engines are ignited by triethylaluminum and triethylborane (TEA-TEB), which instantly burst into flames when mixed in the presence of oxygen. During static fire and launch the TEA-TEB is provided by the ground service equipment. However, as the Falcon 9 first stage is able to propulsively land, three of the Merlin engines (E1, E5, and E9) contain TEA-TEB canisters to relight for the boost back, reentry, and landing burns.
Second Stage
The Falcon 9 second stage is the only expendable part of the Falcon 9. It contains a singular MVacD engine that produces 992 kN of thrust and an ISP of 348 seconds. The second stage is capable of doing several burns, allowing the Falcon 9 to put payloads in several different orbits.
SpaceX is currently flying two different versions of the MVacD engine's nozzle. The standard nozzle design is used on high-performance missions. The other nozzle is a significantly shorter version of the standard, decreasing both performance and material usage; with this nozzle, the MVacD engine produces 10% less thrust in space. This nozzle is only used on lower-performance missions, as it decreases the amount of material needed by 75%. This means that SpaceX can launch over three times as many missions with the same amount of Niobium as with the longer design.
For missions with many burns and/or long coasts between burns, the second stage is able to be equipped with a mission extension package. When the second stage has this package it has a grey strip, which helps keep the RP-1 warm, an increased number of composite-overwrapped pressure vessels (COPVs) for pressurization control, and additional TEA-TEB.
Falcon 9 Booster
The booster supporting the Axiom Space mission 2 is B1080-1; as the name implies, the booster has not flown before. After landing, the booster's designation will change to B1080-2.
Following stage separation, Falcon 9 will conduct three burns. These burns aim to softly touch down the booster on SpaceX's landing pad Landing Zone-1. This will mark the first crewed mission to return to launch site. This is made possible by optimizations made to the Falcon 9 launch vehicle on Starlink missions.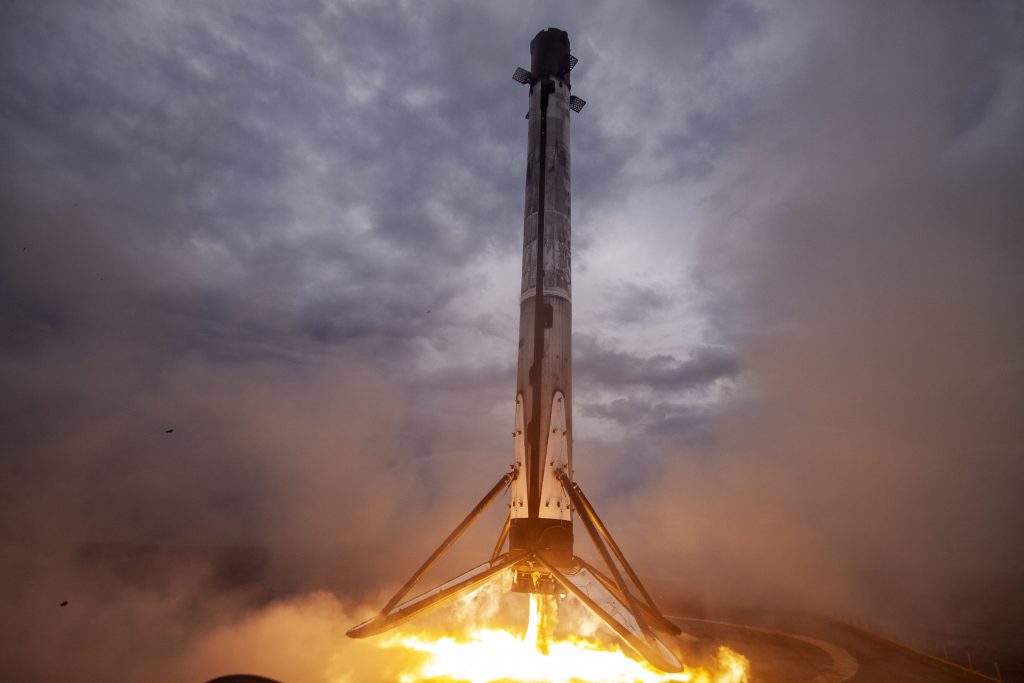 Ax-2 Countdown
All times are approximate
| HR/MIN/SEC | EVENT |
| --- | --- |
| 00:45:00 | SpaceX Launch Director verifies go for propellant load |
| 00:42:00 | Crew access arm retracts |
| 00:37:00 | Dragon's launch escape system is armed |
| 00:35:00 | RP-1 (rocket grade kerosene) loading begins |
| 00:35:00 | 1st stage LOX (liquid oxygen) loading begins |
| 00:16:00 | 2nd stage LOX loading begins |
| 00:07:00 | Falcon 9 begins engine chill prior to launch |
| 00:05:00 | Dragon transitions to internal power |
| 00:01:00 | Command flight computer to begin final prelaunch checks |
| 00:01:00 | Propellant tank pressurization to flight pressure begins |
| 00:00:45 | SpaceX Launch Director verifies go for launch |
| 00:00:03 | Engine controller commands engine ignition sequence to start |
| 00:00:00 | Falcon 9 liftoff |
Ax-2 Launch, Landing, and Deployment
All Times Approximate
| HR/MIN/SEC | EVENT |
| --- | --- |
| 00:01:02 | Max Q (moment of peak mechanical stress on the rocket) |
| 00:02:26 | 1st stage main engine cutoff (MECO) |
| 00:02:29 | 1st and 2nd stages separate |
| 00:02:37 | 2nd stage engine starts |
| 00:02:39 | Boostback Burn Start |
| 00:03:28 | Boostback Burn End |
| 00:06:25 | 1st stage entry burn |
| 00:07:31 | 1st stage landing burn |
| 00:07:58 | 1st stage landing |
| 00:08:47 | 2nd stage engine cutoff (SECO-1) |
| 00:11:58 | Dragon separates from 2nd stage |
| 00:12:46 | Dragon nosecone open sequence begins |