Featured Image: SpaceX
Lift Off Time
(Subject to change)

January 31, 2022 – 23:11 UTC | 18:11 EST

Mission Name

Cosmo-Skymed Second Generation FM2

Launch Provider
(What rocket company is launching it?)

SpaceX

Customer
(Who's paying for this?)

Italian Space Agency (Agenzia Spaziale Italiana)

Rocket

Falcon 9 Block 5, Booster 1052-3

Launch Location

Space Launch Complex 40 (SLC-40), Cape Canaveral Space Force Station, Florida, USA

Payload mass

2,230 kg (4,920 lb)

Where are the satellites going?

Sun-synchronous orbit; 619 km in altitude at a 97.86º inclination

Will they be attempting to recover the first stage?

Yes

Where will the first stage land?

Landing Zone 1 (LZ-1)

Will they be attempting to recover the fairings?

Yes

Are these fairings new?

No, both fairings have flown on three previous missions

How's the weather looking?

The weather is currently >90% GO for launch (as of January 29, 2021 – 17:30 UTC)

This will be the:

– 138th Falcon 9 launch ever
– 2nd Return to Launch Site (RTLS) mission in 2022
– 82nd re-flight of a booster
– 30th consecutive landing (a record)
– 4th re-flight of a booster in 2022
– 4th launch for SpaceX in 2022
– 8th orbital launch attempt of 2022

Where to watch

Official livestream

Tim Dodd, the Everyday Astronaut, will be streaming at T-30 minutes; come ask questions and join the conversation live!
What's All This Mean?
SpaceX will be attempting to launch the Cosmo-Skymed Second Generation 2 (CSG-2) satellite to a Sun-synchronous orbit for the Italian Space Agency, a part of the European Space Agency. The Falcon 9 Block 5 Booster 1052-3 will lift off from Space Launch Complex 40 (SLC-40) and a few minutes later perform a boostback burn to return to land and touchdown on Landing Zone 1 (LZ-1).
What is CSG-2?
The Cosmo-Skymed Second Generation 2 (CSG-2) is a Earth observation satellite that will be accompanying the original COSMO-SkyMed (CSK) constellation 180 degrees from the CSG-1 satellite. The CSG system aims to provide data to both civilian and military customers. CSG-2 has a design life of seven years with an addition two years built into its timeline. The second generation satellites also have improvements over the original constellation to meet customer's needs.
Upgrades to Instruments
CSG-2 and accompanying second generation satellites have no new instruments on board. Instead, they are duplicates of the CSK satellites, which have been operating for close to a decade, with upgraded instruments. These upgrades are required to meet the wide range of customer demands
One of the most critical and largest instruments is the Synthetic Aperture Radar (SAR). While also being featured on the original CSK satellites, the CSG satellites now hold a more powerful and advanced SAR. Those improvements include a higher image resolution as well as single or dual polarization modes. SAR images in the X-band allowing for cloud penetration enabling ground coverage in nearly any weather.
Another overall improvement is the more simple delivery to customers. Most changes have been made to onboard hardware. A newly designed Payload Data Handling and Transmission (PDHT) instrument now has double the onboard storage capacity, double the transmission rate of space to ground data, and an increased data reception rate from SAR.
With the addition of these upgrades, the ground equipment necessary to receive data will also be upgraded to operate with both CSK and CSG satellites. CSG satellites are apart of a larger constellation with SAOCOM system. SAOCOM satellites operate in the L-band. Learn more about the latest SAOCOM launch here: SAOCOM-1B | Falcon 9 Block 5
SAR Sensor Modes
The newly upgraded Synthetic Aperture Radar is host to many different scanning modes to allow various images of various resolutions to be taken. There are a total of five different scanning modes. Details of each mode are in the table below.
Resolution
Scene Size
Spotlight
2A: 0.3 x 0.5 m
2B: 0.6 x 0.6 m
2C: 0.8 x 0.8 m
2A: 3.5 x 7 km
2B: 10 x 10 km
2C: 5 x 10 km
Stripmap
3 x 3 m
40 x 40 km
Pingpong
12 x 5 m
40 x 40 km
Quad Pol
3 x 3 m
40 x 15 km
ScanSAR
1: 20 x 4 m
2: 40 x 6 m
1: 100 x 100 km
2: 200 x 200 km
What Is Falcon 9 Block 5?
The Falcon 9 Block 5 is SpaceX's partially reusable two-stage medium-lift launch vehicle. The vehicle consists of a reusable first stage, an expendable second stage, and, when in payload configuration, a pair of reusable fairing halves.
First Stage
The Falcon 9 first stage contains 9 Merlin 1D+ sea level engines. Each engine uses an open gas generator cycle and runs on RP-1 and liquid oxygen (LOx). Each engine produces 845 kN of thrust at sea level, with a specific impulse (ISP) of 285 seconds, and 934 kN in a vacuum with an ISP of 313 seconds. Due to the powerful nature of the engine, and the large amount of them, the Falcon 9 first stage is able to lose an engine right off the pad, or up to two later in flight, and be able to successfully place the payload into orbit.
The Merlin engines are ignited by triethylaluminum and triethylborane (TEA-TEB), which instantaneously burst into flames when mixed in the presence of oxygen. During static fire and launch the TEA-TEB is provided by the ground service equipment. However, as the Falcon 9 first stage is able to propulsively land, three of the Merlin engines (E1, E5, and E9) contain TEA-TEB canisters to relight for the boost back, reentry, and landing burns.
Second Stage
The Falcon 9 second stage is the only expendable part of the Falcon 9. It contains a singular MVacD engine that produces 992 kN of thrust and an ISP of 348 seconds. The second stage is capable of doing several burns, allowing the Falcon 9 to put payloads in several different orbits.
For missions with many burns and/or long coasts between burns, the second stage is able to be equipped with a mission extension package. When the second stage has this package it has a grey strip, which helps keep the RP-1 warm, an increased number of composite-overwrapped pressure vessels (COPVs) for pressurization control, and additional TEA-TEB.
Falcon 9 Booster
The booster supporting Starlink CSG-2 is Booster 1052. As B1052 has previously supported two flights, CSG-2 will change its designation to B1052-3. B1052 was recently converted from a Falcon Heavy side booster and previously flew on the Arabsat-6A and STP-2 missions. More specifically, B1052 was the position y (py) side booster for Falcon Heavy.
Following stage separation, the Falcon 9 will conduct 3 burns. The first burn will be the boostback burn, changing the boosters course to return to land. The second is the reentry burn, slowing the booster and allowing it to safely enter the atmosphere. Finally, the landing burn, which will softly touch down B1052 on SpaceX's Landing Zone 1 (LZ-1).
Falcon 9 Fairings
The Falcon 9's fairing consists of two dissimilar reusable halves. The first half (the half that faces away from the transport erector) is called the active half, and houses the pneumatics for the separation system. The other fairing half is called the passive half. As the name implies, this half plays a purely passive role in the fairing separation process, as it relies on the pneumatics from the active half.
Both fairing halves are equipped with cold gas thrusters and a parafoil which are used to softly touch down the fairing half in the ocean. SpaceX used to attempt to catch the fairing halves, however, at the end of 2020 this program was canceled due to safety risks and a low success rate. On Transporter-3, SpaceX will attempt to recover the fairing halves from the water with their recovery vessel Doug.
In 2021, SpaceX started flying a new version of the Falcon 9 fairing. The new "upgraded" version has vents only at the top of each fairing half, by the gap between the halves, whereas the old version had vents placed equidistantly around the base of the fairing. Moving the vents decreases the chance of water getting into the fairing, making the chance of a successful scoop significantly higher.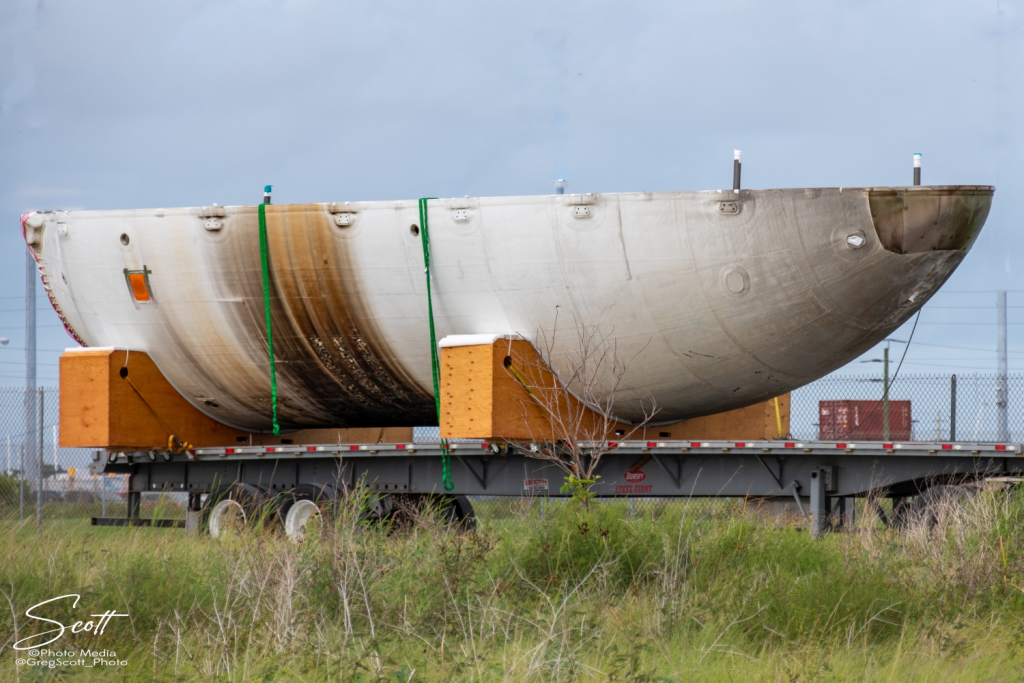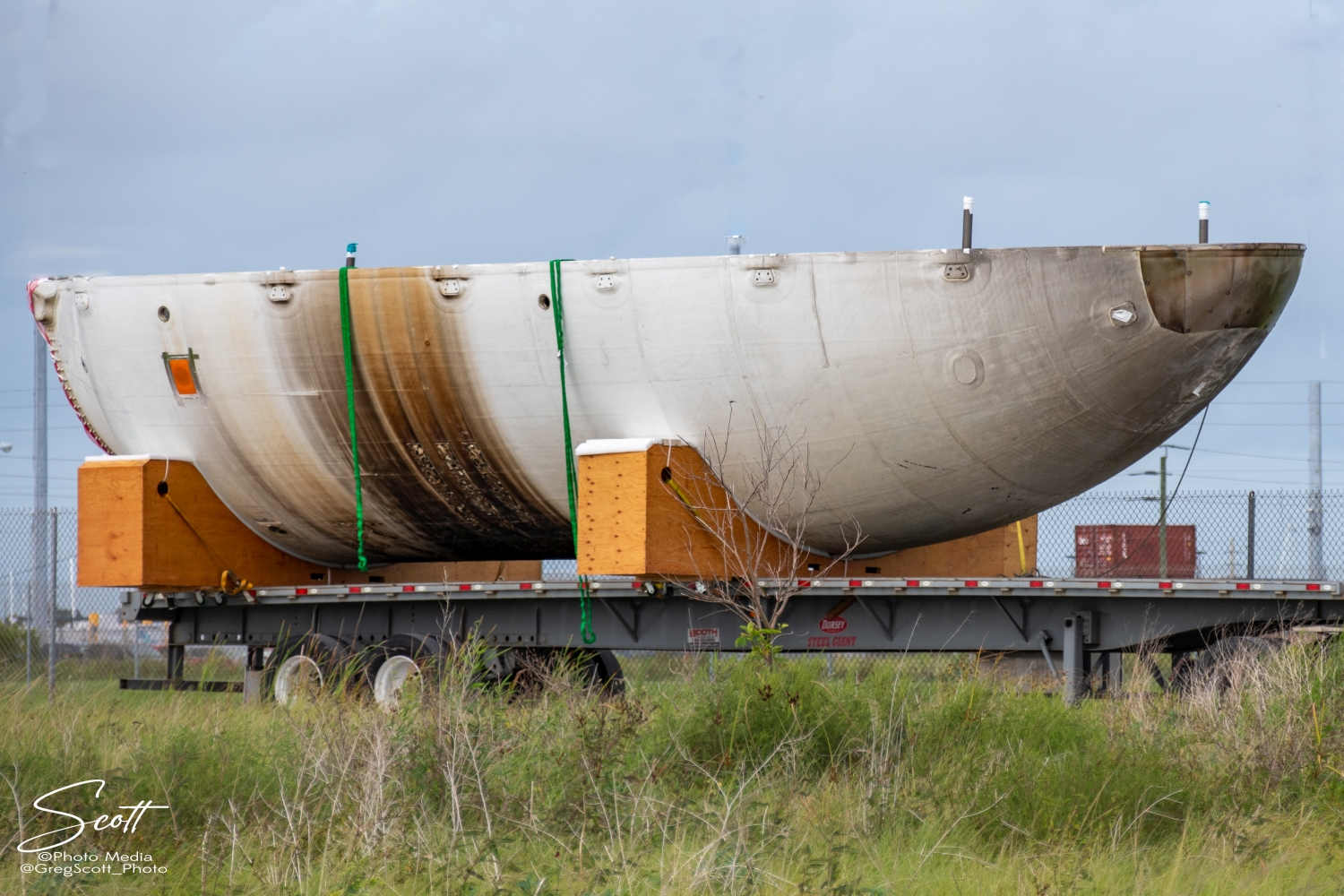 CSG-2 COUNTDOWN
All times are approximate
| HR/MIN/SEC | EVENT |
| --- | --- |
| 00:38:00 | SpaceX Launch Director verifies go for propellant load |
| 00:35:00 | RP-1 (rocket grade kerosene) loading underway |
| 00:35:00 | 1st stage LOX (liquid oxygen) loading underway |
| 00:16:00 | 2nd stage LOX loading underway |
| 00:07:00 | Falcon 9 begins engine chill prior to launch |
| 00:01:00 | Command flight computer to begin final prelaunch checks |
| 00:01:00 | Propellant tank pressurization to flight pressure begins |
| 00:00:45 | SpaceX Launch Director verifies go for launch |
| 00:00:03 | Engine controller commands engine ignition sequence to start |
| 00:00:00 | Falcon 9 liftoff |
CSG-2 LAUNCH, LANDING, AND DEPLOYMENT
All times are approximate
| HR/MIN/SEC | EVENT |
| --- | --- |
| 00:01:12 | Max Q (moment of peak mechanical stress on the rocket) |
| 00:02:15 | 1st stage main engine cutoff (MECO) |
| 00:02:18 | 1st and 2nd stages separate |
| 00:02:26 | 2nd stage engine starts |
| 00:02:32 | Boostback burn begins |
| 00:03:42 | Fairing deployment |
| 00:06:34 | 1st stage entry burn begins |
| 00:07:50 | 1st stage landing |
| 00:08:14 | 2nd stage engine cutoff (SECO) |
| 00:54:13 | 2nd stage engine restarts |
| 00:54:15 | 2nd stage engine cutoff (SECO-2) |