Featured Image: SpaceX
Lift Off Time


May 27, 2023 – 04:30 UTC | 00:30 EDT

Mission Name

Arabsat 7B (Badr 8)

Launch Provider
(What rocket company launched it?)

SpaceX

Customer
(Who paid for this?)

Airbus Defense and Space

Rocket

Falcon 9 Block 5, Booster B1062-14; turnaround time 78.39 days

Launch Location

SLC-40, Cape Canaveral Space Force Station, Florida, United States

Payload mass

4,500 kg (9,900 lb)

Where did the satellite go?

Geostationary Transfer Orbit

Did they attempt to recover the first stage?

Yes

Where did the first stage land?

Just Read The Instructions

Did they attempt to recover the fairings?

Yes

This was the:

– 1st launch of the 7th generation Arabsat satellites
– 36th mission for SpaceX in 2023
– 33rd mission for Falcon 9 in 2023
– 227th launch for Falcon 9 ever
– 239th mission for SpaceX ever
– 162nd flight with a flight of a flight proven booster
– 168th reflight of a Falcon 9 booster
– 195th booster landing
– 121st consecutive booster landing (a record)
– 126th SpaceX launch from SLC 40
– 79th orbital launch attempt of 2023

Where to watch

Official replay
How Did It Go?
The 33rd launch of a Falcon 9 rocket in 2023 was yet another success. SpaceX lofted the Arabsat 7B (Badr 8) satellite to a geostationary transfer orbit. After getting into orbit, the Badr 8 satellite began operations to position itself in a geostationary orbit over Europe. This launch took place on the east coast of the United States from Cape Canaveral Space Force Station in Florida from Space Launch Complex (SLC) 40. After boosting the Falcon 9 second stage and Badr 8, the Falcon 9 first stage successfully landed on the Just Read The Instructions drone ship.
What Is Arabsat 7B (Badr 8)?
The Arabsat 7B (also referred to as Badr 8) is the first launch of Arabsat's 7th generation satellites in a contract with Airbus Defense and Space. Badr 8 is based on the state of the art Airbus Eurostar neo satellite bus. A satellite bus is the core of a satellite and provides power, propulsion, and other essential elements of a satellite's function.
Airbus' Eurostar neo uses electric propulsion which allows use on all major launch vehicles with a wide variety of abilities. The bus is designed to last 15 years and provide 25 kilowatts to payloads. The Eurostar neo allows for versatile payload mounting options.
On Badr 8 is a payload developed by Airbus to test optical communications. TELEO will "enable high capacity analogue optical feeder link communications," according to Airbus. The goal for Airbus is to develop a new, anti-jamming, communications method that will be integrated on future devices
What Will Badr 8 Do?
Badr 8 will be positioned over the 26th degree longitude line. This will enable coverage to central Africa, Europe, and the Middle East in replacement of the Badr 7 satellite, launched in 2015. On board Badr 8, are "massive satellite transponders for satellite TV broadcasting, satellite telecommunications and information exchanging services in Ku- band / C – band," according to Arabsat.
Badr 8 will respond to the increase in demand by adding increased capacity for Arabsat's hotspot region at their 26 degree longitude mark. It will take between four and five months for the electric propulsion system to place Badr 8 in it's designated orbit.
What Is Falcon 9 Block 5?
The Falcon 9 Block 5 is SpaceX's partially reusable two-stage medium-lift launch vehicle. The vehicle consists of a reusable first stage, an expendable second stage, and, when in payload configuration, a pair of reusable fairing halves.
First Stage
The Falcon 9 first stage contains nine Merlin 1D+ sea-level engines. Each engine uses an open gas generator cycle and runs on RP-1 and liquid oxygen (LOx). Each engine produces 845 kN of thrust at sea level, with a specific impulse (ISP) of 285 seconds, and 934 kN in a vacuum with an ISP of 313 seconds. Due to the powerful nature of the engine, and the large amount of them, the Falcon 9 first stage is able to lose an engine right off the pad, or up to two later in the flight, and be able to successfully place the payload into orbit.
The Merlin engines are ignited by triethylaluminum and triethylborane (TEA-TEB), which instantly burst into flames when mixed in the presence of oxygen. During static fire and launch the TEA-TEB is provided by the ground service equipment. However, as the Falcon 9 first stage is able to propulsively land, three of the Merlin engines (E1, E5, and E9) contain TEA-TEB canisters to relight for the boost back, reentry, and landing burns.
Second Stage
The Falcon 9 second stage is the only expendable part of the Falcon 9. It contains a singular MVacD engine that produces 992 kN of thrust and an ISP of 348 seconds. The second stage is capable of doing several burns, allowing the Falcon 9 to put payloads in several different orbits.
SpaceX is currently flying two different versions of the MVacD engine's nozzle. The standard nozzle design is used on high-performance missions. The other nozzle is a significantly shorter version of the standard, decreasing both performance and material usage; with this nozzle, the MVacD engine produces 10% less thrust in space. This nozzle is only used on lower-performance missions, as it decreases the amount of material needed by 75%. This means that SpaceX can launch over three times as many missions with the same amount of Niobium as with the longer design.
For missions with many burns and/or long coasts between burns, the second stage is able to be equipped with a mission extension package. When the second stage has this package it has a grey strip, which helps keep the RP-1 warm, an increased number of composite-overwrapped pressure vessels (COPVs) for pressurization control, and additional TEA-TEB.
Falcon 9 Booster
The booster supporting the Badr 8 mission is B1062. After successful completion of this mission B1062's designation was changed to B1062-14.
| | | |
| --- | --- | --- |
| B1062's missions | Launch Date (UTC) | Turnaround Time (Days) |
| GPS Block III SV04 | November 5, 2020 23:24 | N/A |
| GPS Block III SV05 | June 17, 2021 16:09 | 223.70 |
| Inspiration4 | September 16, 2021 0:02 | 90.33 |
| Starlink Group 4-5 | January 6, 2022 21:49 | 112.91 |
| Ax-1 | April 8, 2022 15:17 | 91.73 |
| Starlink Group 4-16 | April 29, 2022 21:27 | 21.26 |
| Nilesat-301 | June 8, 2022 21:04 | 39.98 |
| Starlink Group 4-25 | July 24, 2022 13:38 | 45.69 |
| Starlink Group 4-27 | August 19, 2022 19:21 | 26.24 |
| Starlink Group 4-36 | October 20, 2022 14:50 | 61.81 |
| Starlink Group 5-1 | December 28, 2022 09:34 | 68.78 |
| Starlink Group 5-4 | February 12, 2023 05:10 | 45.82 |
| OneWeb 17 | March 9, 2023 19:13 | 25.59 |
| Arabsat 7B (Badr 8) | May 17, 2023 04:30 | 78.93 |
Following stage separation, the Falcon 9 will conduct two burns. These burns aim to softly touch down the booster on SpaceX's autonomous spaceport drone ship Just Read The Instructions.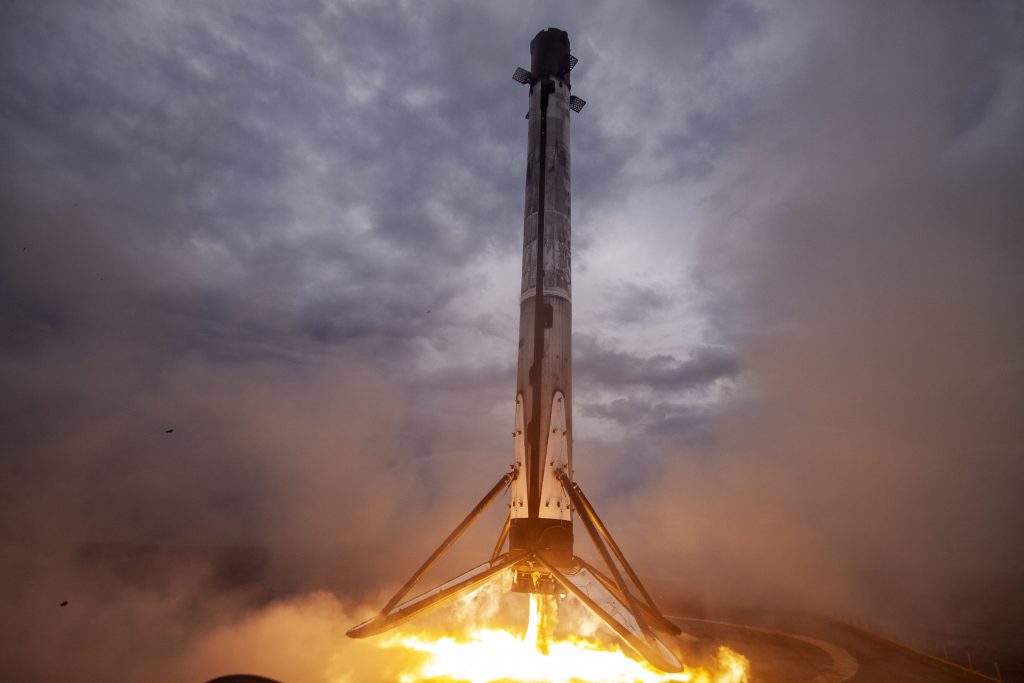 Falcon 9 Fairings
The Falcon 9's fairing consists of two dissimilar reusable halves. The first half (the half that faces away from the transport erector) is called the active half, and houses the pneumatics for the separation system. The other fairing half is called the passive half. As the name implies, this half plays a purely passive role in the fairing separation process, as it relies on the pneumatics from the active half.
Both fairing halves are equipped with cold gas thrusters and a parafoil which are used to softly touch down the fairing half in the ocean. SpaceX used to attempt to catch the fairing halves, however, at the end of 2020 this program was canceled due to safety risks and a low success rate. On Starlink Group 6-3, SpaceX will attempt to recover the fairing halves from the water with its recovery vessel Doug.
In 2021, SpaceX started flying a new version of the Falcon 9 fairing. The new "upgraded" version has vents only at the top of each fairing half, by the gap between the halves, whereas the old version had vents placed spread equidistantly around the base of the fairing. Moving the vents decreases the chance of water getting into the fairing, making the chance of a successful scoop significantly higher.